News
'Broadchurch' Star Jodie Whittaker As Doctor Who! The First Female to Take the Role
Jodie Whittaker is the new Doctor Who!
British Independent Film Award and Satellite Award nominee and 'Broadchurch' star Jodie Whittaker has been announced as the 13th doctor, the first female to get cast as the role.
Caption: Jodie Whittaker revealed as the 13th Doctor in 'Doctor Who.'
Video Credit: telegraph.co.uk
The Broadchurch star now succeeds Peter Capaldi, who took over the role back in 2013 and is set to leave in the forthcoming Christmas special. But while doing that, he praises Whittaker,
"Anyone who has seen Jodie Whittaker's work will know that she is a wonderful actress of great individuality and charm. She has above all the huge heart to play this most special part. She's going to be a fantastic Doctor."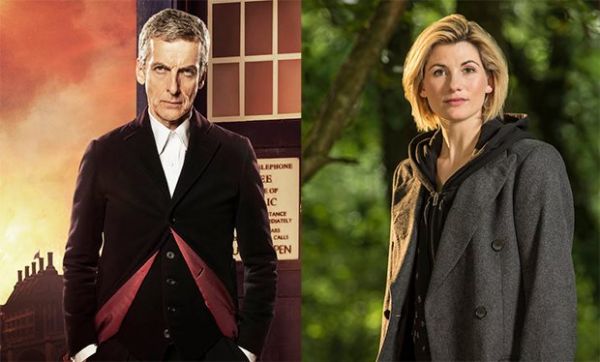 Caption: Peter Capaldi now being replaced by Jodie Whittaker in 'Doctor Who.'
Picture Credit: Radiotimes.com
While she has become the first woman to be cast for the role, she has also urged the fans to not worry about one particular thing, that is her gender.
"I want to tell the fans not to be scared by my gender. Because this is a really exciting time, and Doctor Who represents everything that's exciting about change. The fans have lived through so many changes, and this is only a new, different one, not a fearful one."
Whittaker shared that she had spoken many lies about her will to keep her casting as a secret. In her own words,
"I've embroiled myself in a whole world of lies which is going to come back at me when this is announced,"
Speaking on how she got the role, she elaborated,
"We had a strange chat earlier this year where he tricked me into thinking we were talking about Broadchurch. And I started to quiz him about his new job in Wales, and asked him if I could be a baddie. And he quickly diverted the conversation to suggest I should consider auditioning to be the 13th Clooney.
She continued,
"It was the most incredible chat because I asked every question under the sun, and I said I'd take a few weeks to decide whether I was going to audition. He got a phone call within 24 hours. He would've got a phone call sooner, but my husband was away and there was a time difference."
The close ones and the viewers have also expressed their delight on her casting, as the doctor now gets to get in touch with his feminine side.
Change my dears and not a moment too soon - she IS the Doctor whether you like it or not!

— Colin Baker (@SawbonesHex) July 16, 2017
This is what Doctor Who has always been there to do. This is what Doctor Who is *for*.

— Paul_Cornell (@Paul_Cornell) July 16, 2017
The 13th Doctor got disclosed, following the BBC's coverage of the Wimbledon men's singles final, between the winner and iconic tennis player Roger Federer and the man who came up short on Sunday Marin Cilic.
We too are excited to see what Whittaker brings to the table now!
Stay with us for the latest updates on Jodie Whittaker and Doctor Who!