News
Beautiful Journalist Jane Pauley Returns to CBS's Sunday Morning? Would It be Same Without Charles Osgood?
There is an on-air transition in "CBS Sunday Morning." And this transition has been cheered by fans. Jane Pauley replaced Charles Osgood as an anchor of CBS' Sunday Morning.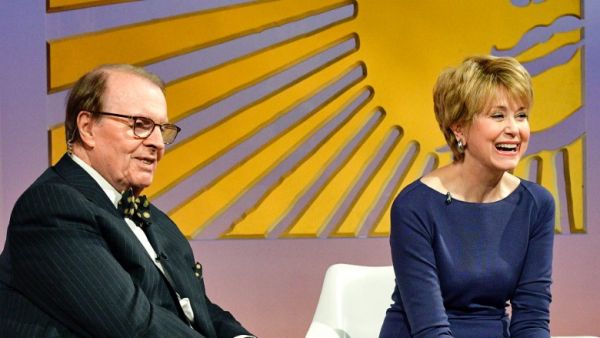 Caption: Charles Osgood on his final broadcast on CBS Sunday Morning on September 25 along with upcoming anchor Jane Pauley.
Source: liverampup.com
Almost after 30 years since she left NBC's "Today," Jane Pauley will be making her comeback to a morning news anchor slot since she was being named as the successor to Charles Osgood on "CBS Sunday Morning."
Nearly 30 years after she left NBC's "Today," Jane Pauley will return to a morning news anchor slot as the successor to Charles Osgood on "CBS Sunday Morning."
On April 27, 2014, Pauley joined CBS Sunday morning as a guest host and correspondent, and there were speculations that she was the one likely person to take over from Osgood.
Charles Osgood has been anchoring the program for 22 years, and his tenure at CBS News was that of 45 years. The transition was expected by millions of fans. Then it was announced on August 25 that September 25 would mark his final broadcast of the show. However, he will continue his daily news commentary broadcast on CBS Radio Network, The Osgood File. Moreover, he will also be seen occasionally on Sunday Morning, according to CBS News president David Rhodes.
"There's nobody like him, and there's no show like this show," Rhodes said in a phone interview.
"We first got to know Jane when we did a story about her," Rand Morrison, who is executive producer of the show said in a statement.
"Our viewers immediately responded by suggesting she belonged on 'Sunday Morning' permanently. And as is so often the case, they were right. She's a dedicated, experienced broadcast journalist. But every bit as important, she's a delight to work with. A worthy successor—and a perfect fit."
Pauley is set to be taking her duties from October 9 broadcast making her only the show's third anchor in its nearly 40-year run. She paid tribute to Osgood while talking at the News and Documentary Emmys.
"He's going to be missed by millions," she said.
"For 22 years, the church of 'Sunday Morning' has had an officiant who reliably conveyed grace," Pauley said at the Emmys. "People will miss him deeply because even in the worst of times, it felt like Charles Osgood could see the best in us."
Jane Pauley, Lunden and Hartman Reunite at NAB!
Several network TV news readers took part in the kickoff of the National Association of Broadcasters convention, 2017 in Las Vegas on April 24.
CBS Sunday Morning host Jane Pauley was the Master of Ceremony of the event. Pauley joked,
"I am from the 20th century when multi-media meant three networks,"
ABC's journalist Rebecca Jarvis sat down with Hearst CEO Steve Swartz for an interview on the state of the media industry.
At the end of the session, there was a reunion between Jane Pauley, David Hartman as well as Joan Lunden. Pauley, previously co-anchor of the Today show, competed against Hartman and Lunden who were also co-anchors of Good Morning America.