News
Julia Hahn Bio: The White House Special Assistant Shares Trump's Thoughts - A Little More Closely
Julia Hahn has engraved herself as a Special Assistant of President Trump amongst the public. While she continues to make a bold statement with her opinion, people wonder about her personal life, so for all the people who are willing to know every small detail about the beautiful lady we are here to serve you. Let's take a stroll in her life to know her closely.
Julia Hahn; A Wiki-Like Bio Of The White House Special Assistant:
Julia was born on April 1, 1991, to Jewish parents in Beverly Hills, California. As a child, she attended a Los Angeles prep school called Harvard-Westlake School and graduated in the class of 2009.
Continuing her education at elite institutes, she then attended the University of Chicago and earned a Bachelor of Arts degree in philosophy in 2013.
The special assistant to President Donald Trump, Julia has maintained distance from the social media and only has a LinkedIn page which says that she is working as a producer for The Laura Ingraham Show from June 2013.
While Julia prefers staying away from the limelight, fans remain oblivious regarding her personal life. Consequently, Julia's parents remain almost concealed, however, it is known that she has an eighty-year-old grandmother Lynne Honickman, who happens to be a passionate Democrat from Philadelphia. Back in the year 2015, she was featured in the Bloomberg profile of Bannon.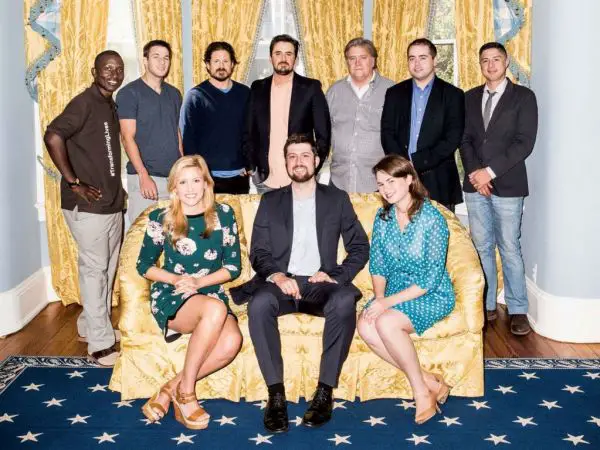 Caption: Julia Hanh (right in the first row) amid her colleagues of Breitbart.
Photo Credit: cosmopolitan.com
Julia had worked at Bannon's site, Breitbart News as an editor since 2015 and had also served Dave Brat as a press secretary before that. Later, she followed Steve (Stephen Kevin) Bannon to the White House to become a special assistant to the president earlier this year.
While Steve is no more part of the building, one of his top aides, Julia remains in the West Wing and even makes an impactful presence.
Growing up in liberal Beverly Hills, Julia had liberal views into adulthood and today is known as an anti-immigrant fanatic for denouncing immigration, precisely from Muslim countries.
Julia appeared on Breitbart Radio in November last year to report the ineffective approach of conservative members of Congress to reduce immigrants from terror-prone regions of the world. Also, in the year 2015, she had written critically about immigration and reported on the Census Bureau's immigration projections.
Now, getting into the love life of the young lady who is 26 by age, Julia; she has kept her romantic affair secretive, and no reports regarding her affair have created headlines. Thence, she seems to be a single lady, who is currently focused on building her professional career, in front of the public. It's possible that she is secretly romancing and hiding the details, but nothing can be assured until she comments over her love life.
Stay with us for the emerging detail!