News
They're Not Dating Anymore! Stylist Kristin Smith's Boyfriend Tiger Woods Announces The End of Their Romance in a Tweet
The romance between them was long gone!
There were several reports that famous stylist Kristin Smith and her iconic golfer boyfriend, Tiger Woods were dating one another happily, but all the reports are now shoved down the sewer as the golfer himself has come forth and said that he and Ms. Smith are no longer dating.
In fact, they stopped seeing each other last year!
He took over his official Twitter to address the reports and opened up about the truth about his romance with the blonde stylist
Contrary to the false Daily Mail article, Kristin Smith and I are no longer dating and haven't since last year.

— Tiger Woods (@TigerWoods) August 10, 2017
However, Kristin, who is 34 in age, is yet to open up about their split. The fact that they broke up last year and the news just came out shows how secretive and private they wanted to keep this matter.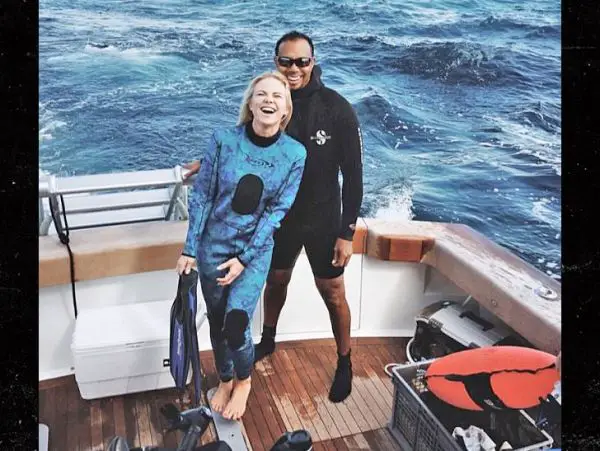 Caption: Kristin Smith and Tiger Woods have shocked the world and revealed that they are not dating since last year.
Photo Credit: tmz.com
The above picture is the one that surfaced on the internet that made people believe that the two were hanging out on the day of Wood's DUI hearing, as Woods was recently arrested for DUI charges.
Woods, however, denied those concerns and also, no reports of Woods rebounding to anyone else are there to be found.
So let us wait and see if we get to hear anything about the demise of the relationship between Smith and Woods.
And did you know, Smith was formerly married to Gerald Sensabaugh, a former Dallas Cowboys player? And also, are you aware of the fact that she is the mother of their child Isiah? Well, you do know it now!
Woods too was in several previous relationships. He most famously was married to his former wife and the mother of his kids, Elin Nordegren, who has moved on in her life but is still good friends with Woods.
A Short Wiki-Like Bio of Kristin Smith:
Kristin Smith is a mum-of-one, who is the owner of her personal styling group called 'The CLAD Life.' She lives in Dallas, Texas with her son, Isiah, whose dad is the retired NFL star, Gerald Sensabaugh. They shared a marital relationship for a brief period.
Kristin moved to Texas with her former husband, Sensabaugh in 2010 and found work by styling people like Candice Romo, the wife of former Dallas Cowboys quarterback, Tony Romo. She has also styled DeMarco Murray's Wife, Heidi Mueller.
Stay with us for the emerging updates on Kristin Smith and Tiger Woods!