News
MSNBC's The Rachel Maddow Show attains The Best Rating Ever in 2016!
Cable News T.V anchor, Rachel Maddow received the highest rating this year in "The Rachel Maddow Show" beating CNN and Fox News by most viewers in comparison. This marks a seven-year streak in the twenty-year history of MSNBC attaining the best ratings ever in 2016 and still the most viewed cable news channel.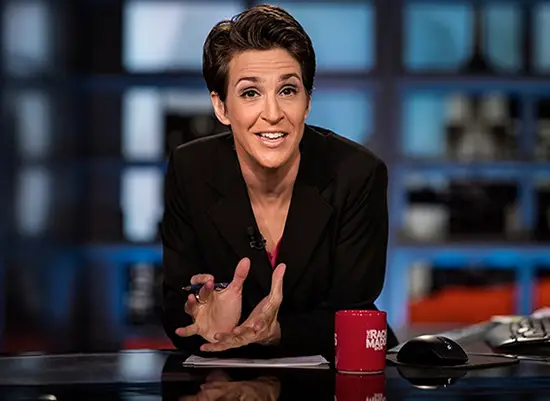 Caption: Rachel on set "The Rachel Maddow Show" in December 2016.
Picture Credit: thewarp.com
"The Rachel Maddow Show," is a political cable news channel in MSNBC with its host Rachel Maddow herself, as the anchor. The 43-year-old political analyst and reporter have had a good year with her improved view rating. Not only its view-rate is affected, but the show has grown more in a year in comparison to other competitive news networks such as CNN and Fox News. This news program rose by a one hundred and fifteen percent in A2554 and a seventy-two percentage in total viewers, marking the show as the highest-rated compared to last year. Last year the show gained an eighty-seven percentage in total prime time viewers and a ninety-seven percent in the prime time demo in 2015.
A Short bio on the construction of "The Rachel Maddow Show."
Rachel Maddow was a substitute host when she first joined MSNBC in 2008. Very successful in attracting viewers who were aged 25 to 54 led to Rachel's employers to offer her a show replacing Verdict with Dan Abrams in the 9 pm slot in August of 2008. In the following month September 8th, Rachel first debuted her show, "The Rachel Maddow Show."
Aside from her work, her personal life is not to be missed as Rachel is currently staying with her long termed girlfriend, Susan Mikula.