News
Roxy Sowlaty & Boyfriend Are Engaged, Dating To Paris Proposal In Detail
The Former Rich Kids of Beverly Hills is engaged!
Roxy Sowlaty, aged 30, said 'Yes' to her boyfriend Nicolas Bijan after he proposed her in Paris' famous "love lock bridge."
Roxy, an interior designer, was on her girl's trip to the City of Love when he surprised her with his arrival and popped the question with the beautiful 8-carat diamond ring.
Other Interior Designer You May Like:- Yolanda Hadid, Back to Her Passion: Returns to Modeling Despite of Her Sickness
Roxy's boyfriend filmed the beautiful moment which he later posted on his Instagram. Dedicating to Roxy, he said:
"I'm coming to surprise you. You have no idea."
Surprise turned to be indeed a great surprise to Roxy!
Roxy looked confused when Nicolas showed up on the bridge, so she asked him what he was doing there. But the American reality star was just out of words when he showed her the ring and got one knee.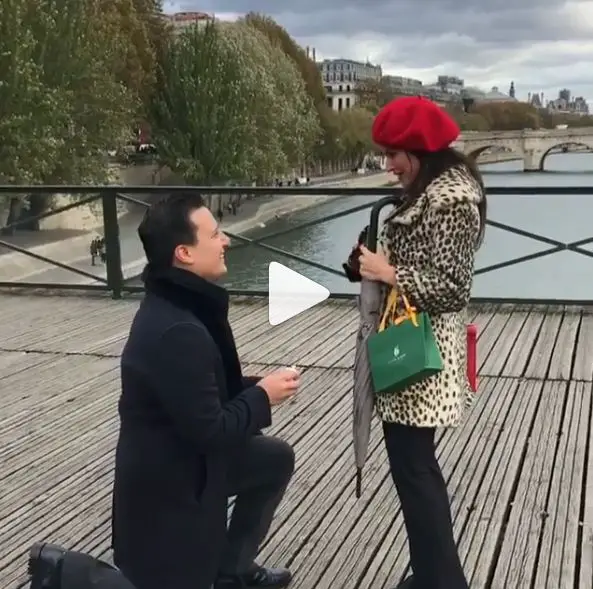 Nicolas knelt on his knee to propose Roxy (Photo: Nicolas Bijan's Instagram)
Discover:- Landon Clements Brewing Hard Feeling For Ex-Husband? But Everything Is Alright With The Child
After she got the greatest surprise of her life, the designer immediately flaunted the beautiful moment to social media followers.
The Beverly Hills, California native posted multiple pictures from the proposal, claiming she still thinks the event to be illusionary. She expressed that, she still can't believe this happen.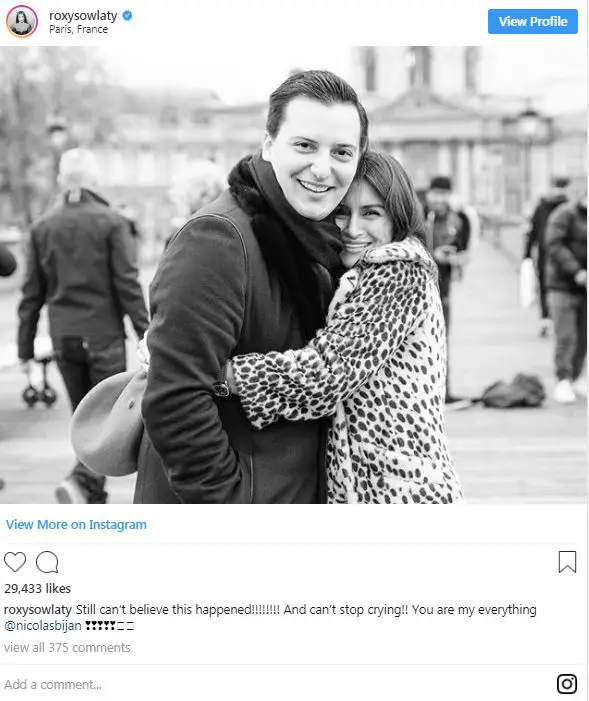 Roxy Sowlaty, fiance Nicolas after proposal (Photo: Roxy Sowlaty's Instagram)
The engagement news came after three years of their dating life. Roxy has been dating her fiance, Nicolas since 2015. Unlike Roxy's high profile celebrity life, Nicholas owns his father's ultra-successful Bijan menswear store on Rodeo Drive.
Roxy, who garnered the Master's degree in Interior Design from Parson's School of Design, launched her own interior design firm to support her high living standard after her parents cut off her credit card supply.
You May Also Like:- Amy Reimann Bio: Engagement Ring Starts Adorable Family
Her wealthy parents had strictly warned her to fend herself after she finished her education. And so, her parents started cutting her credit card supply by the end of Rich Kids of Beverly Hills first season.
Sam Sowlaty's daughter found it difficult to adjust with the certain limited amount at first, but later it turned out to be the "best gift" from her parents.
While Roxy's specialty is the interior designing of the house, her fiance looks the exterior designs. And the designing couple indeed makes a great bonding together.