News
Sally Faulkner Signed a Book Deal After Charged for Kidnapping Her Own Children
To what extent can mother's love drive you?
Sally Faulkner possess such magnitude of motherly love that it triggered her to "kidnap" her own children. Antagonized by the ex-husband of Ail al-Amin, who has earlier took their two children to Lebanon citing his insecurity owing to Sally's new friend, she apparently traveled all the way from Australia to Lebanon to get them back apparently in "kidnapping fashion".
She is An Author:
Residence of Brisbane, Sally Faulkner seems to have left the tantrums of kidnapping herex-husband!children in Beirut behind her as she has signed an international book deal for a tell- all memoir.
"All for My Children- the heartbreaking true story of how one Australian mother's life fractured in the instant she kissed her kid's goodbye" will be published in November 2016. This is surely going to turn the heat on considering how the event received the hype earlier.
Estranged husband's point of view: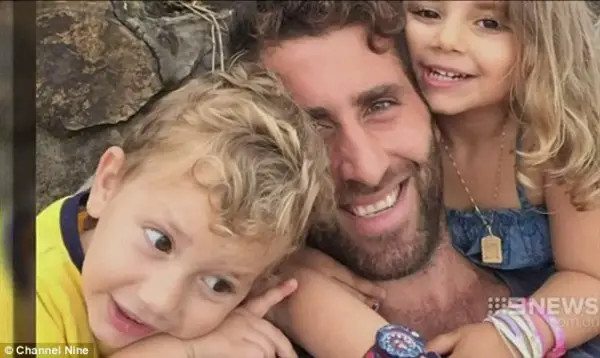 Caption: Ali-al Amin with kids: Nora(left) and Lahela (right).
Source: yalibnan.com
Ali-al Amin, an estranged husband, has defended his move of taking children in Lebanon speaking to Channel nine dubbing the entire tantrum thrown as "a story that not only is profoundly in the public interest but also one the public is interested in".
Amin also spoke in Kyle and Jackie O Kiss radio show as he stated, "saw a few things happening in regards to Sal's parenting or relationships".
"Lahela kept on telling me that mommy's friend was sleeping in the same bed that we were, that mommy's friend was always around. And I just wasn't OK with that," he claimed.
Sally Faulkner was apparently pregnant with that other partner when Amin took their children to Lebanon and never returned them. After that event, Sally and her accomplice kidnapped both children from Beirut Streets.
"I don't want them to know she was in jail. They think she flew in for one day and they'll see her for lunch before she goes, and I'll tell them she flew in for the day again," he explained.
Amin also spoke with 3AW radio, nullifying he had received financial compensation in order to drop charges against his former partner.
"I haven't received anything and I haven't signed anything … No money was mentioned or exchanged," he made it pretty clear, adding he "didn't know" if he would receive any money later.
Sally's Disagreement:
On the other hand, Sally Faulkner blasted her former husband on social media after knowing the fact that she will face kidnapping charges against her children. Faulkner also mentioned she was compelled to take the action after her ex-husband took their kids on holiday in May of 2015 and showed no sign of returning them.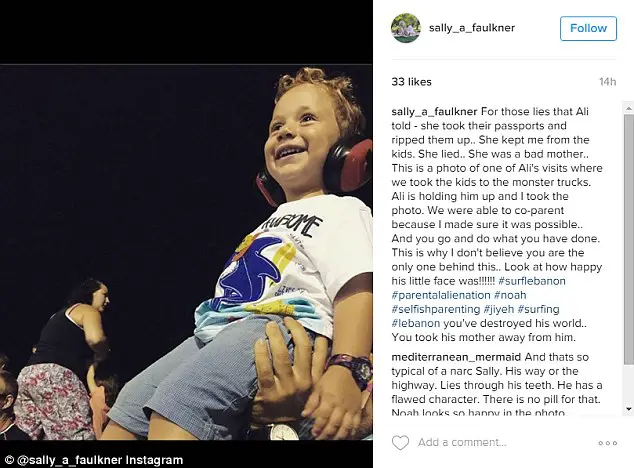 Caption: She did write on Instagram about how co-parenting had been working fine for the estranged couple and their children.
Source: dailymail.com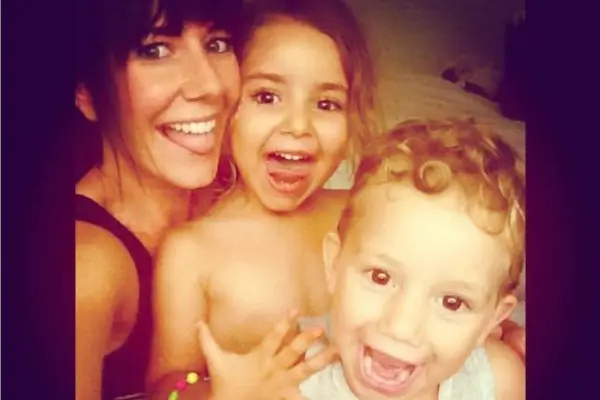 Caption: Faulkner along with her children.
Source: mamamia.com.au
The actual account of what happened with her kids and consequences:
American-British national Adam Whittington, who planned the boggled operation, and two of her colleagues have also been charged by a Lebanese Judge in Lebanon. The nine network journalists and other crews who assisted in the case will also be imposed the hefty fine.
Whittington's crew kidnapped kids, Lahela, 5-year-old, and Noah, 3 years old, from busy Suburban Street and even injured their Lebanese grandmother. Shame! Shame!
Faulkner, Brown, sound recordist David Ballment, cameraman Ben Williamson, Producer Stephen Rice, Adam Whittington, his colleague Crag Michaels along with two other Lebanese men were arrested in Beirut on April 6, 2016.
Sally Faulkner's message to her ex-husband!
Sally Faulkner has revealed on KIIS radio to Kyle and Jackie O that she has had no contact with her children and she sent out a message to her ex-husband. The Brisbane mother shared details on her ongoing battle to see or speak to her two children, Lahela and Noah. Faulkner said:
"I do not have, and did not have any contact with them from the moment I said goodbye to them at the Lebanon McDonalds,"
Moreover, she also revealed that she was unhappy with the interview which her ex-husband Ali Elamine did with Kyle and Jackie O after the 60 Minutes kidnapping saga. She said:
"I was pretty disturbed by what he was saying. I was disappointed that he was able to get away with saying those things,"
She also said that Elamine has a new partner, something which has not gone in public and he has been spreading lies about Sally since their amicable co-parenting ceased. She added:
"I just want to ask my ex husband, 'why, why? because what you have said to the Australian public and the media is not true.'"
Sally Faulkner said that if Elamine was listening to the show, he needed to let her have contact with the children. She added:
"Ali if you are listening you need to do what is right for the children and what you are doing right now is certainly not right for the children, they deserve a mother, they deserve their basic rights to be loved by two parents,"
Sally revealed that her final meeting with the kids, which Elamine, as promised, would go for one hour but was cut short by 15 minutes so he could make a Skype call with The Project and his final words to her, "You know why I'm doing this because I still love you."