News
Shattered Hearts! Glee Actress Lauren Potter Calls off Engagement with her Boyfriend Timothy Spear
Glee actress Lauren Potter's heart is shattered as her engagement with her childhood friend–turned–boyfriend Timothy Spear has just ended.
Glee, who is the advocate for people with special needs has admitted to People on Wednesday that their break-up hurts. She revealed that her plan to walk down the aisle has now shattered.
Furthermore, she said that Timothy didn't like the publicity that came with her fame which made him disappointed. Lauren's mom Robin Sinkhorn also said-
"He did not like the publicity, It was overwhelming."
According to People,
"Potter had been talking to TLC's Say Yes To The Dress and a wedding dress designer when Spear ended their relationship over the holidays. She said-
'After we got married I wanted to wake up and see him make breakfast for me. I loved him so much,"
On August last year, Timothy proposed Lauren with a promising ring in Laguna Beach.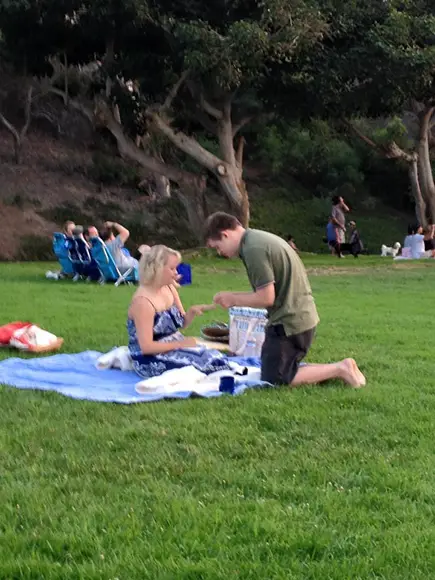 Caption: Timothy proposed Lauren with a promising ring in Laguna Beach in August 2016.
Photo Credit: People
Lauren's mom Robin Sinkhorn talked to People about their engagement where she said Timothy planned the picnic in the beach to propose her. Talking about it, Lauren's mom said-
"He picked out the ring, made payments on it, and then planned the picnic and the moment to get down on one knee to ask her to promise to be his one-and-only and marry him when they are ready. Then they watched the sunset together."
Though Lauren's affair with Timothy is ended but her career is still blooming. She is looking forward to making an appearance in Switched at Birth in the April 11 finale. Lauren, who has gone out on a few very promising dates, is currently busy heading to the gym to prepare for bikini season.