News
Shawna Gordon Gradually Keeping Quiet About Affair With Actor Boyfriend Or Has She Turned Her Back To Dating?
Rumors about celebrity affairs are not new to the ears. They spread like wildfire, but only a few come out to be true.
Recently, a rumor about Shawna Gordon dating a hunky celebrity hit the news. They were spotted together a few times attending clubs and parties, which raised a speculation that she is in love. But who is this mystery man she got cozy with? We find out as we dig deep into the life of this talented soccer player.
Sports fans and Superstars collide:
Although Shawna didn't care to comment much regarding her persona life, this twenty-seven-year-old soccer player was spotted multiple times with a celebrity. According to TMZ, Shemar Moore, the forty-six-year-old lady killing actor, was seen cruising downtown Los Angeles with Shawna Gordon. When interrogated which female athlete possessed the best body is sports, he revealed,
"My girlfriend Shawna Gordon because she's a professional soccer player. If she stands up and turns around you might just faint,"
And again in 2016, Shemar was spotted kissing Shawna's forehead as she was in a busy crowd and their discussions took place as though they were whispering to one another, not sure if that was a cover up for a kiss, but one a can wonder.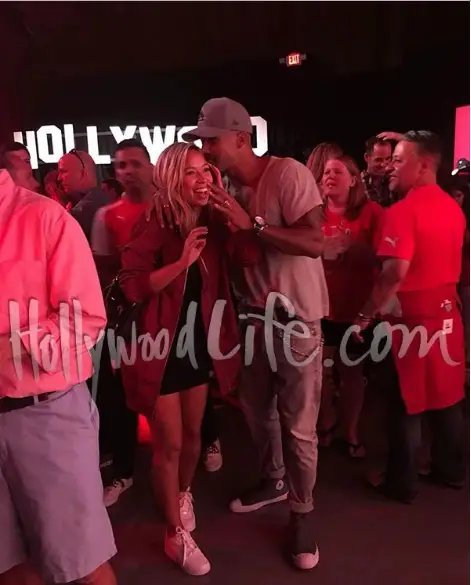 Caption: Shawna Gordon and Shemar Moore together on July 30, 2016, in L.A
Picture Credit: Hollywoodlife.com
Shemar Moore's last girlfriends were Halle Berry and Toni Braxton, so it means Shawna did a lot working to attain Shemar Moore's attention. Moreover, the couple was spotted during their lovely date night as girlfriend and boyfriend in the Arsenal Football Club event in Los Angeles. An eyewitness revealed HollywoodLife,
"They walked through the crowded event and stopped periodically to share a joke, sneak in a kiss and take pictures with fans. Shemar kept his arm around Shawna all night and kept her right by his side."
Moreover, as Moore was leaving "Criminal Minds," he revealed he wants to concentrate on developing a family and having a normal life in his statement,
"I love what I do for a living, I love it from 'action' to 'cut', but I also want to walk my dogs, travel, get married, have kids. I want balance, and it's hard to do with the schedule that we have."
The wedding bells could be not far behind, as the last comment of Shemar revealed his wish of being a husband, a father and having a family with one particular lady, In no time at all the two should hitch it off in no time.
Playing in the midfielder position for Sky Blue FC in the National Women's Soccer League, Shawna has not disclosed much about her nationality, besides the fact she was born in Fontana, California. As for the new couple, now news have surfaced regarding their dating issues, i.e. if they have broken up or are just keeping their relationship out of the limelight. We hope to hear from the couple soon.