News
Sherra Wright Arrested on Suspicion of Husband's 2010 Brutal Murder
A murder mystery on the verge of getting unfold!
Sherra Wright-Robinson, the ex-wife of late NBA player, Lorenzen Wright is arrested and taken into custody in Riverside, California on Friday night, 15th December with a first-degree murder charge for conspiring with a Memphis-area man to kill her ex-husband.
The online records showed that the Riverside County police arrested Sherra Wright on a fugitive from justice warrant. Sherra has been indicted on charges of 'first-degree murder,' 'attempted first-degree murder,' and 'conspiracy to commit first-degree murder.'
Sherra's former husband, late Lorenzen died more than a seven years ago, and his death case has been one of the most high-profile unsolved cases of Memphis police department.
Lorenzen's decomposing body was found ten days after the 34-year-old was reported missing, in suburban Memphis on 28 July 2010. By the looks of his dead body, Wright was shot multiple times!
Caption: Sherra Wright is arrested on suspicion of her ex-husband's murder!
Photo Credit: commercialappeal.com
Another suspect in the murder case, Billy R Turner was arrested and indicted on a first-degree murder charge on 5 December. However, Turner has pleaded not guilty and remains in the 'Shelby County Jail' on $1 million bonds.
The reports further suggest that Sherra and Turner attended the same church.
Sherra Wright-Robinson and Billy Ray Turner both attended the same Collierville church. Now both have been arrested in connection to #LorezenWright's murder.
FOX13 broke the news. We are continuing to learn new details about the arrests and key evidence. Stay tuned... pic.twitter.com/bvRydi0UJH

— Zach Crenshaw (@ZachCFOX13) December 16, 2017
And though, Memphis police director, Michael Rallings wouldn't discuss the connection between the two suspects; he said,
"It's safe to say they knew each other."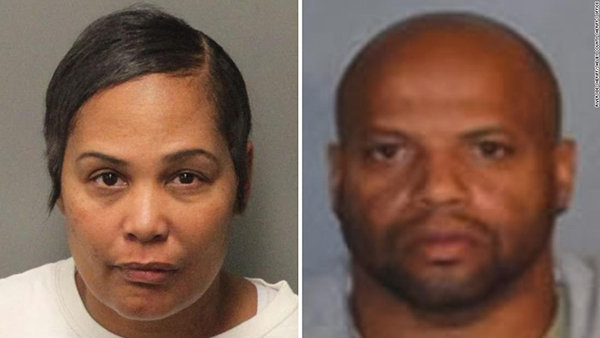 Caption: The defendants of Lorenzen's murder case, Sherra Wright, and Billy R Turner.
Photo Credit: edition.cnn.com
Sherra previously was asked about her having any involvement in Lorenzen's death.
Memphis Police Major, Darren Goods also stated on the case,
"We looked through this case and we did one thing, we followed the evidence and the evidence led us to Billy Turner and Sherra Wright-Robinson,"

"We wanted to investigate it as if it had just happened. We went to the crime scene and walked in Lorenzen's final steps."
Sherra, as of now, awaits the court hearing in California on Monday!
Sherra Wright Robinson's Bio:
Sherra, who is 46 in age, is supposedly living in California now, after moving to Texas in 2015. Sherra and Lorenzen were married for 13 years before ending their marriage in divorce in February 2010, months before the death of Lorenzen. The reason for their divorce was cited to be 'unfaithfulness and domestic abuse.'
Sherra, who shared seven children, four sons, Lorenzen Wright Jr., Lawson Wright, Twins- Shamar and Lamar Wright, and three daughters, Sofia, late Sierra (died of SIDS in 2003) and Loren Wright with ex-husband Lorenzen, received $1 million from his life insurance policy.
The commercial appeal reported that Sherra, in 2014, agreed to a settlement in a court dispute over how she spent the insurance money, which was meant to benefit their six children.