News
Tim Howard not Guarding the Post in Copa America? Unsuccessful Married Life, Divorce. Girlfriend? About Salary & Net Worth?
"Some goalkeepers are really sexy with their feet. I have a little sexiness with my feet, but I don't like to bring it out."- Tim Howard
After an excellent run of performances in the 2014 world cup, it was a perfect pathway for Tim Howard to get into the starting XI of the United States, for the Copa America 2016. Well, is he still the no.1 in the US squad? Or is there someone else obstructing him?
Howard's Dip in Form sees him out of the starting XI in Copa America 2016
There came a huge disappointment for the US football fans who wanted to repeat their 2014 World Cup memories. Yes, people who hoped to refresh their memories with Howard, got a devastating sad news. Tim Howard did not start between the posts for the US national side this time. He was on the squad but had to stay as a backup to the selected shot-stopper Brad Guzan.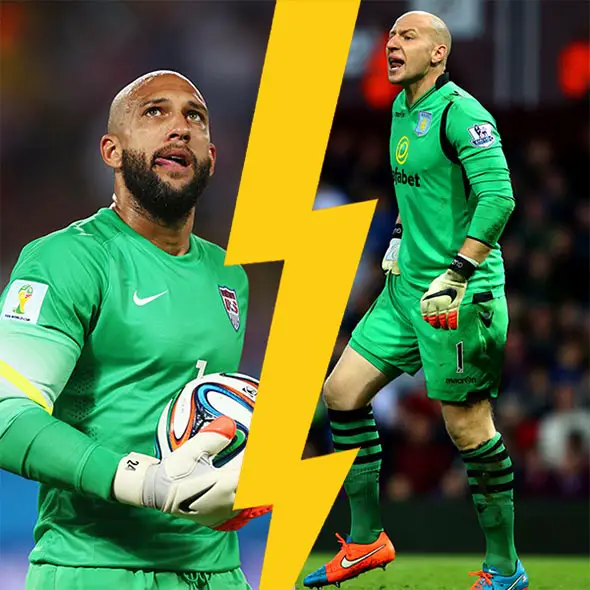 Howard is also surrounded by great pressure as he struggles to find his form in Everton FC. His save percentage tallied at the last (59.26%) out of the 29 goalkeepers who made six or more Premier League starts in the 2015/16 season. Howard's poor run of form affected Everton FC, as they struggled in the league and eventually finished 11th on the table. Here, have detailed information on Howard's dip in form.
The US national team manager, Jurgen Klinsmann says that Howard has been kept as a backup to Guzan because he took almost one year gap from the national side. To regain his position, he has to fight from the bottom level, adds the manager.
He also told MLS Soccer, "Tim Howard finished a huge, huge chapter with Everton Football Club. He's always going to be a legend for Everton, and he did wonderful things with that club. But he wasn't with us for a year after the World Cup, and he also lost his starting spot the last half of the year with Everton, so we think that in that moment, Brad has a little bit of an edge and deserves it."
Even though Howard was not selected for the starting XI, he has no hard feelings for Brad Guzan. He has told ESPN that the two of them will always remain close friends, and he will keep supporting Guzan all the time.
"I've always said that if you could build a goalkeeper and you could take this guy's hands, this keeper's feet, the brain would be Brad's. His mental strength and fortitude are better than anyone I've ever seen. He can, even in the midst of chaos, to shrug things off and not in a flippant way. For me, he's the best goalkeeping mind I've ever been around."

(Statement recorded as Howard told to ESPN)
Tim Howard or Brad Guzan?
I have analyzed some statistical comparison between Tim Howard and Brad Guzan.
For a goalkeeper, the most basic stats, apart from the clean sheet, is the save percentage. A keeper's strong point is determined by how often he avoids the ball from kissing the net behind him. In this category, Brad Guzan edges Howard. Guzan is also an expert on parrying the ball out of the danger zone more often, and he also has allowed fewer rebounds (23) than Tim Howard (25) in the Premier League. However, Howard is a better expertise in catching the ball and goal handling. He is also better than Guzan with his feet.
Let's have a look at the Stats Comparison between the two.
Despite going through series of bad lucks on the field, Howard's personal life is going on smoothly. There may be some ups and downs in his life, but that is not as bad as getting out of the no.1 post.So, let's discuss his personal life now.
Howard's Personal Life: His Marriage, Divorce, and Girlfriend:
Howard was a victim of Tourette's Disease. But it did not derail his career. He admits that due to his disease, he was not demotivated, but instead he was able to work hard and anticipate well in the game.
Married Life
A successful person of the football field, Howard is not so successful in his married life. We will be talking about his married life, Divorce and Girlfriends now.
Tim was married to Laura (37 years). They decided to tie the knot two days later after signing for Manchester United. Laura told that she wanted them to stay together in England as a good husband and wife.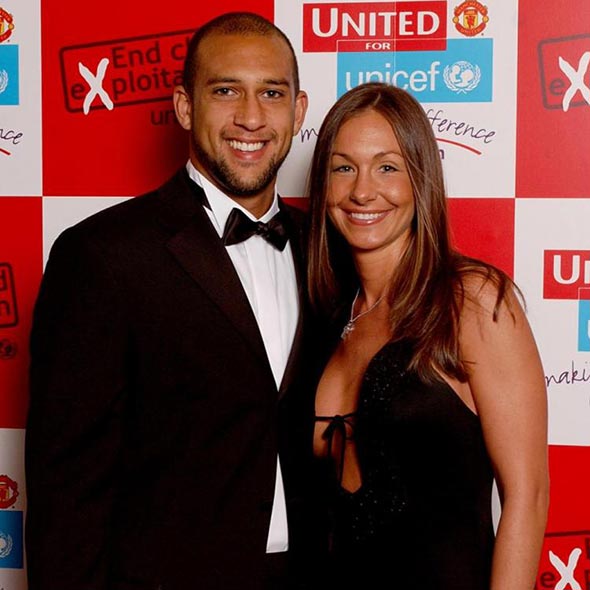 The couple has two children, son Jacob, and Daughter Alivia. Laura stayed at home despite their plan to visit South Africa for the 2010 World Cup. She said in an interview, "I stayed because of the children. We had our tickets booked, we were all set to go, then we decided they were just too young to go that far."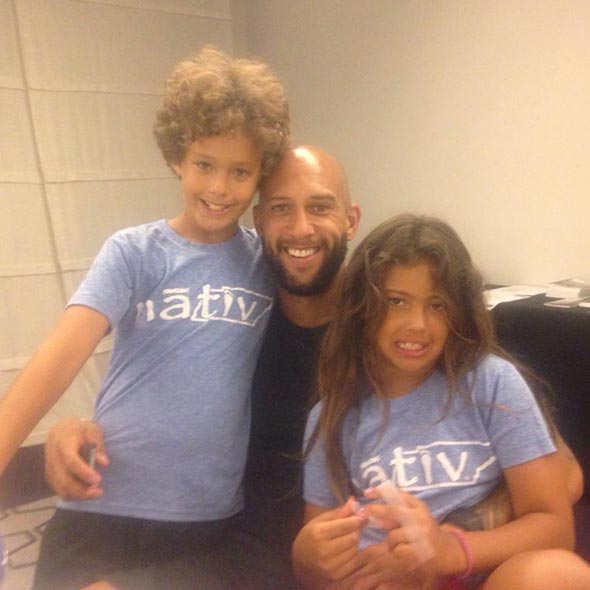 Tim and Laura lived as a happy couple for around 8 years before getting divorced in August 2010.
Howard's Girlfriend
Howard, even after getting divorced, is not single. He is currently dating a Scottish lady, Sara Mclean (24), who is almost a decade younger than him. Sara is an Investment Banker and a Model by profession.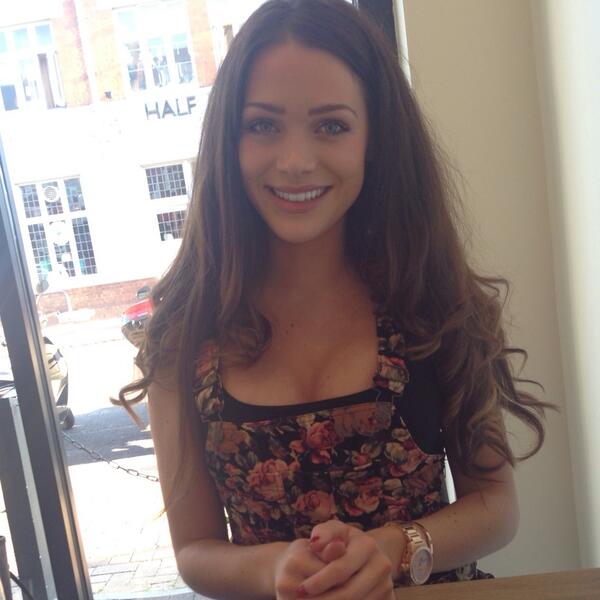 Sara told in an interview that she never watched football before dating Tim Howard.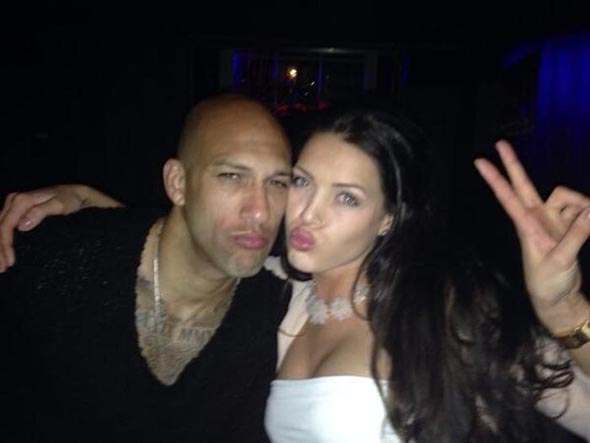 Off the field, Howard lives a chilled life. He is a tattoo enthusiast and also a great fan of Metallica. Howard loves Bikes and Cars and owns a Rolls Royce.
Without much delay, let's have a little glance at his off-field life.
Going first, have a look at his tattooed body.
Well ! Well !! He looks dashing with this beautiful beast here
A short look at his quad bike in here
One who is not a fan of something, would not spend his time reading their books. Tim happens to be a Metallica Fan. As suggested by his Instagram account, he is studying a book on Metallica.
Howard's Net Worth:
A successful footballer, According to the celebritynetworth.com, Tim Howard has a net worth of $8 million. He also earns a staggering salary of $3 million per year.
We talked a lot about Howard's personal life. Now let's have a simple look at his professional career as well:
Tim Howard: Player Profile
Timothy Matthew "Tim" Howard is an American soccer player. Born on March 6, 1979, in North Brunswick, New Jersey, US, he is a goalkeeper by position and adapts a Traditional Technique for goalkeeping. A 6ft 3 inch (1.91m) height has also been a perfect fit for him to be a goalkeeper. Going by the name 'Tim Howard' in the footballing world, he is currently playing for the English Premier League team Everton FC, and will be joining the American football club, MLS Colorado Rapids after the international fixtures complete.
Howard's Footballing History
Club Career
Tim Howard had the first game in his football career with the North Jersey Imperials. He then moved on to the MetroStars. His performance in these two clubs was good enough to attract the English giants, Manchester United. Howard was signed by Manchester United in 2003 and was blessed to achieve the feat with United. With Howard in their squad, United won the 2003 FA Community Shield, 2003-04 FA Cup and the League Cup of 2005-06.
But even with these trophies, Howard could not stay with United for long. After the signing of the Dutch goalkeeper, Edwin Van Der Saar (who in years that followed, proved to be a United Legend), Tim had to leave United on a loan spell at Everton in search of more first-team game time. He then eventually signed for Everton on January 4, 2012.
Howard, being a goalkeeper, managed to score his first professional goal against the Bolton Wanderers, which made him the only fourth goalkeeper to score in a Premier League Match.
Honors gained by Tim Howard:
Tim Howard, as a goalkeeper, happened to capture bags of honors in his name. He was decorated with many Club Honors, International Honors, and Individual Honors. Let's have a detailed look at his achievements, as detailed by the Wikipedia, HERE.
Let's have a look at an interview with Tim Howard and Brad Guzan:
Now, here are some of the best Guzan and Howard saves:
It sounds like the post is in safe hands for the USA whoever sticks in between it. Both Tim Howard and Brad Guzan are excellent keepers, so there should be no problem whoever guards the backline for the team.
Even though both are exceptional, fans have different views regarding the two. Here, let's have a look at the Twitter battle in support of both of the keepers.
Tim Howard:
Tim Howard could've saved my parents' marriage.

— Jensen Karp (@JensenClan88) July 1, 2014
Brad Guzan:
Well, whether it be Howard or Guzan between the posts, the US goal line is in safe hands. I would like to wish them both best wishes in their career and hope for the best from both of them.