News
Tom Welling Joins the Cast Of Lucifer! The Once Superman Will Now be A 2017 Cop
The American actor, model, director, and producer Tom Welling, who once played the character of Clark Kent/Superman on Smallville, a long-running CW/WB series, will return to DC Universe as season 3 cast of Fox series Lucifer, where he will portray the character of a police lieutenant.
In the procedural returns of Lucifer, Welling will play the character of an accomplished, well-respected and reserved police lieutenant, Marcus Pierce. The news about Welling joining the cast was confirmed on Saturday at Comic-Con via a new trailer of Lucifer.
Caption: The new trailer for Season 3 of Fox's drama series Lucifer.
According to Deadline-
"Welling will play Marcus Pierce, an accomplished police lieutenant who is everything Lucifer (Tom Ellis) is not: strategic, reserved and well-respected. But perhaps even more annoying are all the things they have in common. Both men are charming, charismatic and handsome as hell. So when Pierce starts developing a connection with Decker (Lauren German), Lucifer's devilish traits are inflamed."
The new season of Lucifer premieres on October 2, 2017, Monday.
A Little More About Tom Welling:
Active in the film industry since 2000, Tom has a prolific career. He has appeared in more than a dozen of movies and television series. He is notable for appearing in Smallville (2001–11), Cheaper by the Dozen (2003), The Fog (2003), Cheaper by the Dozen 2 (2005), Draft Day (2014) and The Choice (2016)
Caption: Tom Welling in an interview with Jimmy Fallon where he talks about his acting career, Smallville, and it's Superman character.
Moving onto his personal life, he was married to model Jamie White-Welling on July 5, 2002, on Martha's Vineyard. After being bound in a marital relationship for more than a decade, Welling started to have a sour relationship with his wife.
Welling's wife of eleven years, White filed for a divorce on October 17, 2013, citing "irreconcilable differences." In November 2015, their divorce was finalized, and according to legal documents obtained by TMZ, Welling has to pay spousal support for five years.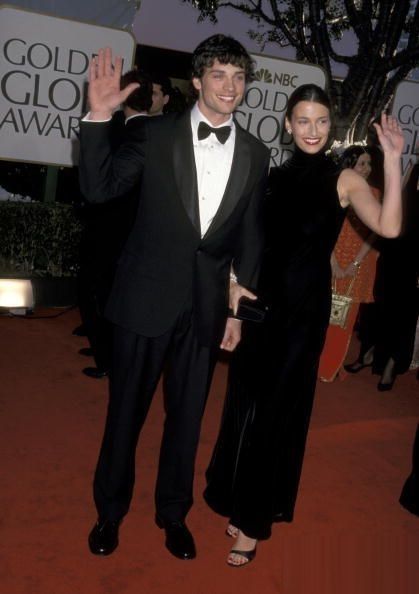 Caption: Tom Welling and his ex-wife Jamie White at the Golden Globes Awards.
Photo Credit: Divorce Debbie
Since Welling ended his relationship with his wife, the rumor about him being gay spread like wild fire, as the former couple has no children together. Those rumors fled away soon after Wellling sparked a romance with Saddle Club founder Jessica Rose Lee. Welling and his girlfriend Jessica have been dating since 2014.