Sports
A Clear View To Marvin Williams' NBA Stats; Possesses Multi-Year Contract To Shine Ahead
Famous NBA player for Charlotte Hornets, Marvin Williams is a renowned name when it comes to basketball. He has been impressive since the day he made his debut and not only that; he has impressed the officials and the fans since his college days.Today, we take a look at his dominant stats and shed some more light on his lucrative contract which has paved the path for him to shine further ahead.
Marvin's NBA Carrer and Stats In A Nutshell.
Starting by impressing the people from his college days at North Carolina, Marvin Williams has been making himself a household name in the world of NBA. He won several awards in his college career including being named a McDonald's All-American, a Parade All-American, and all-state and on the back of that, he was the second draft pick for Atlanta Hawks in the 2005 draft. He was so impressive in his first season as an NBA player that he was even selected for the NBA rookie second team of the season as he averaged 8.5 points and 4.8 rebounds in the 2005-6 season.
That was just the beginning of the rise of Marvin, as on August 7, 2009, Atlanta Hawks gave him another 5-year contract. In a career spanning seven long years with the Hawks, he made his mark on the NBA circuit, and as a result, he was then signed by Utah Jazz in 2012. He was traded to Utah in exchange for Devin Harris.
In a two-season long career for Utah, Marvin grew as a player, and that led him to make an even bigger impression in the court which made him a Charlotte Hornets player on July 21, 2014. After signing for the Hornets, he has been an entirely different player and by that we mean even better. Don't believe us? Well, just have a look at his overall stats.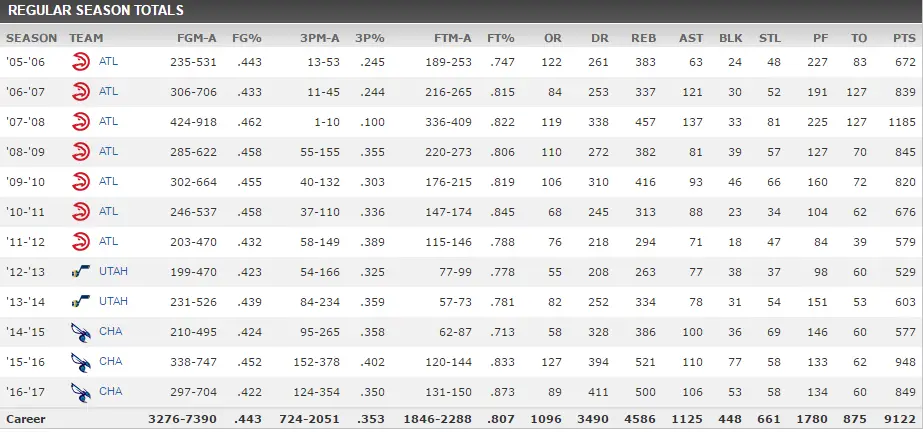 Caption: Career Stats of Marvin shows how he has evolved as an NBA player.
Photo Credit: espn.com
Not only has he managed to be pivotal for his team formation, but he has also been able to win over the hearts of the fans and supporters as he is a regular in the fantasy league as well.
Over the last 30 days, he has been drafted in the fantasy league by 113 people (60.6%), and he ranks 15th among the fantasy players.

Caption: Marvin's Fantasy Impact.
Photo Credit: espn.com
Marvin's Lucrative Contract:
His outstanding contract with the Hornets shows his worth on the NBA circuit. His 4-year contract spanning from 2016-2020 includes an annual average salary of $13,628,125 and also a cap hit of $12,250,000 and a dead cap value of $54,512,500.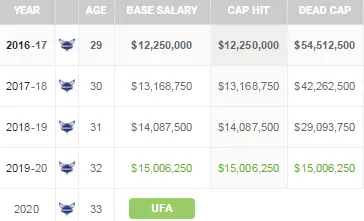 Caption: Marvin's Lucrative Contract with The Hornets.
Photo Credit: spotrac.com
Let's take a look at this monstrous dunk by Marvin against the Orlando Magic.
Caption: Marvin's Monster Dunk against Orlando Magic, 2017.
Published on Mar 10, 2017.
Stay with us for more news regarding Marvin Williams!