Sports
It's a Deal! Mark Trumbo Re-Signed by Baltimore Orioles with a 3-year $37.5 million Contract
Free-agent first baseman, as well as right fielder Mark Trumbo, is bound to a contract with The Orioles as both parties have agreed to a three-year deal.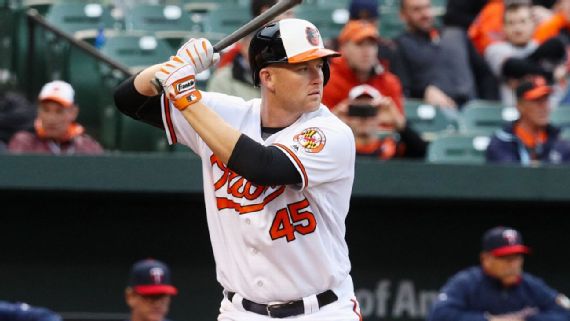 Caption: Mark Trumbo hit .256 with 47 home runs and 108 RBIs for Baltimore Orioles in 2016.
Photo Credit: ESPN.in
According to ESPN, The Baltimore Orioles and professional baseball player Mark Trumbo have reached a three-year deal which is worth $37.5 million. That figure of $37.5 million is dramatically less than the $75-80 million Trumbo was initially seeking in free agency.
Trumbo, O's have agreement at 37.5M/3

— Jon Heyman (@JonHeyman) January 19, 2017
Earlier in 2016, Trumbo, 31, led the big leagues with 47 home runs that resulted in helping the Orioles reach the postseason for the third time in five years. Trumbo has been named an All-Star for the second time in his career, but this was Trumbo's first career playoff appearance with Orioles.
Trumbo hit .256/.316/.533 with 47 homers as well as 108 RBIs in his only season with Baltimore in 2016.
Source: Mark Trumbo's deal with the Orioles is for three years and around $37M. Slight deferrals lower the present-day value.

— Jeff Passan (@JeffPassan) January 19, 2017
Zach Britton, an American baseball pitcher for the Baltimore Orioles, shared his pleasure on Trumbo's signing with the Orioles Hot Stove Show on 19th January. He expressed:
"He's a great teammate. He's kind of like the quiet leader, but the thing about Mark that kind of really drew me to him and the thing I feel like kind of got overlooked was his preparation and the work that he put in. He was constantly watching video, constantly in the cage doing stuff. Even before a lot of guys got to the field, Mark was already in there doing stuff.
Trumbo did hit 47 home runs in 2016 and became a free agent. The 31-year-old player did not accept the Orioles' initial offer of a $17.2 million and one-year contract, wanting to test the market. Although it was uncertain whether he would return, the Orioles acquired outfielder Seth Smith from Seattle earlier this month. But Trumbo Re-signs for Orioles following the speculations.
Secured before last season from the Mariners. He has hit 178 homers and 517 RBIs over a seven-year career with the Los Angeles Angels, Arizona Diamondbacks, Seattle, and Baltimore.