Sports
Anna Rawson: A Remarkable Jump From Australian "Dolly" To Pro Golfer
Can you possibly imagine 'Modeling' and 'Golf' coming together? Well! Anna Rowson depicts how well they can blend together. The thirty-four-year-old Rowson from Adelaide, Australia has excelled in both as a sizzling model and talented golfer.
In Modeling
She had a troubled childhood as her tender heart suffered a staggering blow of losing her mother to suicide at the age of five. But she left all of it behind her to go for the thing she loved-Modelling.
When she became a finalist in the "Dolly" Magazine cover contest 1998 at the age of 16, she could have hardly predicted she would be a professional golfer moving ahead into the future. The magazine worked wonders for her paving the way into a bright modeling career. The opportunities on the catwalks, print ads, magazines and television came flowing to her one wave after another. You can call "dolly" her breakthrough in a modeling career.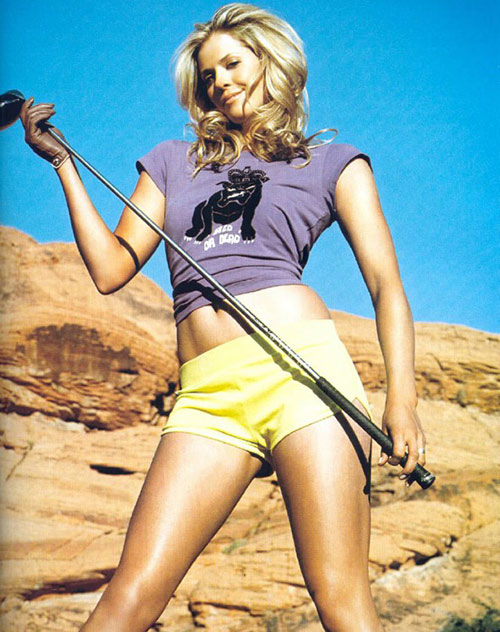 Source: Blogspot.com
So, how exactly did golf come into her life?
Although she was introduced to golf earlier than modeling, she had a torrid time learning and dealing with Golf. The fact that she was good at every sport other than golf makes the situation more perplexing. She honestly admits that her initial phase with golf wasn't a bright omen.
It was solely for the sake of her crush. This is the fact no matter how unbelievable it may sounds. She was driven by her teenage stubbornness and giddiness to impress her older brother's friends who played golf. She wouldn't take any excuses. She eventually dealt with her issues and came out with flying colors in golf. Her trip around the nation with few other compatriots competing in the game made her fall in love with it. By 1999, she would go on to win South Australian and Victoria Junior Championship to secure her passage into Australian National Squad as an amateur
She had to wait until 2004 to mark her first professional appearance. She went on to be a season 2006 LET rookie and was invited to join LPGA Tour.
She was even included in Sports Illustrated (SI)'s list of 50 most fashionable athletes with reputed writer, Heather Zeller being quoted,
"An Australian native, Rawson has blurred the lines between fashion and sports for more than a decade. Noted not only for her style on the golf course but for her career as a runway model, she's been able to capitalize on her interests, which vary from the LPGA to Channel Haute Couture."
Thank you @SInow for naming me one of the worlds most stylish athletes!! #fashionable50 pic.twitter.com/hSVmQHPJno

— Anna Rawson (@TheAnnaRawson) April 12, 2016
Watch her make golf look steamy hot:
If modeling and golf weren't enough to content her, she has now made her mind for pursuing MBA. She gets us wondering if she will ever have the fill of anything.