Sports
Bob McKenzie: Crazy Hockey Dad to His Sons, Has an Amazing Salary of Six Figures. Net Worth?
Bob McKenzie is a live wire on the mic. Bob is the voice of Canadian ice hockey. Bob always wanted his sons to be an athlete, and they haven't let him down. Well, we can credit him for his son's inclination into athletics.
Caption: Bob McKenzie was analyzing in TSN.
Source: theglobeandmail.com
Bob McKenzie, who himself is a commentator, also enjoyed his son's career in hockey although it was meant to be for a short interval of time.
Crazy Hockey Dad!
Caption: Bob about 'Hockey Dad'.
Bob himself has admitted in book 'Hockey Dad,' which he published in 2009 about his contribution to son's career. Bob married Cindy McKenzie in 1980. He has been married to his wife for 35 years, and there are certainly no signs of divorce. He used to drive his sons almost a hundred kilometers away on hectic traffic of Canada to compete in level hockey games.
Meanwhile, Bob also harassed referees, almost got into fistfights with opposing coaches and parents and got frustrated with an eight-year-old son for not passing enough. Such was Bob's dedication!
And the best part, McKenzie was their biggest coach.
McKenzie has also shared about the hockey careers of his now-adult sons Mike and Shawn in the just-east-of-Toronto mega burbs from the 1990s.
McKenzie also described "the hockey parents from hell" and desperate like himself.
"Who roar onto the scene with reckless abandon, lighting fires, abusing coaches, insulting kids and parents and generally proving to be antisocial deviants who were born without a clue."
Both Son's Career!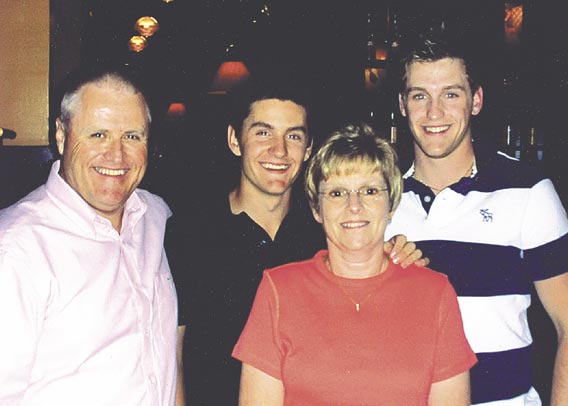 Caption: Bob McKenzie with his family.
Source: winnipegfreepress.com
Both of his sons assimilated lot from old Bob.
His eldest son Mike McKenzie played Division I hockey with St. Lawrence University for four seasons. He was named twice to NCCA All-Academic Team. That's a real achievement which only played for four seasons. Mike made his professional debut in American Hockey League (AHL) for Albany River Rats in 2010. Mike also had a short tenure for Ontario Reign during the 2011-12 season. But playing for only two years, he retired from professional hockey on March 31, 2012. Following his retirement, Mike joined as an assistant coach of Kitchener Ranger of Ontario Hockey League in 2012. He was promoted to Assistant General Manager in 2015. That's some promotion!
On the other hand, Bob's junior son Shawn McKenzie hockey career was cut short in just 14 years old due to several concussions. Currently, Shawn is a sports broadcaster in Sportsnet.
Bob had few words about his both son's career:
"Oh, yeah, absolutely. Listen, my son, Shawn had to quit playing hockey when he was 14 years old because of concussions. My son Mike played four years of college hockey, division one, at St. Lawrence University … But you know, the funny thing is, in the case of Shawn, from the time he was 14 years old, I believe he'd had seven concussions. And most of them weren't in sports. He just was a kid who had bad luck — his brother would chase him around the pool, he'd fall, bang his head on the side. He'd be roller-blading home from school, go to turn a corner, toe-pick in the grass and go face-first and knock himself unconscious. He had two or three in sports."
Caption: Bob's junior son, Shawn with a microphone on Sports Net.
Six Figure Salary and Net Worth:
Bob McKenzie is one of the most recognized figures in Canada and even in the United States, courtesy of his work on NBC's hockey broadcasting and his annual salary of six figures. Although the exact number is difficult to extract, Bob's net worth is that of $10.5 Million.
Caption: Bob McKenzie 39 s Top 10 NHL Draft Rankings 2011.
Robert Malcomson "Bob" McKenzie (born August 16, 1956) is a Canadian hockey Commentator and has covered it since 1986. Currently, McKenzie provides his interpretation for NHL on TSN telecasts, as well as in international sport events with the most notable being the annual IIHF World U-20 Hockey Championship.