Sports
Is Curtis Granderson Married? Or The Outfielder Does Not Have Time For Dating Amid Booming Career?
The freshly signed outfielder of Los Angeles Dodgers, Curtis Granderson has already begun to build stupefying career figures with the new team. This professional American baseball player is utterly on his way to a booming career to conclude a successful tenure.
But is Curtis only concerned about his baseball career or has a girlfriend and gets occupied in some dating affairs?
The Grandy Man's career like an open book, but the same doesn't apply when it comes to his personal life. He indeed does not seem to have a relationship, but a man of his age cannot be single. Right?
Is Curtis Granderson A Married Man?
As it happens, Curtis is a single man, who currently looks centered upon making a successful game tenure. To complement it, there aren't any news regarding his relationship that has hit the media, and it appears that he is not even seeing anyone at present.
Well, it's genuinely time for him to tie a knot and go for having a wife to make his personal life as successful as his career. But hey! Nobody is judging here; it's his personal choice!
An Overview Of Curtis' Baseball Career:
The professional baseball career of Curtis began with the 2002 MLB draft. On June 4, 2002, Detroit Tigers drafted Curtis in the third round as the eightieth pick. However, he only got an opportunity to make his MLB debut two years later in 2004 on September 13 playing against the Minnesota Twins.
Curtis remained with the Detroit until 2008; before getting traded to New York Yankees on December 8, 2009 as a part of a three-team trade, which included Arizona Diamondbacks as well. Before that, he signed a five year/ $30.25 million extension contract with Detroit, on February 4, 2008.
Curtis then played for two other teams: New York Mets and Los Angeles Dodgers. His four-year contract with the Mets began on December 6, 2013, which was worth $60 million. As of 2017, Curtis is with Dodgers.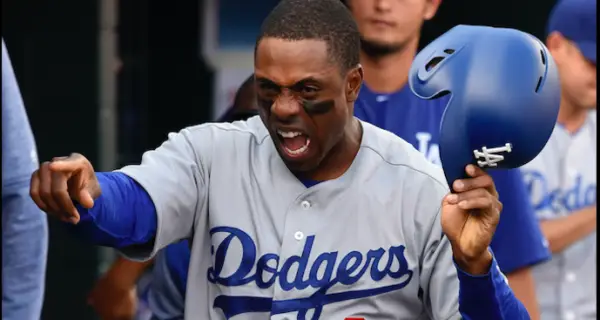 Caption: Curtis in an aggressive mood after scoring a run playing against the Tigers on August 19, 2017, in Detroit.
Photo Credit: nbclosangeles.com
Beginning from the year 2004, Curtis has been presenting excellent game performances till this date. In the very first season of 23 matches for him, he had a batting average .240 and 25 at-bats.
The career stats got better for him in future, the year 2011 being the most notable one. It was the year he collected 41 home runs with .262 batting average and 583 at-bats in 156 games and also won a Silver Slugger Award for the same year.
In 162 game average, he has 29 home runs with 594 at-bats and .252 batting average, which can all be seen in the stats table below.
Caption: Curtis' career stats as per Baseball Reference.
Stats Credit: baseballreference.com
Coming out of the games, Curtis is the one who likes to conduct media interviews wearing his glove on top of his cap like another outfielder of Kansas City Royals, Alex Gordon, who does the same action during any media interview.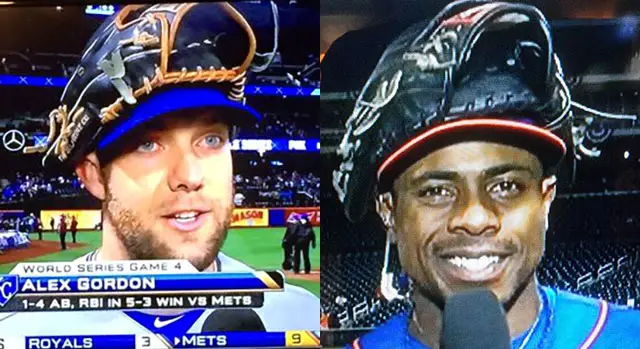 Caption: Alex Goron (L) and Curtis Granderson wearing gloves on top of their cap while being interviewed.
Photo Credit: Cbssports.com
In a recent interview, Curtis expressed his enthusiasm towards the game and said that he does not want to stay in a room managing the game, but rather be out there seeing it all in action which also inflicted he was talking about retiring.
"I want to help MLB in some capacity. I want to be open to see what is out there."
But the infliction might be wrong as well!
Think we're missing something? Do let us know in the comment section below!