Sports
Divorced With Model Wife, Goran Ivanisevic's Motivation to Play Tennis: Girlfriend Rumors?
When people chose to do certain things in their life, their decision is mostly based on their personal judgement and senses. Although some are brought up in a particular style of life and are used to following it up, for others; their family, love, loss and challenges motivate and inspire them to do and achieve great things.
We are covering a similar story here of a player, who in the attempt to save his sisters life, demanded and achieved more from himself.
Professional Career and Motivation:
Many successful people in the world are inspired at a very young age towards certain actions; that become their identity. For some, it is all about fame and fortune, and for some, it is their fate and love that pushes them more. Goran's inspiration came from his sister, Srdjana Ivaniševi's battle against cancer that gave him an extra strength as well as motivation to play on.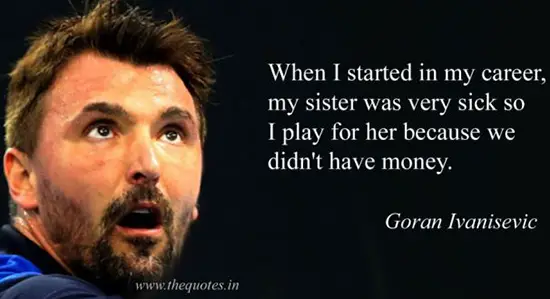 Source: thequotes.in
Starting his professional career since the mid-80s, he had already debuted as a professional in 1988 and made it into the quarter-final of the elite Australian Open, the following year. His first singles win came at Stuttgart in 1990 where he won the World Team Cup for his country.
His attacking and aggressive style of play saw him compete against many world class players in different events around the world like US Open, Wimbledon and French Open. His motivation and zeal to continue going forward in life can be measured regarding these professional achievements with which he made his family as well as his nation, proud.
Divorced With Model Wife :
Goran and Tatjana go back a long way; all the way back to 1998 when he was 25 years old, and she was only 18. Goran proposed her with an engagement ring in Dubai, and they started their love life.
They had their first child in 2004, which was a daughter named Amber Marija. The child came as a motivation for both the couple as Goran started to work harder and Tatjana gave up her career to become a mother.
In 2007 the birth of their second child; a boy named Emanuel strengthened their love life even more and they decided to get married, but by then, Goran had started dating a model named Vanja Halilovic from around 2006. After a photograph scandal that disclosed this affair, it started to make holes in his relationship with his wife, Tatjana.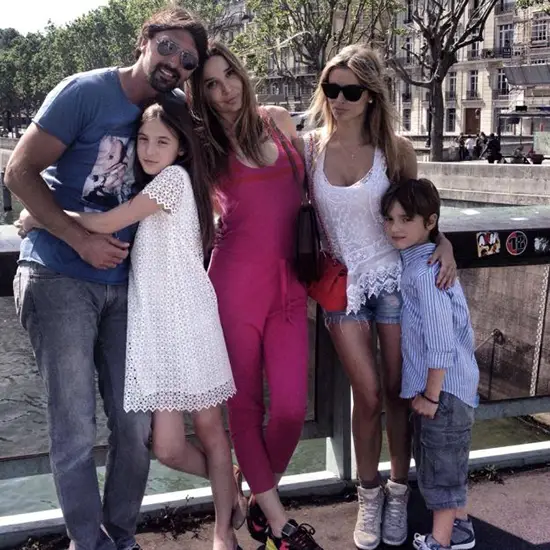 Caption: Goran, Tatjana, and their kids together, 2012
Source: fabwags.com
Some reports claim that Vanja was still in touch with Goran even after his marriage to Tatjana Dragovic and that she was not comfortable being his mistress. This made his life more difficult as his wife Tatjana felt betrayed and filed for a divorce, which took place in 2013. By then, Goran and Vanja had already broken up. Seems like he took the divorce pretty hard as even his fans were worried about his whereabouts and condition.
His Girlfriend and Dating History:
Before Tatjana, In 1992, when he was ranked at world no.5 position, Goran was reportedly having affairs with a model named Daniela Mihalic. The two of them were together for 5 years before Goran's affair with his next girlfriend Tatjana started.
Goran's Short Bio:
Goran Ivaniševic is probably the most successful Tennis player who is currently working as a tennis coach. He was born on the 13th of September 1971 in a middle-class family in Split, Croatia, and although he was not so much into tennis as a young boy, he started to play the game around 8 years of age and really grew into it.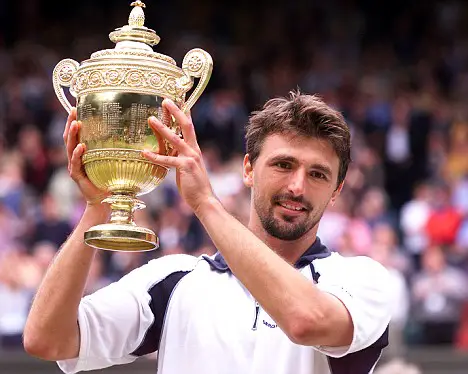 Caption: After winning the Grand Slam, 2001
Source: realclearsports.com
Standing over 6 feet tall and weighing over 80 kg, he is known for using both his hands on the pitch and for his famous backstroke. Coached by the veteran Mario Tudor, Goran has been in 27 singles' finals and has bagged over 20 Singles' career titles. With lots of wins, tours and endorsements he has obviously earned a lot of respect, fans & fame and his current net worth value is around 17 million US dollars.