Sports
Doug Whaley From Buffalo Bills Fired Right After NFL Draft; Contract Extension To Ashes
Well, this escalated quickly!
Buffalo Bills have fired GM Doug Whaley following the NFL draft, that burned his newly signed four-year contract to ashes. Whaley was fired just days after putting the finishing touches on the first draft class which is to be integrated into the new coach Sean McDermott's program.
Some sources say that Whaley made the final straw when he traded the No.10 selection to the mighty Kansas City Chiefs rather than draft quarterback Patrick Mahomes, and that is supposed to be the ultimate downfall of the manager who was a famous name in the NFL circuit.
Terry Pegula, one of the owners of the Bills provided some boilerplate answers to a barrage of questions and did not address the case directly, which shows that they have their sights set on the future, whilst leaving the past behind them.
But this tweet sums up the major decision taken by the heads at the Bills.
General Manager Doug Whaley has been relieved of his duties.

— Buffalo Bills (@buffalobills) April 30, 2017
As per Jerry Sullivan of the Buffalo News,
"Whaley has become a mute, emasculated figure. He's not allowed to speak for the organization anymore—even on the rare occasions where they used to trust him. The latest indignity is his exclusion from next month's predraft media luncheon."
Whaley served at the Bills since 2010 taking over as the director of pro-personnel and oversaw draft classes and then was promoted to becoming the GM ofBillss back in May of 2013 after Buddy Nix stepped down.
Whaley was also an excellent manager and was given a multiyear contract extension back in January 2016 with no salary cap, despite the Bills' mediocre 8-8 record the previous year that had an impact on his net worth which is yet to be disclosed.
Bills owner Terry Pegula said back then,
"We are pleased to announce a multi-year contract extension with our General Manager Doug Whaley. Doug has demonstrated an excellent eye for talent and has been an asset to the organization on many levels. I look forward to working closely with Doug and Coach Ryan for many years to come."
However, the contract has unusually turned to ashes in a surprising turn of events.
Well, let us hope that things do eventually turn out to be better for the both parties in the days to come although they are on separate paths.
Doug Whaley's Personal Life And A Wiki-Like Bio:
Born on December 16, 1972, in the USA, Doug Walter is most famous for his professional career as an American football executive and former collegiate player. But on the other side of his life, he has a beautiful wife who he has been married to since June 08, 2012. His wife is Stephanie Lambert, and the two have had a successful relationship for the past four years.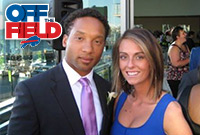 Caption: Doug and his wife, Stephanie Whaley.
Photo Credit: buffalobills.com
The two have a daughter together but have preferred to keep their family life and personal life far from the media, and thus, not much have been revealed by them.
Regardless, we would like to wish the family of Doug all the very best for the days to come.
Stay with us for latest updates on Doug Whaley!