Sports
DWTS Winner Donald Driver Is Has A Big Heart! Helps Ill Children Through a Foundation He And Wife Started
Not only is former American football wide receiver Donald Driver the winner of the 14th season of "Dancing With The Stars," he's noble by his heart too.
No, we are not advertising, but we are speaking the truth as he is someone who has been there and done that in his NFL career and his dancing career, but he also runs a foundation with his wife which helps children.
So let us address his careers as an NFL legend, a dancer and his life as a good human.
DTWS Winner Donald Driver Runs A Foundation With His Wife.
Donald Driver won the 14th season of Dancing With The Stars, and the win was something which he said was winning a Super Bowl. Driver was teamed up with partner Peta Murgatroyd. He said,
"I think it's the same,"

"You have great moments [throughout both experiences]."
Caption: Donald Driver Wins the 14th Season of DWTS Published on May 23, 2012.
Moreover, after the finale was done with, he revealed it was time for him to focus on his number 1 love, his wife, and family. He explained,
"I've been thinking about how I'm just going to thank [my wife] and my kids,"

"[My wife] says she wants to go take a trip. So we're going to take a Disney cruise as a family."
He continued,
"We're going to spend as much time together [as we can],"

"That's what you have to do, because my family has been behind me the whole time."
Driver is married to his wife Betina Driver since 2000, and the couple shares three children together, namely Christian, Christina, and Charity.
Donald also has plenty of love for his wife, and one example of that a post he shared back in 2015, where he wishes his wife a very happy birthday.
Speaking about his family life in an interview in 2012, he said,
"We have three beautiful kids. Christian is 8. Christina is 6. And, Charity is 7 months. So, you know, I love my babies … For a guy that grew up saying he never wanted kids, it's truly a blessing,"
He also opened up about being a homeless person during his early life.
"Well, I mean, I grew up homeless, you know, lived in and out of U-Haul trucks and, you know, apartment houses, friends. You know, when Mom's trying to raise five kids, it's very hard. But, you know, I think one thing she's always said is that God's going to get us out of it, and he did,"
Caption: The Story of Donald Driver Uploaded on Mar 5, 2013.
But even after success, he is someone who is gold by heart, as he runs a foundation, The Donald Driver Foundation, which helps children and works for the benefit of the kids' wellbeing.
The purpose of the Donald Driver Foundation is said to be to display "Strong Hands, Strong Minds, and Loving Hearts" (which is their motto) to serve as a hand up, not a handout.
The Foundation has a core focus on serving children and families who are underprivileged by addressing health, safety, education, wellness, and career development.
Good job Driver!
Driver's Career As An American Footballer: His Career Stats and Retirement.
Donald Driver played college football at Alcorn State University, and his performances over there helped him get picked in a draft by the Green Bay Packers in the 7th round of the 1999 NFL Draft.
Donald then became a one team man and spent his entire 14-season long career with the Packers before announcing his retirement back in 2013.
The four-time pro bowler said,
"I'm going to officially put the cleats on the shelf. I'm going to walk away from the game,"
He also added,
"I played my entire career in Green Bay and have always enjoyed a special bond with the fans,"

"I can think of no better way to retire than to celebrate with them and the Packers organization."
He then concluded,
"I'm going to open my retirement up to the fans ... give them everything they deserve,"
He was an invaluable asset to the Packers and contributed in several thrashings of the opponents. His stats provide evidence to what we are depicting.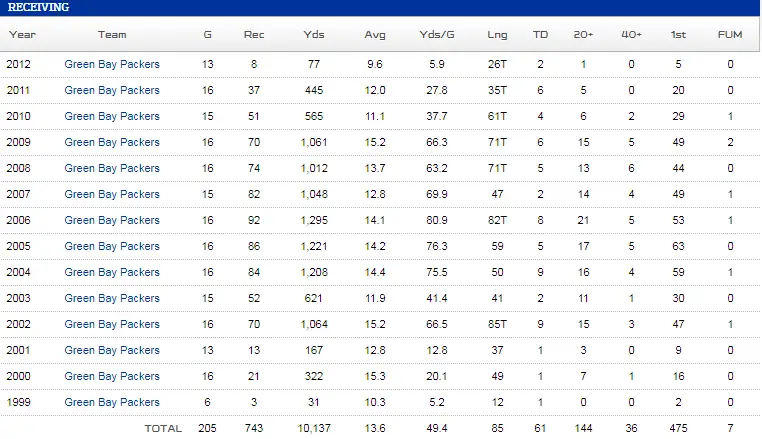 Caption: Donald Driver's Receiving Stats.
Photo Credit: nlf.com
The success he acquired with the Packers and the success he earned in the dancing reality show has helped him accumulate a hefty net worth of 16 Million USD.
Stay with us for the emerging updates on Donald Driver!