Sports
Footballer Vince Young Reveals About Blooming Steak House But Where Is He Now With His Stats
Vince Young has been in the limelight for few reasons lately, and the fact that he was one of the go-to players in National Football League can't be denied. Well, we might see Vince Young very soon in football court, thanks to Spring League.
And it seems that Vince Young is ready to make his comeback if he agrees to do so. Before his comeback how are his stats?
Making His Comeback Soon?
There is a new independent pro football league kicking off in April of 2017 which is called the Spring League whose motive is offering a fresh start for many players. The Spring League is eyeing the likes of veterans like Ray Rice, Johnny Manziel and Vince Young.
Woods told the Association Press that he also discussed the Spring League with representatives of Young and Rice, who could help bring publicity and height to the new league.
Although, the primary goal of the upcoming venture is to give younger players chance to sharpen their skills and act as a sort of development league helping them in the higher level, something that has been lacking for years. Woods said:
"Our core strategy is to address deficiencies in the current pro football landscape by providing a showcase to experienced NFL players and an instructional platform for younger talent in need of live game repetitions, which are paramount for development."
Owns A Steakhouse: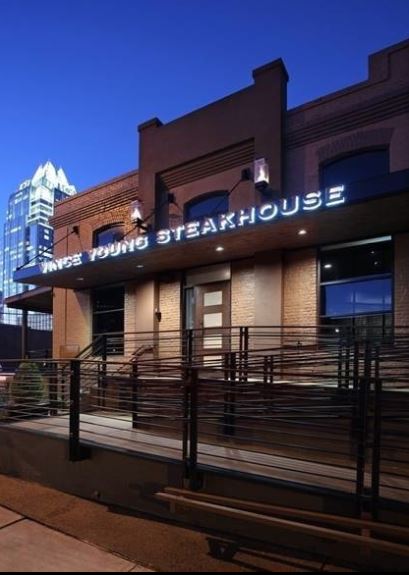 Caption: Vince Young's Steakhouse in Austin, Texas
Photo Credit: tmz.com
As of today, Vince Young has Steakhouse in Austin, Texas with its name as 'Vince Young Steakhouse.' Phillip Brown who is an executive chef as well as co-owner of "Vince Young Steakhouse" in Austin told TMZ that business is booming at the joint and Vince's presence has a lot to do with it. He said:
"He will greet the guests, shake their hands and take pictures. He's more charismatic and smooth and works the room better than any politician I've ever seen. The people just love him."

Caption: Stats of Vince Young.
Photo Credit: pro-football-reference.com
Vince Young signed a one-year, contract on May 1, 2014, for $730,000 with the Cleveland Browns, including an average annual salary of $730,000 but was released on May 12, 2014.