Sports
Francisco Liriano's Life From His Stats And Fangraphs; A Look Back At His Trade
Dominican professional baseball pitcher, Fransisco Liriano is an existing name in the MLB circuit. He has been an active player in MLB, and the fans love seeing him on the pitch. Let us have a look at his Fangraphs and his career stats and address his trades.
Liriano's Career Stats And Fangraphs.
Lefthander Liriano is the pitcher for Toronto Blue Jays and has also pitched for the Minnesota Twins, Chicago White Sox, and Pittsburgh Pirates in MLB. Liriano first started his MLB career as a San Francisco Giants pitcher as an international free agent back in 2000.
He was then traded to the Minnesota Twins back in 2006. It was while pitching for the Twins that he got the big call of getting compared to teammate Johan Santana, who needs no introduction.
After the very first season with the Twins with a record of 12-3, he led the Major Leagues with a 2.19 ERA. That was the impact he instantly made!
Following a 6-year long stint with the Twins, he moved to Chicago White Socks for a short period in late 2012, before moving to Pittsburgh Pirates in 2013. However, an injury to his non-throwing arm meant that his contract was voided back then and was signed again in 2013.
Liriano signed a three-year contract with the Pittsburgh Pirates, that included a $39,000,000 guaranteed amount, a $2,000,000 signing bonus, and an annual average salary of $13,000,000. Whopping right?

Caption: Liriano's contract with the Pirates.
Photo Credit: spotrac.com
In 2015, he reached a career high 205 and went 12-7 for the Pirates, and that is when he proved his worth.
However, in 2016, Francisco could not live up to the expectations as the bar he had set was too high. As a result, he pitched to a 6–11 record, 116 strikeouts, 5.46 ERA, and 69 walks in 113 2⁄3 innings leading him to them being traded to the Toronto Blue Jays in mid-2016.
But that did not dent his overall stats though as he had accomplished so much in his career already.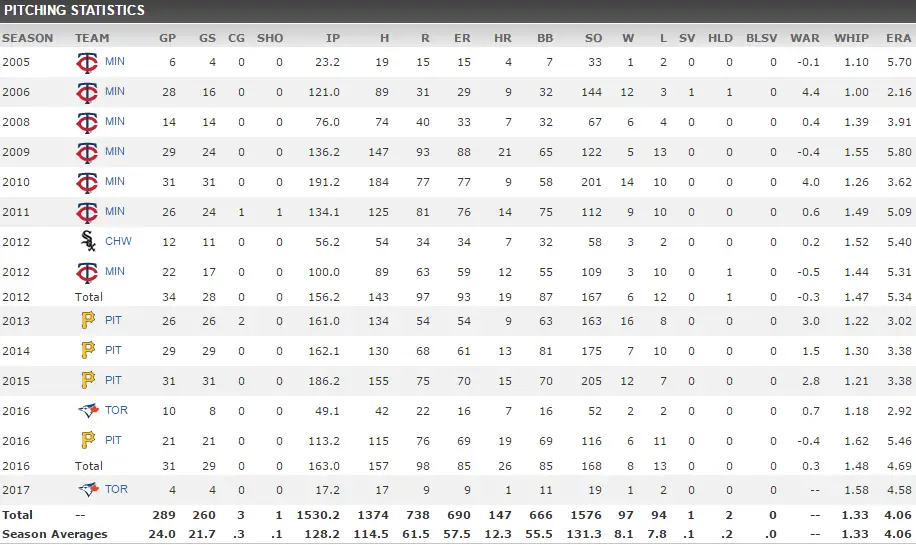 Caption: Liriano's Career Stats.
Photo Credit: espn.com
Based on this stats, Francisco is also adored by fans all around the world, and his Fangraphs proves that.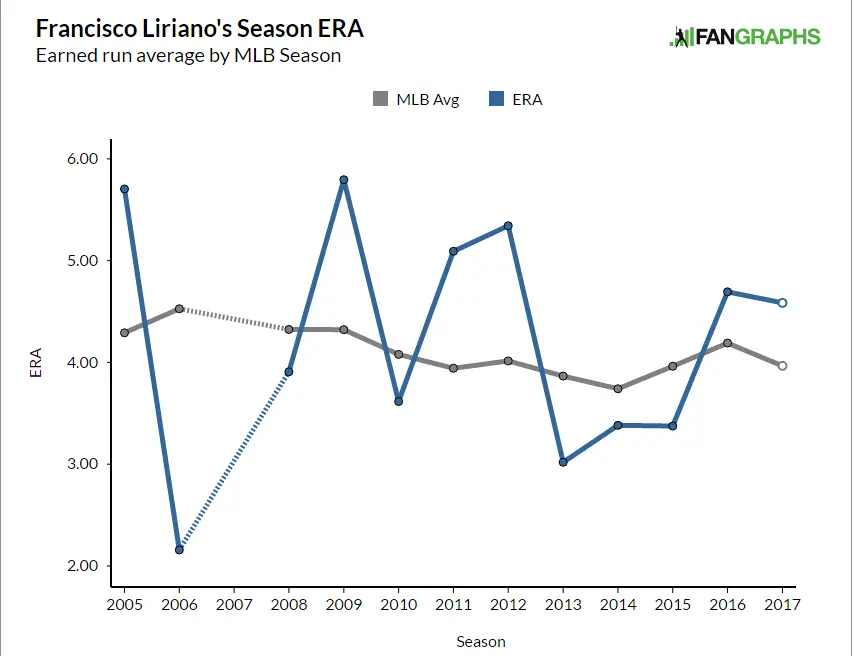 Caption: Liriano's Fangraphs over the years.
Photo Credit: fangraphs.com
The Famous Trade of Francisco Liriano.
On the 1st of August, 2016, Liriano was traded to Toronto Blue Jays along with Reese McGuire and Harold Ramírez for Drew Hutchison. Liriano was a top performer in the Pittsburgh Pirates' rotation in 2013 through 2015 but failed to live up to the bar he had set for himself in 2016 leading him to be traded to the Canadian team.
But after he joined Jays, Liriano suffered a concussion during Game 2 of Toronto's playoff series against the Texas Rangers. He was stuck in the head by a line drive which came off the bat of Carlos Gomez. But despite the shadow of doubts over his comeback date, he traveled with the team to Toronto.
Caption: Liriano's Blue Jay debut in 2016.
Published on Aug 5, 2016.
Such a valuable asset he was for whichever team's shirt he has ever donned.
Stay with us for more news on Fransisco Liriano!