Sports
Gracie Gold's Baffling Personal Life With Rumored Boyfriend And Her Hard To Segregate Twin Sister
Gracie Gold, the bronze medal medalist at Winter Olympics 2014, has emerged as USA's golden girl. It has been a successful year for an American figure skater as she has received highest rank in the world championship, fourth.
More importantly, she has a fraternal twin sister, and both sisters are a skater. But what about Gracie's boyfriend?
Gold has been in the limelight since winning a medal at the Winter Olympics in 2014. But she has also been in the limelight for her affairs. Gold's name had been linked with Gus Kenworthy.
Still Dating someone?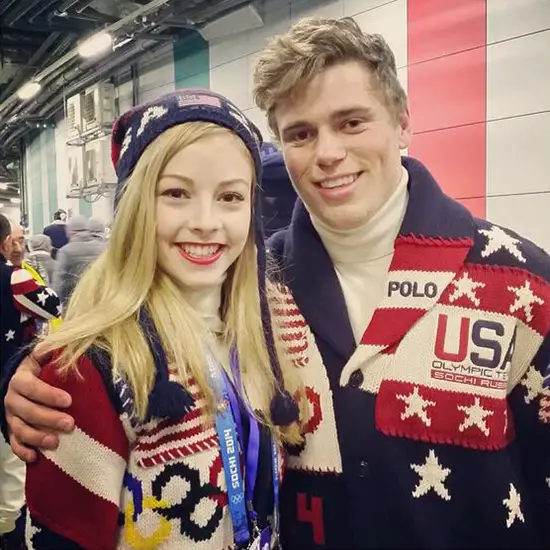 Caption: Gracie Gold and Gus Kenworthy.
Photo Credit: christiantoday.com
Kenworthy appeared on the Today Show on 2014 and commented on his relationship with Gracie Gold. He also admitted that he had been "hanging out" with Gold, and also left clues that there might be more than just friendship between the pair. Gus Kenworthy said on the Today show.
"We've been hanging out together,"
Gus Kenworthy and Gracie Gold reportedly met through a common sponsor just before the Winter Olympics in Sochi in 2014 and had been hanging out.
After that incident, Olympic medal winner Gracie Gold accepted a prom invite by a high school student, Dyer Pettijohn whose video proposal to the figure skater has attracted thousands of views in 2014.
Gold, winner of a bronze medal in the team event at the Sochi 2014 Winter Olympics, had said the video in which Dyer Pettijohn asked her to the date, had 'melted' her 'heart' and she accepted the invitation after the teenager surprised her during an interview with a real-life proposal, saying:
'If it works out, I would love to.'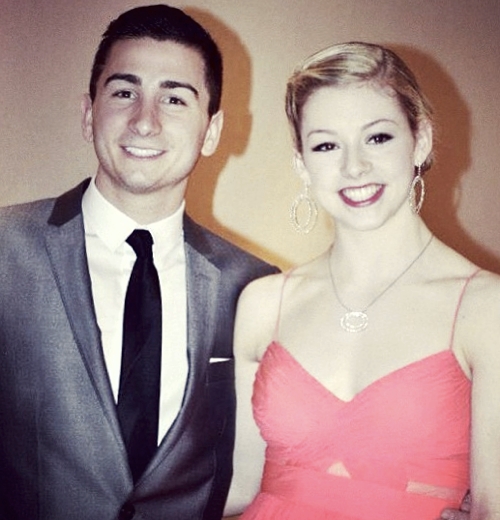 Caption: Gracie Gold and her alleged boyfriend, Max Aaron.
Photo Credit: playerwives.com
Gracie Gold might have joked about her "boyfriend Mr. Gorilla," it seemed that it just might be true. Gracie Gold had been dating with Max Aaron who is a former Junior National Champion figure skater as well as 2014 U.S Bronze medalist.
Caption: Gracie's love note to Max.
Photo Credit: playerwives.com
Gracie had also made two cupcakes to Max with a love note that read:
Max, HAPPY BIRTHDAY! I am so sorry I can't be there to celebrate with you. I hope that this 21st birthday is great! We've had a lot of great times together and I can't wait to see you again. I miss you so much! You are such a sweet and amazing guy. I'm lucky to be your girlfriend. Please enjoy these cupcakes for me. The four-leaf clover is for good luck at worlds, the 21 should remind you to have fun and let loose, and the heart is to remind you of me <3 Love, Grace
Although it is not sure that they are still in a relationship, both might still be together.
Soul Sister!
It is no secret that Gracie Gold has a twin sister, Carly Gold who is also Gracie's best friend. Carly cheered her sister on Winter Olympics in 2014.
Carly is just 40 minutes younger than her twin, Gracie Gold and has been one of her sister's main supporters as she has embarked on an exciting year following her fourth world championships rank in 2016.
Speaking about her relationship with her older twin sister Gracie, Carly has said,
"For Gracie, having someone she could talk to freely and whenever she wanted to was really helpful I think. It helped her get out some of her anxieties. With me, she doesn't have to think about everything around her."
Although there are lots of speculations about Gracie being Jewish despite her name, she is not Jewish. One of her fans tweeted about Gold not being Jewish.
'If your last name is Gold, you're either Jewish or really good at skating.' @GraceEGold

— Mason aka Quinn (@LSSCPlaya4Life) February 10, 2014
Being an American figure skater and bronze medal winner at Winter Olympics in 2014, she surely has millions of net worth. But an exact number of her net worth is unknown and she has not revealed it herself.