Sports
How Will John Lackey's Issues With Media Affect His Current Contract With Cubs?
One of the stars of Major League Baseball, John Derran Lackey has on and off issues with the media. But the question arises, has it affected his career and current contracts with the Cubs?
Along with his career, his personal life has been a matter of curiosity. So what's the reason behind his career and relationships? We will crack it out in our story today.
Angry Young man: John Lackey!
Back in 2011, he was the star of Boston Red Sox, and the World Series-winning star was not happy with reporters despite Boston Red Sox's victory over the New York Yankees on September 26, 2011, followed by his good performance.
He was indeed angry with the media despite his good performance for the team. The main reason behind him being mad at the media was because his divorce was about to be exposed to the public, courtesy to the media. On a statement, to TMZ on September 27, 2011, he stated;
'Let me tell you the truth. Thirty minutes before the game I got a text message on my cellphone from one of you, somebody in the media, talking about personal stuff.
Moreover, he added:
'I shouldn't even have to be standing up here dealing with it.
Lackey had officially signed a five-year contract worth $82.5 million with Boston Red Sox. Lackey earned a salary of $507,500 because of a clause in his previous contract with the Red Sox in his last season with Red Sox.
After that, he signed a two-year deal with Chicago Cubs worth, $32 million. Although he had issues with the media, it has not affected his contact with the Cubs. John Lackey's salary is that of $16 million, and net worth is estimated to be of $35 million.
Moreover, Lackey had an issue with Chicago Clubs Manager Joe Maddon as he was pulled off on October 19 with a game against Cleveland Indians at Wrigley Field Saturday night in the fifth innings of the match.
Lackey seems to be furious with Maddon asking his boss, "Are you … kidding me?" It was shown on live television as well. Joe Maddon reacted after the game and to LA times on October 28, 2015, and said:
"He vibrates at that frequency. You know that. He's an edgy human being. He's an edgy baseball player. So if you're surprised by it, that's your fault. John's always been that guy. He gets angry."
Despite the issue, Maddon has always ranked Lackey as one of the top guys in the game, as he said in the same interview:
"John Lackey, specifically, the day he pitches, man, he's a different cat. The players know there's no messing around when he's pitching.
Standing in his locker room after Game 6 of the World Series on November 2, 2016, one of Cubs veteran John Lackey showed the impatient and restless sense with the media as he had issues during his time with the Red Sox too. Lackey reacted in an interview with the reporters:
"How am I getting interviewed right now?"
He added:
"I didn't do (expletive) tonight."
It looks like the chase of cat and mouse will be going on. There is no denying that he had few issues with the media but all in all it has not affected his contact with the Cubs.
Relationship Saga!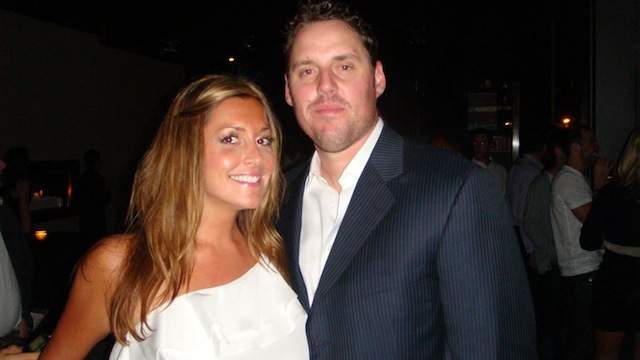 Caption: John Lackey and his ex-wife Krista Clark back when they were a couple.
Photo Credit: heavy.com
Then Boston Red Sox star John Lackey married Krista in November of 2008. The couple met back when Lackey was still playing for Los Angeles Angels. But their relationship couldn't last for long as the star pitcher lodged the documents in Texas on August 30, 2011, blaming 'the marriage has become insupportable because of discord or conflict of personalities' while Krista was still battling cancer. John Lackey finally divorced his wife Krista on January 31, 2012.
Caption: Marriage ceremony of John Lackey and Kristina Carter posted on December 11, 2015.
Source: vimeo.com
At the end of the day, John Lackey found love again with his girlfriend Kristina Carter, and the couple wed at the Buffalo Gap Chapel on December 13, 2014. The reception was held at The Mill Winery in Abilene, Texas.