Sports
Manny Ramirez Is Swaying The Pitch With His Still Incredible Swing For Japan! Career Stats Too Strong For Cubs?
How to say that someone is successful in his career as a professional athlete? - His career stats. Stats are something that shows how good a player is and based on those stats; various franchises develop interest on you.
The same can be said about Dominican-American baseballer Manny Ramirez, who is still killing it in Japan after all these years. So let us take a peek at his illustrious career and educate you as much as we can.
Ramirez's Career Stats, Contract, And Salary In Brief.
Ramirez had played in Major League Baseball for major parts of 19 seasons. He formerly played with the Cleveland Indians, Boston Red Sox, Chicago White Sox, Los Angeles Dodgers, and Tampa Bay Rays before playing the only season in the CPBL, Chinese Professional Baseball League.
Ramirez is recognized for having tremendous batting skill and power. He was a nine-time Silver Slugger and also was one of the 25 players ever to hit 500 career home runs.
Ramirez's 21 grand slams are stacked third in the all-time list, and his 29 post-season home runs are the most by anyone in MLB history. He appeared in 12 All-Star Games, with an incredible streak of 11 consecutive games which began back in 1998 that included each season that he played with the Boston Red Sox. Isn't that enough to show you all how great he is?
Well, if that is not sufficient, then let us have a look at his career stats which shall show you how dominant his stats are.
Caption: Manny Ramirez's Career Stats.
Photo Credit: foxsports.com
But despite that, he did not play another major after 2011 and then joined the minors when he signed with the Chicago Cubs as a player and as a coach for the Iowa Cubs, Chicago's AAA team in the PCL. Then he was relieved of his duties there as Pevey thought Ramirez disliked the affiliates at Iowa.
But then again, he was signed as a batting consultant by the Cubs, which shows that his career with the Cubs was nothing but a roller coaster ride. But what did he do then?
He then decided to sign with the Kochi Fighting Dogs of the Japanese independent league, Shikoku Island League Plus in 2017. His contract in Japan is a lucrative one, and he shall earn a lot of money, which is going to help him build his net worth which currently stands around $110 million.
Moreover, Ramirez is going to live a king's life as per his contract with Kochi, as the contract states that he can have unlimited sushi all season, his own Mercedes and a driver. Can you believe that?
Also, he has been swaying his sweet swing/s over in Japan, and that shows that the 45-year-old man has still got it.
Caption: Manny Ramirez still has a sweet swing.
Published on May 28, 2017.
Ramirez's Personal Life!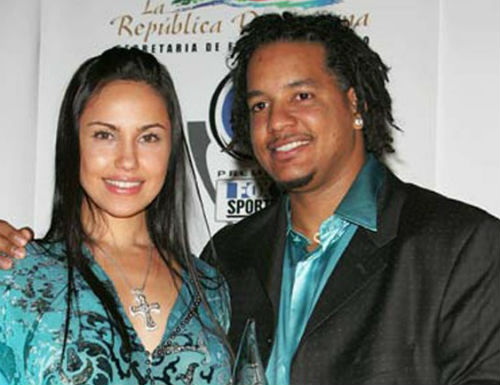 Caption: Manny Ramirez and his wife Juliana in an event.
Photo credit:playerwags.com
Ramirez has been married to his wife Juliana Ramirez since 2001 and shares two children with her. But it can be seen that the relationship between them is not that good as back in 2011, Manny reportedly slapped his wife during an argument, for which he was initially jailed before getting released after paying $2,500 bail amount.
His wife said,
"My husband just hit me. My face and my head, in the bed. I have a bump on my head."
But then she added,
"He's not doing anything anymore because he knows I'm calling the police,"
Sad to see such a great professional man lay hands on women!
Stay with us for more updates on Manny Ramirez!