Sports
NFL Star Darrelle Revis Charged With Four Felonies After Supposed Dispute!
New York Jets cornerback Darrelle Revis who is a multi-time All-Pro, as well as Super Bowl champion, has turned himself on February 18, 2017, to face felony charges stemming from a South Side street altercation where police authorities say two men were punched and knocked out.
So what's the story behind this alteration? What does Revis representative have to say about the incident? We'll follow it up!
Caption: A video after Revis altercation with two men.
Video credit: tmz.com
Revis, a 31-year-old Aliquippa native and New York Jets quarterback, did not comment as he arrived downtown at Municipal Court to surrender on combined charges of aggravated assault, robbery, conspiracy and terroristic threats.
Moreover, a judge issued a non-monetary bond which says Revis must surrender his passport and he cannot have contact with any witnesses or victims including on social media.
Therefore, Revis must verify his address with the court. Revis' preliminary hearing, which was initially scheduled for 16th February has been postponed until March 15, 2017.
All in all, Revis has been charged with two counts of aggravated assault, one count of conspiracy and one count of robbery. Moreover, he has been accused of making terroristic threats, a felony.
Pittsburgh Police released a statement on 16th February saying that charges were pending after police reviewed cellphone video where Revis had some altercation with a 21-year old man as well as the 22-year old man who were found unconscious around 2:40 a.m.
The police statement said that those people remember encountering Revis and having a verbal argument with him but woke up after being punched and weren't sure who had knocked them cold.
A lawyer for Jets cornerback Darrelle Revis has said to KDKA-TV that Revis needed medical treatment as he picked up an injury after an incident on Pittsburgh's South Side in February.
There are different reports about what happened in the incident. WTAE-TV in Pittsburgh told that Revis could face separate felony charges as Pittsburgh Police investigate the incident. However, the KDKA report is different and said that Revis was assaulted by five people but did not offer any details regarding the extent of his injuries or what might have led to the star player following the incident.
His former lawyer, Blaine Jones says that Revis' side of the story is yet to be told. Pittsburgh police say that the incident occurred around 2:30 a.m.on 13th February near the intersection of South 23rd and East Carson streets. Attorney Blaine Jones said during an interview on The Fan Morning Show:
"Darrelle came home for the weekend to visit family and friends and while he was at home he decided to go and hang out with a buddy of his on the South Side,"
Jones also said that Revis was in the area to look at a piece of property which he was hoping to develop. During that time, there was a group of five to six other guys in the area. According to Revis, one of those men was very intoxicated. Jones said:
"He's basing that on being able to smell the alcohol on the gentleman's breath and on his person,"
Revis also described the other five men as acting erratic and aggressive. During that point, Revis claims that he tried to pass the man and was given a shoulder bump. Afterward, Revis asked those man to relax and also stated that he didn't want any problems.Jones added:
"At a point in time, Darrelle steps back and says, 'My name is Darrelle Revis, I'm a professional football player, I don't want any problems from you guys or anyone else,'"
Caption: Darrelle Revis defense attorney Blaine Jones speaking about the case during an interview on "The Fan Morning Show."
But again, part of the group was not receptive, and Revis turned from the crowd and started to walk away.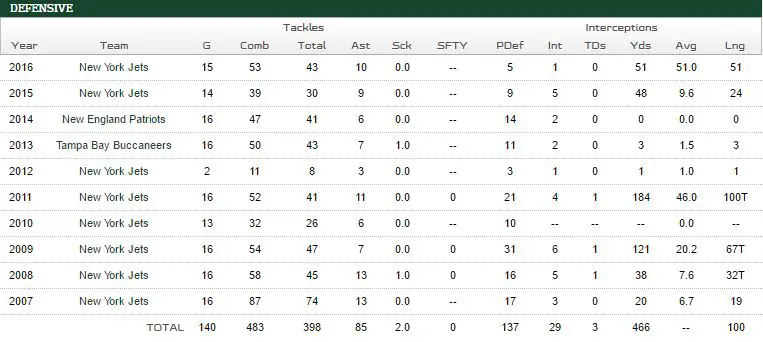 Caption: Current stats of Darrelle Revis in NFL.
Photo credit: NFL.com
Darrelle Revis signed a five-year contract worth $70,121,060 contract with the New York Jets and included $39,000,000 guaranteed as well as an average annual salary of $14,024,212.
In 2017, Revis is all set to earn a base salary of $13,000,000 and a roster bonus of $2,000,000 as well as a signing bonus of $1,000,000.