Sports
Philippe Coutinho Getting Back To Strength After Injury With New Contract; Appreciated By Rival Team Player
There is no refuting that Philippe Coutinho is one of the best players in Premier League. Coutinho was named Liverpool player of the year in 2015/16 season and rightly so. 'Little Magician' Coutinho has waved magic in an atmosphere of Anfield after his arrival and has bought a new hope of Liverpool's revival.
Player of high Caliber, Coutinho has been targeted by big clubs like Barcelona and Real Madrid. But he signed a new contract with Liverpool in 2017.
New Contact with Liverpool!.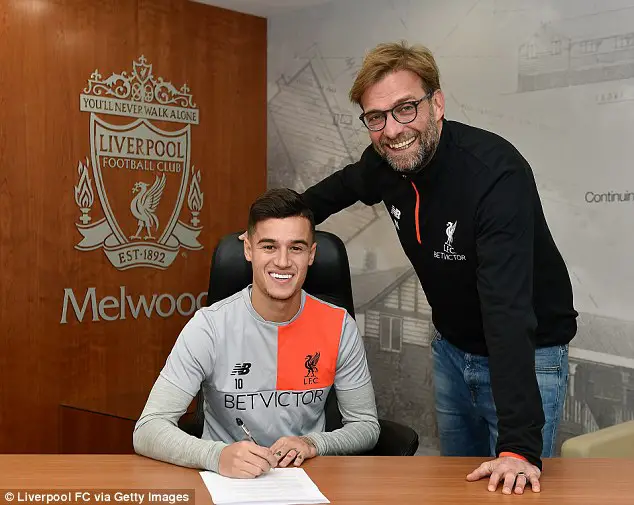 Caption: Liverpool's Philippe Coutinho has committed his long-term future to Liverpool on January 25, 2017.
Photo credit: gettyimages.com
Brazilian ace, Philippe Coutinho has committed his long-term future to Liverpool as he has signed the biggest contract in Liverpool club's history.
The Brazil international, Coutinho who has been one of the most important figures in Jurgen Klopp's team, has put pen to paper in a deal which is worth more than the salary of £200,000 per week and is club's highest played player that will keep him at the club until 2022.
Coutinho arrived at Anfield four years ago on 26 January 2013 from Inter Milan, and his performances lately have alerted top clubs across Europe, thanks to his abilities, but till date, he is settled on Merseyside club with his young family and has a strong relationship with Klopp.
Coutinho said after signing the contract:
'I am very happy to sign a new contract here. It is a club that I am very grateful to and this shows my happiness here. I will work much harder to repay the belief shown in me.
Moreover, he added:
'I signed this new contract to stay here for a few more years because it's a great honour for me. It gives me great happiness because I was welcomed here with open arms by everyone at the club and the supporter's right from my first day. I am very thankful to this football club for everything. It's not just me — since me and my family arrived here we have been welcomed with open arms by everyone. We feel at home in this city, we feel a part of this city. It is a very important day for me, my wife and my daughter. I am happy — and everyone is happy at home.'
It seems like Klopp had a long term plan with Philippe Coutinho and said:
'I think everyone knows what a great footballer Phil is, that is not in question — but not everyone sees what an incredibly positive character he is and what a big influence he is on the dressing room. He is truly world-class — in that very top bracket.
Moreover, he added:
'We have total belief in our project, but when a player of Phil's calibre and status commits for this length of time it shows that our faith is shared throughout the game. He knows he can fulfil his dreams and ambitions here at Liverpool.
Caption: Coutinho talks about signing a new contract with Liverpool, on February 2, 2017.
New contact with Liverpool proves that Coutinho has the ambition to fulfill at the club and will be hoping to compete in Champion's League next season. Coutinho keeps his place in this year as the club's most popular player as he's been named No. 1 for sales of a shirt in the form of Liverpool's new home kit.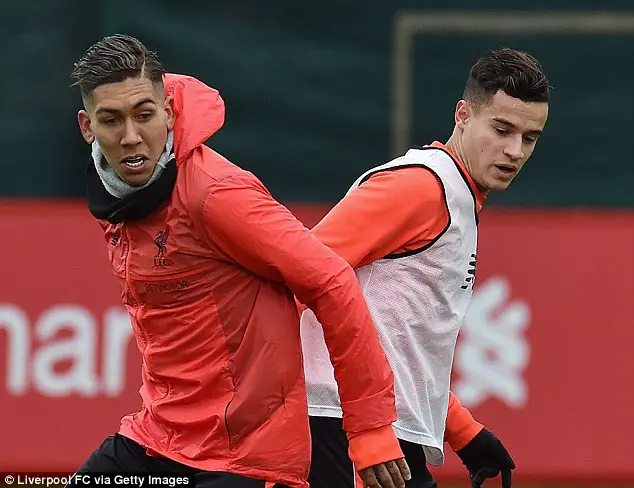 Caption: Philippe Coutinho (right, with Roberto Firmino) is back in training with Liverpool after injury.
Photo credit: gettyimages.com
Philippe Coutinho has been an injury prone all his career. The Brazilian star hadn't played for the club since November 26 of 2016 after he suffered ankle ligament damage against Sunderland in Anfield. He returned on 11th January of 2017 against Southampton in the EFL Cup first leg, but Liverpool lost the match.
Caption: Liverpool vs. Southampton highlights of the game, on 11th January 2017.
Thumbs up from Brazilian fellow mate!
Despite Chelsea's and Liverpool's ongoing rivalry in the title race, Chelsea forward and Coutinho's fellow Brazilian mate Willian had some good words to say about his Philippe Coutinho when asked about him in an interview with Globoesporte on 9th February 2017. Willian said:
"Coutinho for me is a very good player, an ace, for what he has been doing in Liverpool and today in the national team too"
Moreover, he added:
"I am very happy to see him playing so well. I'm very fond of him to continue making success in the Seleçao and Liverpool."
Caption: Coutinho's new haircut in 2015.
Following a fantastic form in 2016, it's been quite a tough start to the New Year for Liverpool's star player as both him and his side has experienced quite a dip in form since he picked up an injury against Sunderland in November. Liverpool is currently 5th in Premier League.
Caption: Philippe Coutinho's Premier League top 10 goals for Liverpool.