Sports
Rick Mahorn's Splendid Net Worth: Resides With Wife and Six Children
How much does a basketball athlete earn? Well! this is one question every basketball lover and enthusiast want an answer for. Let's go straight. What might be the salary of the former Washington Bullets and Detroit Pistons player, Rick Mahorn? We shall go through his family life, wife and children too.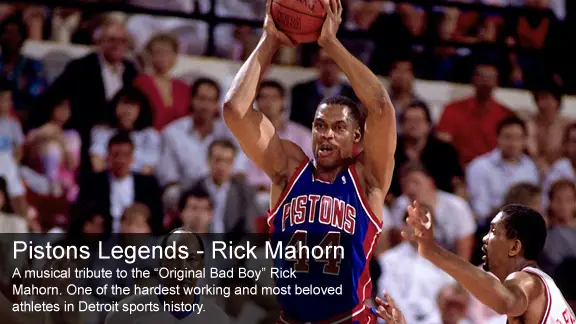 Caption: Rick is a Detroit Pistons legend
Source: nba.com
Family life: Wife and Children
Rick Mahorn is married and has a beautiful wife named Donyale. He is a father of six children. The date of his marriage is not available in any official sources Now most of his children are already graduates, and some are on a way to be the same. Recognized as the bad boy earlier, he has now turned into an exemplary father figure winning the "Hartford Celebrity Dad" in 1999.
However, he himself credits his wife for the efficient upbringing of his children and was quoted saying,
"If you're going to be a professional athlete and have a family, you have to have a strong mate. My wife, Donyale, is the Father of the Year in this situation. The father and the mother. In some ways, the best time of the year for her is when the season ends when she doesn't have to do both jobs."
Caption: Detroit Pistons | Rick Mahorn Talks Bad Boys
Rick currently lives with his wife and six children. His family pictures aren't available in social media.
Net Worth and Salary:
Rick Mahorn, who now works as NBA radio analyst, has a very handsome net worth indeed. Though his salary hasn't been mentioned anywhere, according to a source, his net worth sums up to a whopping amount of 4 million USD.
Mahorn was known for his bad boy image both as a coach and player. And yes, he paid substantial penalties for his deeds too. Rick paid more than $11000 penalty during his work with Detroit Pistons in the 1888-1889 championship. He eventually retired in 1999.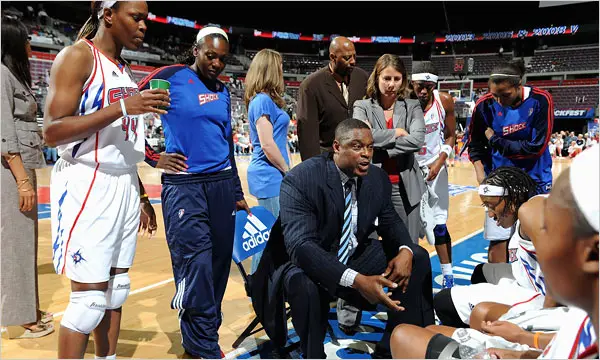 Caption: Rick as a coach in his former club Pistons
Source: gettyimages.com
Bankruptcy and Mahorn.
Rick Mahorn stayed loyal to Detroit after his retirement by accepting a role as a Pistons radio analyst. Perhaps he was a bit too loyal when he decided to invest and finance in several properties in the Detroit metro area.
His investments failed when the Motor City's economy tanked in the late 2000s leading him in facing financial crisis. Mahorn declared bankruptcy in 2010 by listing over $500,000 in liabilities. He and his wife claimed only $1,101 to their name which was shocking to know. He even had to sell his championship ring to help cover costs which shows the financial struggles he faced.
Also, to add insult to injury, documents showed Mahorn also owed $55 in late fees to a local library.
A Short Bio:
Mahorn was born on 21 September 1958 in Hartford, Connecticut. He went to Weaver High School and Hampton College. He has also served as the head coach for his former clubs. During his career, he has played for more than seven clubs.
He was a member of the NBA title-winning team in 1989 and All-defensive second team in 1990. He has crafted numbers of victories for his team as a coach in 2006 and 2008. He is a US native man. He is not active on any social media sites.