Sports
Ryan Howard Will Not Retire! Is Determined To Strengthen Career Stats While Balancing Married Life With Wife
If you are an aficionado of baseball, and if you are a fan of former Philadelphia Phillies' Ryan Howard, we have got some good news for you. He is not retiring and not hanging his gloves any sooner.
That is something that the MLB fans can be happy about and more than that, he is even primed to better his stats while handling his family life hand in hand.
Ryan Howard Not Retiring: Aiming To Bolster His Career Stats Even More.
It has now been made clear that he is not going way from the majors and to prove that, he has now signed with the Atlanta Braves of the minor leagues and is now intent on making every moment count regarding his career, despite Atlanta not feeling the use of him on papers.
That certainly has silenced the rumors surrounding his retirement, and he took over his official Twitter to share this news.
He expressed his enthusiasms clearly in his tweet back in April this year, and that shows that he is primed to take his career to a newer height and better his career stats.
Howard, who previously played for Phillies in the MLB from 2004 to 2016, signed a 1-year contract with the Braves worth $750,000. His contract includes a $750,000 guaranteed amount, a yearly average salary of $750,000.
Furthermore, in 2017, he is set to earn a base salary worth $750,000 while carrying a cap hit the amount of $750,000. That is surely going to help him add to his net worth which currently is worth a whopping $25.6 million.

Caption: Ryan Howard's One Year Contract With The Braves of Atlanta.
Photo Credit: spotrac.com
Moreover, what his contract with the Braves does is provides Howard with other chances to bolster his already impressive stats.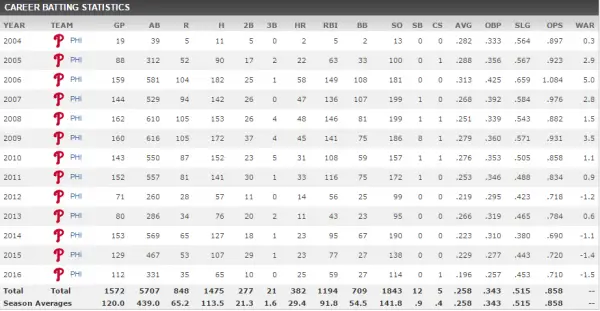 Caption: Ryan Howard's Overall Career Stats.
Photo Credit: espn.com
The stats do not justify his talents, and it is no rocket science that the 37-year-old man is not at his best at the moment, but a man who is as motivated as Howard surely has it all in himself to better his tally from his stint with the Browns.
Howard wrapped up a 13-year career with the Philadelphia Phillies last season on a down note as he hit .196/.257/.453 in 112 overall games. He has hit over .230 and had a positive WAR only once in his last five seasons in Philadelphia.
Handling Family Life Along With His Career. Wife, Children, Parents.
Back in 2012, Ryan Howard married a cheerleader, Krystle Campbell and shares a son with her as well. He is living a happy family life with his wife and son, Darian Alexander who was born on January 26, 2001.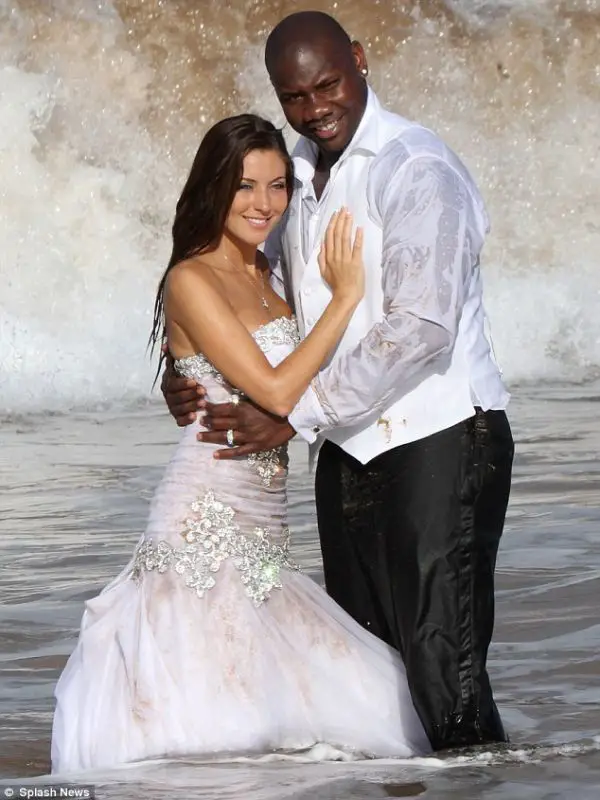 Caption: Ryan Howard and his wife Krystle Campbell in a wedding beach photo shoot, 2012.
Photo Credit: dailymail.co.uk
Back in the days, Howard's twin brother, Corey Howard, sued him for $2.8 million and also his parents, Ron Howard and Cheryl Howard, demanded a total of $10 million to walk away from Ryan Howard's business affairs.
The suit was however settled in court in 2014. But still, Ryan has always been citing his father as an inspiration.
"When I was younger, I forget what age I was, my dad set the tone by graduating from Washington University here (in St. Louis). We got to see him graduate and I know for me that stuck with me, every day."
Nice to know that the star baseballer is also a humble family man!