LifeStyle
Veterans Day 2018 Amazing Facts, When Is It & Is There Holiday?
America never leaves to mark 11th of November, as a special day to pay homage to these Veterans for the valiant acts they have pulled out for all of us. Our beloved U.S militants, who risked their own lives to serve our country, demands high-grade respect and privileges for their bravery. That's why the Veterans Day is celebrated.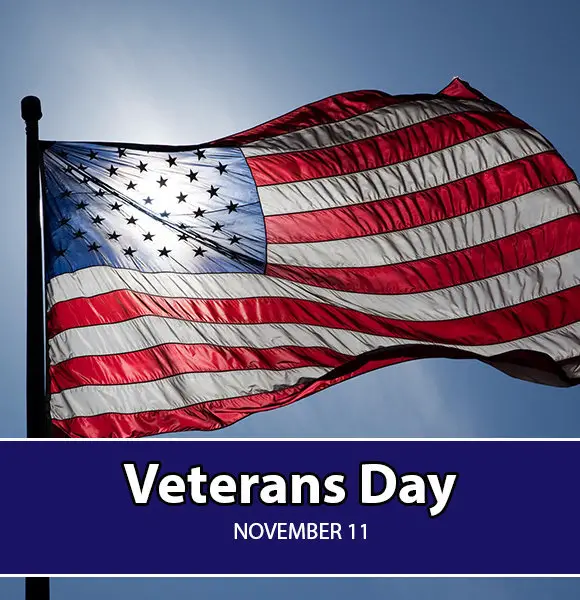 What the World War I and II has left many with was numerous families to say goodbyes to their loved ones and many scars yet to be healed. 
Among these, the guts of the brave soldiers who kept their country first before their lives during such a crucial period still hold a special place in everybody's heart. 
Our beloved U.S militants, who risked their own lives to serve our country, demands high-grade respect and privileges for their bravery.
So comes the Veterans Day on 11th of November, a special day to pay homage to these Veterans for the valiant acts they have pulled out for all of us; a day to honor American military veterans. 
And there's so much to the day!
What Is Veterans Day?
Veterans Day is that time of the year, where we honor all the men and women who have served in the U.S military.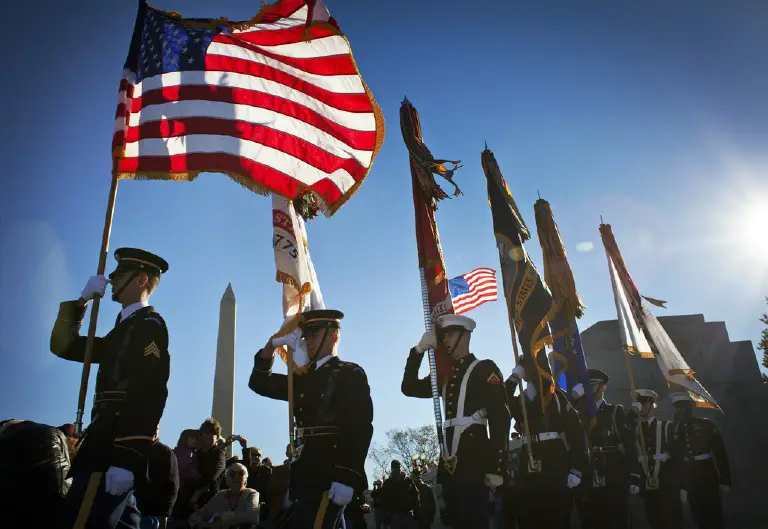 Celebrating Veterans Day to pay homage to everybody who has served in the U.S military (Photo: DOGOnews.com)
However, most of us confuse it with the Memorial Day, which is another day separated for remembering the militants who lost their lives in the battlefield while serving the country. Veterans Day includes all the personnel who extended their service in the U.S. military.
Here are some amazing facts everybody should know about the Veterans Day!
When Is Veterans Day Celebrated?
This honorary day is usually celebrated every year on the 11th of November, no matter what day of the week.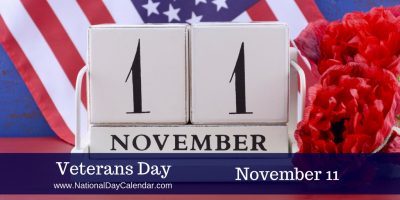 11th of November marked as Veterans Day (Photo: Nationaldaycalender.com)
The Story Behind Its Significance?
Its story of origination dates back in the year 1919, under the name "Armistice Day". This particular day was permanently pronounced as the time when the Germans and their allies had signed the 1918 agreement to call an end to the dark period of the WW1.
Welcoming peace with open arms, during 1919, President Woodrow Wilson manifested the day with warm wishes diversified to the militants who had served the country during the period of such war and peace.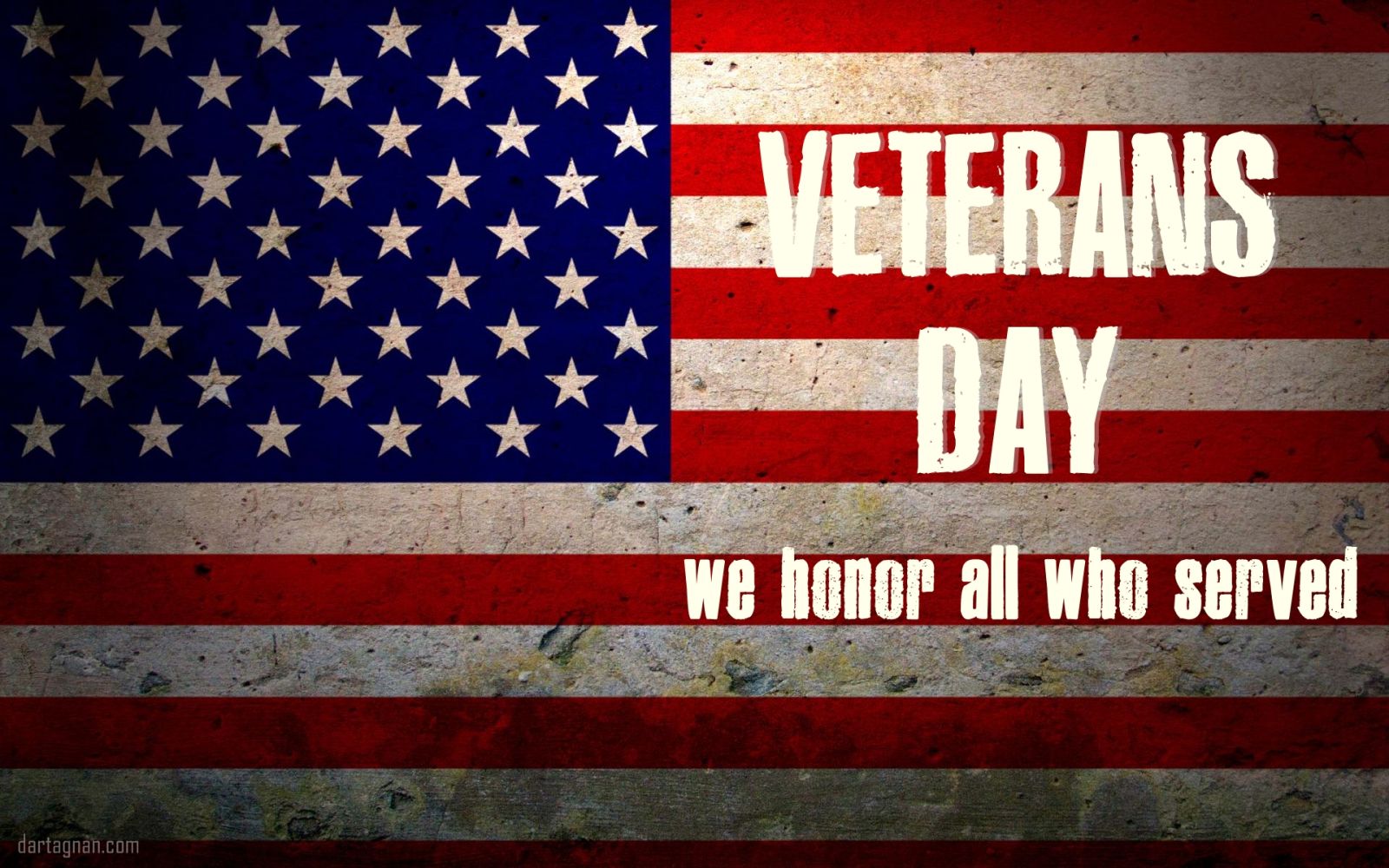 Slogans written in the Veterans Day to honor all who have served us in hard times (Photo: Doodlefinder.com)
President commemorated the ceremony with the words:
"To us in America, the reflections of Armistice Day will be filled with solemn pride in the heroism of those who died in the country's service and with gratitude for the victory."
Ever since that period, America has always marked this day to usher Presiden Wilson's words.
But, in 1954 the name Armistice Day was then changed to Veterans Day and it has been commenced under the same name.
What Remains Open Closed In This Day?
No doubt how the significance of this day is solemnized like any other memorable day. Many institutes and centers remain close in this particular day. The list is:
All the Banks and Financial institutes including the Stock markets remain closed during this day. But if you have an urgency to carry out such transactions, The New York Stock exchange and Nasdaq remain open in this day.

Many public business houses remain closed during this day, but some private business centers choose to remain open according to their preferences.

Schools, Universities and Public Libraries remain closed.

Courts also extend their holiday on this particular day.

Except for FedEx and UPS, all the mails and post offices enjoy the federal holiday on Veterans Day.

Finally, the states and federal offices remained closed on the Veterans Day.
All The Privileges The Veterans Get On Veterans Day 2018?
Veterans Day calls out for those military bodies who hold ample privileges to experience on this particular day. Either it is free meals or free cleaning session, the veterans have it all.
Many restaurants like Back Yard Burgers, Bakers Square, Bar Louie, Dunkins, East Coat Wings+Grills, Green Mills and many more had published their special veteran discount and free meal online to honor them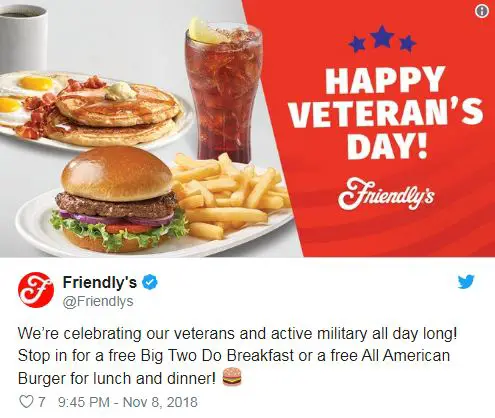 Friendly's tweeting about their special offer this Veterans Day (Photo: Usatoday.com)
Also if your a Veteran don't miss out the special freebies of the free car wash, haircut services, and free tickets to the cinema to relax and watch your favorite movies. Many pictures of Veterans Day posters have been flaring up in the cities, all we need to do is celebrate it!
It all adds up to what we can do to make out veterans happy, who have been a source to our happiness.
For the grand day itself, the grand offers add a flavor to the celebration!