Corona Virus
The White House Released The Test - President Trump Tests Negative
President Donald Trump has refused to get a coronavirus (COVID-19) test though he is believed to...Trump and Bolsonaro dined together in Mar-a-Lago, Florida where Wajngarten was also present...insisted he was not concerned...revealed that Trump is indeed concerned about coming into contact with people who have...Trump took the test on Friday the 13th, and his tests came back negative...
Is it true that US President Donald Trump might have been exposed to Novel Coronavirus (COVID-19)?
Well, the question has raised the eyebrows of many people since the Brazilian president's press secretary Fabio Wajngarten tested positive for Coronavirus on 12th March 2020, confirmed two sources to CNN. Fabio had attended the dinner Trump hosted at his Mar-a-Lago resort in Florida on 7th March 2020, was in close proximity to him, and also took photos beside President Trump.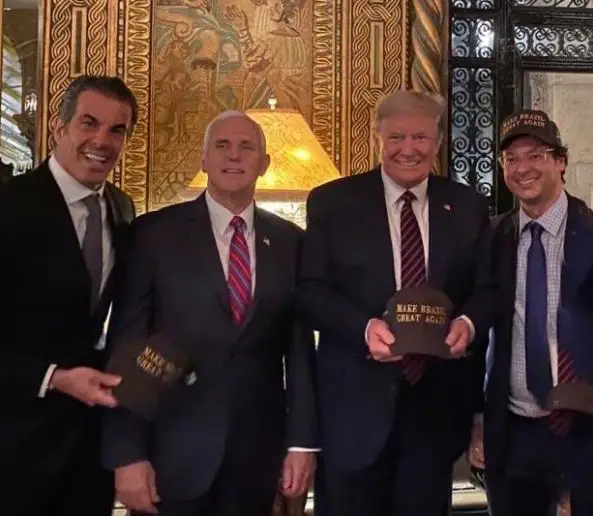 Fabio Wajngarten with US President Donald Trump, Vice-President, Mike Pence, Brazillian press secretary, and Brazilian TV Presenter Alvaro Garnero (from right to left) in March 2020 (Photo: Fabio Wajngarten's Instagram)
After Fabio was tested positive for the virus, President Jair's health was also being monitored. Other than Jair, political figures including two Republican senators, two Florida mayors, and the Miami motorcycle police officers, who were on duty throughout Jair Bolsonaro's three-day trip to the US, were in voluntary quarantine.
However, at that time, there was no indication that either Donald Trump or Mike Pence would undergo a test.
Donald Trump Says He Is Not Concerned 
Speaking with reporters in the Oval Office, referring to Bolsnaro, Trump said that they did nothing unusual in his meeting with Bolsnaro. He explained they only sat next to each other for a while. He added that he is waiting for an update from further test results from Brazil and is "not concerned." 
A Must-know: Alcohol Vs. Coronavirus! Here's Why You Mustn't Follow Myths
However, according to an article from CNN on 13th March 2020, a source close to Donald Trump has revealed that he has been cautious about being near people who have contracted Coronavirus.
White House Support Trump's Decision!
White House officials said that there were no plans to test President Trump. Despite widespread public and media attention about Trump's possible contact, White House press secretary Stephanie Grisham confirmed that both Trump and Mike didn't require tests for the Coronavirus:
Both the President and Vice President had almost no interactions with the individual who tested positive and do not require being tested at this time.
Further, she added the White House Medical Unit, and the United States Secret Service had been working closely with various agencies to ensure the health of the president's family and all the White House staff.
Trump Takes The Test
President Trump, after a week of reluctance and several statements from various people inside the White House, finally took the novel Coronavirus test on 13th March, Friday. The test came after a heap of questions arose during a press conference at the White House. It was in that conference that Trump said he would get tested.
Another Coronavirus-related Piece:- Here's The Top Nine Sport Events Affected By Coronavirus In US
On 14th March 2020, Sean Conley, the White House physician, released a statement saying that President Trump had taken the Coronavirus test, and the results had come back as negative.
Sean also revealed that after a week of having dinner with the Brazillian delegation, the president remained symptom-free.