Entertainment
Is Bachelor Hunk Mario Falcone, Sister's Sweet Guy, Dating With Ex- Girlfriend Lucy Mecklenburgh?
It seemed as though Marco Falcone finally found love but unfortunately, it didn't really last. So, what could be the problem that didn't work out for this sister's sweet guy? Know how their relationship ended and whether the rumors of him getting back together with his ex-girlfriend true or not.
Sister's Sweet Guy:
Marco Falcone may look like a hunky guy, but he is actually a softie according to his sister, Giovana. Yes, this is the same Giovana, who writes romance novels and is married to Tom Fletcher from the band 'McFly.'
She said to Express.co.uk in the first week of June 2016, "He's very loving. He's a family guy. Our mom is his best friend and he really looks after me and my sister. I know Mario would love to settle down and have a family and things like that. He's a softie."
She also added how he looked after both his sisters including Giovana. Considering Giovana's statement, he seems like a sweet guy.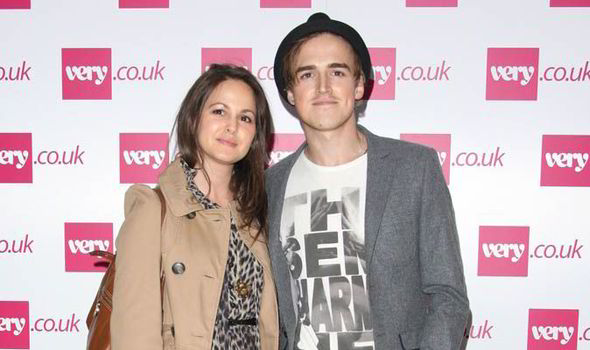 Caption: Tom Fletcher from McFly with wife Giovanna Fletcher.
Source: express.co.uk
Split with Girlfriend, No Dating?:
After setting quite a buzz while dating Vicky Pattison for a brief period earlier in 2016, the two decided to go their separate ways. The 'The Only Ways Is Essex' co-stars were witnessed out on a date in multiple occasions, but their relationship couldn't grow more than this.
Marco Falcone said in early June 2016, "We both tried to make it work. I'm busy away a lot and if you haven't got time for yourself, how are you going to make time for someone else?"
He also mentioned that they couldn't risk their friendship by taking the relationship any further. For now, they will remain as friends until their relationship gets mended in the future.
Caption: Vicky's friendly Twitter feed after their divorce
According to Vicky:
Vicky also expressed the same idea but maybe in a less subtle way, adding more reasons for their break-up as a panelist on her show 'Loose Women.'
Although she started with warm words like "He was very sweet", it turned out that it was just to soften the blow as it was followed by "but he was like a girl. He always texted saying I miss you." So for Vicki, the deal-breaker also was the fact that Marco was very needy.
Caption: Vicky Pattison speaks about her relationship with Marco on 'Loose Women, early June 2016
Dating with Ex-Girlfriend?
Now that Marco is single, is it true that he is getting back together with ex-girlfriend, Lucy Mecklenburgh? As much as the fan would like to see both of them rekindle their love, we pray this rumor is not true.
"I think people would love to see that, We were a good couple at the time.", He said (also in the second week of June to Dailymail) pointing out that people always look for a happy ending in real life.
He then added saying, "But with me and her some things just aren't meant to be, and it wasn't meant to be. We get along well. We say hello we have a drink, but that's all it is. And I think that's all it will ever be."
So, it seems as though the 'TOWIE' star is not looking to get back together with his ex. But still, it is not completely impossible. Falcone did love her enough to tattoo an 'L' in his ankle only to remove it later with laser therapy. He had also disclosed on 18th June 2013 that he attempted suicide from the drug overdose after splitting with Lucy.
Later, he had also shown support to Lucy by retweeting tweets to support Lucy's online fitness brand. Nonetheless, he had also posted a cryptic "reuniting" Instagram post on his Instagram previously, insisting that people can reunite back.
Caption: Marco talking about his tattoos, 2016/6/09
Source: Dailymail
Marco Falcone was born on 21st February 1988, in Essex, England, UK. He debuted in 'TOWIE' in its third series on 2011. He is also known for appearing on 12th series of the reality show, 'Celebrity Big Boss,' which he finished up in the fifth position. He has an estimated net worth of approximately 2.2 million dollars. On July 21, 2016, 'news!' published a picture of him surrounded by girls in Mallorca.