Entertainment
'Bachelor' Star Ben Flajnik Dating With His Young Girlfriend: Vacation in Mexico
Looks like the bachelor star Ben Flajnik has found love after years of trying to settle down. After his romance with the winner of the 16th season of Bachelorette, Courtney Robertson which started with a beautiful wedding proposal but eventually did not end up walking through the aisle. Let's find out who is the girl he is with right now.
Caption: Ben Flajnik with girlfriend Stephanie Winn at the Arizona Inn on May 2016.
Like we said, the bachelor has at last found his way around a steady relationship with a University graduate, Stephanie Winn. Well, all thanks go to the popular dating app Tinder. Yes, these lovebirds met through an online dating app called Tinder. Ben revealed to the Huffington post podcast, Here To Make Friends that he met his girlfriend on Tinder a year and a half ago June of 2014. He said,
"I found it on a dating app, just swipe to right"
Well, the young Bachelor got lucky on the dating app and is living as Ben says in the podcast, a normal life in a quiet neighborhood with friends all around. When we look at the Ben's Instagram, the couple seems to be having more than fun together as they are living one of the best times of their lives; travelling and visiting places.
Caption: Fun time in Mexico
Just about 5 weeks ago, the couples were on a trip to Mexico with another couple Lucas Daniel and Catherine Daniels where they stayed in the An Auberge Resort. Ben was kind enough to share some of the pictures from their trip to Mexico. Let's have a looks at them.
Caption: Ben Flajnik and Stephanie Winn with Lucas Daniel and Catherine Daniels at the An Auberge Resort.
To the girl he loves, he gave a pretty big surprise on her birthday as Ben gathered most of their family and friends at the West Coast Wine in San Francisco.
Caption: The number of wines and bottles are almost the same.
 Apart from his part relationship with Courtney Robertson(2011-2012), the bachelor star was also seen to be dating Kris Jenner since 2013-2014.They were seen together quite often in public. Hollywoodlife.com has covered an article dated 11 Dec 2013 saying they were having intense hookups as well.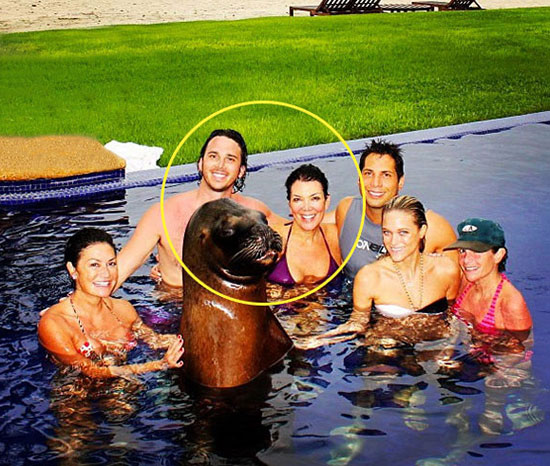 Caption: Ben and Kris with their friends in a pool (2013)
As Ben does not have a wiki page solely dedicated to himself, we will provide that for you right here.
Ben Flajnik's Short Bio:
Benjamin Flajnik (commonly known as Ben Flajnik) was born on September 10, 1982, in Sonoma, California and currently ages 33 years old and will turn 34 years old in less than a month. He is the co-owner of Evolve Winery with his best friend Mike Benziger.
He is most widely known for The Bachelor season 16 and the rejection he got from Ashley Hebert when asked her to marry him in the season 7 of The Bachelorette. He splits his time between San Francisco and Sonoma, California.
Caption: Ben Flajnik proposing Courtney Robertson in the finale of season 16 Bachelor.