Entertainment
After Being Married For Many Years Dermot O'Leary Ready To Have Kids; Wife Is Holding Him Back
People have different love stories. In the same way, we all experience different situation on our journey to love and not every one of us is fortunate to enjoy a stable and long lasting love life.
Today we will be talking about an interesting love story of British-Irish television presenter Dermot O'Leary, who married his longtime girlfriend along with his plans of having kids.
Dermot O'Leary Married His Longtime Girlfriend!
The forty-four years old Dermot O'Leary married his long time girlfriend Dee Koppang on September 14, 2012, in an intimate ceremony. They tied the knot at St Mary's Church in Chiddingstone in front of their family and close friends. The pair used to worship at the same church for past six months before their wedding.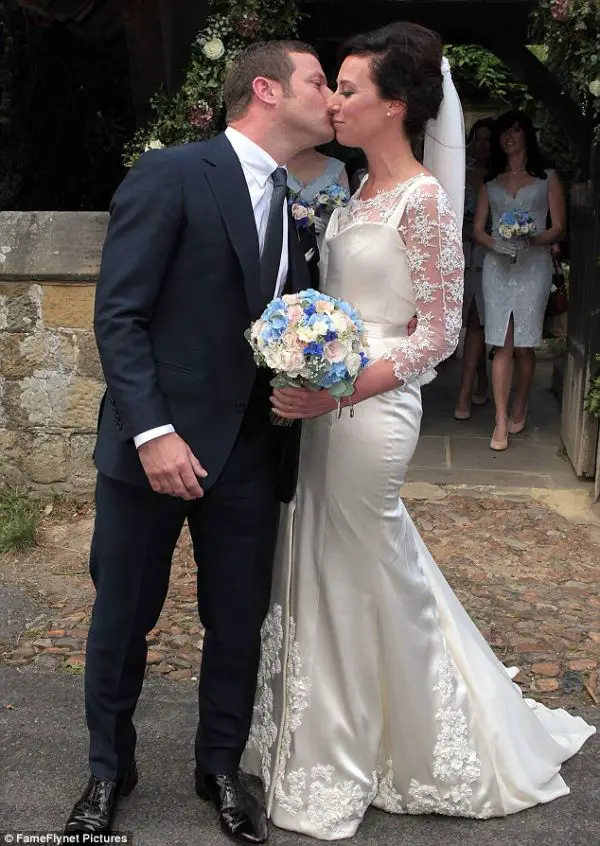 Caption: Dermot O'Leary married his longtime girlfriend Dee Koppang on 14 September 2012.
Photo Credit: Dailymail
The bride Dee looked gorgeous in a fitted cream gown whose neckline and sleeves were detailed with lace. The bride held a bouquet of pink, cream and blue flowers with the vintage-style wedding dress.
Famous celebrities like Bear Grylls, James Corden, Fearne Cotton, Holly Willoughby, Antony Cotton, Gemma Cairney and Leigh Francis (aka Keith Lemon) also witnessed Dermot's wedding.
Around fifty villagers and a few children from the Chiddingstone Church of England Primary School also waited for the bride and groom outside the church, where they witnessed all the celebrity guests.
Prior the wedding, Dermot talked about his big day in an interview where he revealed that he couldn't wait longer to get married to his love of life. He explained-
"Wedding plans are going well and engaged life is brilliant. We lived together for seven years and been going out for 10 years so we are settled down already."
"There's no sort of raucous bachelor days to put behind me when we get married. I love my girlfriend and the woman that will be my wife and we are really relaxed with each other."
Dermot's wedding to his long-time girlfriend crushed all the gay rumors against him. He dated Dee for ten years prior proposing her in November 2011 in New York.
Are They Ready To Have Kids?
Dermot lives a busy life with his Celebrity Hijack producer wife and barely have time to enjoy romantic dates like most of the married couple. In January 2015, Dermot revealed that he has plans of having children but has to wait for his wife to agree to conceive a baby. He explained-
"I definitely want kids, but I've got a very busy wife with a very busy life. It's not fair for me to say: I want kids now, I do want kids with my wife, but I want them when we both think it's the right thing to happen."
We hope and pray that the right time to conceive baby comes soon for Dermot and his wife, Dee.
Stay with us for the latest updates on Dermot O'Leary!