Entertainment
'Big Brother' Star Nikki Grahame Cuddles With Ex-Boyfriend: Allegedly Lesbian About Her Ill Health
Doesn't matter how you perceive the 'Big Brother' participant Nikki Grahame as, her hysterical, childlike and over emotional personality, definitely, makes up for some good television. Did you know that her ex-boyfriend popped up on 'Big Brother 16' to cuddle with her? Know about this and also the allegedly lesbian star's past health problems.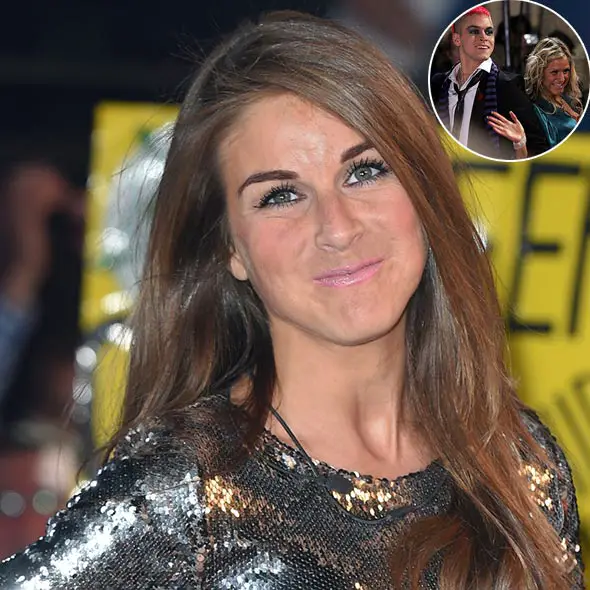 The Britsih TV reality personality, Nikki Grahame is the name much heard in the Big Brother franchise world, who got famous for her catchphrase, "WHO IS SHE? Where did she come from?." 
The TV personality wrote a tweet and wished her secret boyfriend stick in the Big Brother game in 2017. She previously dated a Big Brother Contestant, with whom she got reunited in 2015.    
Reunion With Her Ex-Boyfriend:
Nikki, who first appeared in the Big Brother in 2007, was dating a fellow former contestant of Big Brother, Pete Bennett in 2006. She first met him on the reality show, Big Brother. 
However, Nikki's then-boyfriend, Pete soon dumped her after one month of dating claiming Nikki's incompatibility saying, 
"Nikki is high maintenance and she was so rude to my friends. I found that really difficult to deal with. She's exactly the same she is on Princess Nikki, and that's hard work for a boyfriend. Things hadn't been great anyway, and Nikki was annoyed about some of the things I said on the Jonathan Ross show. I couldn't even remember what I'd said, but she wasn't happy and she was going on at me."
Despite the split, Nikki got reunited with her ex-boyfriend, Pete in 2015, giving  Nikki Grahame a big surprise in one of the Big Brother's episodes. Her ex-beau came to visit her in the 'Ultimate Big Boss' house as an unexpected guest in one of the tasks and hugged Nikki tightly in his arms. 
All the then House members were to be paused like statues while Nikki's ex-flame had to act as a distraction. Nikki tried her best to complete the task, but a glow on her face suggested her happiness to see Pete again.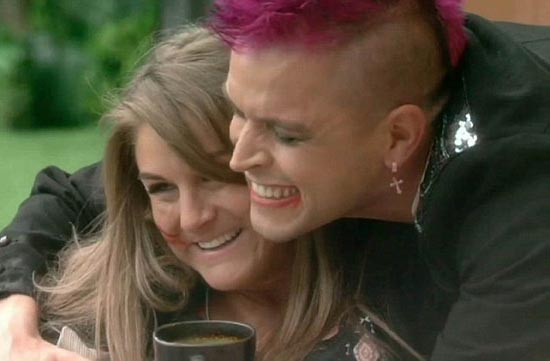 Pete Bennett tightly hugs Nikki Grahame in his short visit to the house (Photo: dailmail.co.uk)
Even after a hard struggle to control her emotions, Nikki couldn't help but burst into laughter after Bennett smooched her in the cheek putting on some lipstick first and asked, 
"Basically, what I was gonna say is, how are you doing? I'm back! Nice to see you, man! Yeah! What, not gonna say hello? Oh I see, it's Nick, isn't it?"
The video of Pete Bennett's short return to the house in 2015
In the same year, (2015) Pete admitted about his addiction on ketamine and being homeless on The Jeremy Kyle show. Talking about her ex-boyfriend's issues, she said,  
"It must be very difficult, not knowing where he's going to stay each night. It's the uncertainly, living out of a suitcase, he's hasn't got any money at all. He's struggled with his addiction, I had a fair idea when we were in the house but I didn't know he was on drugs during the audition process."
Also, she stated their amicable relationship even after the split saying, 
"It makes me really, really sad to see where Pete is now in his life. We're still really good friends and met up with him just before Christmas. It was the pressure of the media that got to him but it was a long time ago and I don't hold grudges for what he said about me. I feel really sad for him and he told me he might go back and live with his mum in Normandy."
The duo was reunited for the second time in the program on Loose Women in October 2016. Both Nikki and Pete were guests on Loose Women, where Nikki explained she is still fond of her ex-boyfriend saying, 
"I have definitely calmed down since, I can assure you. I will always be fond of Pete."
Pete, who won the 2006 series of Big Brother, joked that Nikki's high fame has changed to some extent saying, 
"We used to see each other. Then she got all famous. Where's my phone call?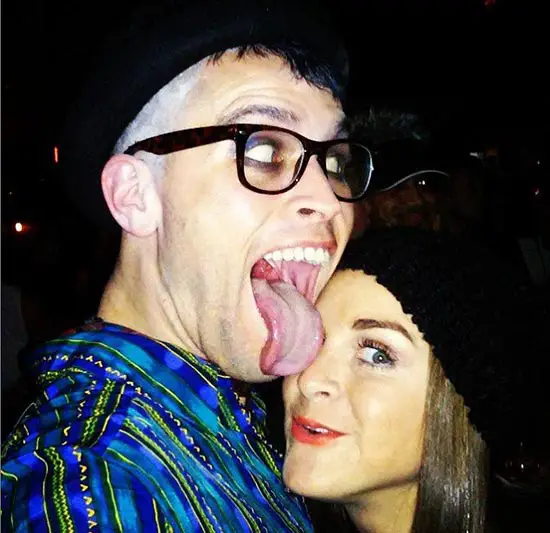 The couple was seen together in an Instagram photo on November 2014 (Photo: dailymail.co.uk)
The duo, Pete, and Nikki spent time together in November 2014 and were pictured together on his Instagram page.  
Is Nikki Grahame Married?
Since the split with Pete, Nikki Grahame has returned to Big Brother House three times as she joined the Big Brother franchise in Ultimate Big Brother in 2010. Later in 2015, she made the appearance as a time warp housemate and joined the Canadian Big Brother in 2016. 
She even went for her own reality show named  Princess Nikki, which was canceled after six episodes. 
Though in case of getting married, Nikki has still not found the special one whom she can call her husband. It is still not clearly known whether Nikki currently has a boyfriend or not but her one of tweets on 2017 hinted the presence of possible boyfriend.
In 2015 she was rumored to be dating other Big Brother star, Nick Henderson as the duo attended Attitude Hot 100 party together and even locked lips. 
Talking about her secret boyfriend, she shared a tweet in March 2017 where she wished her secret boyfriend to be in the game hashtagging the show, Big Brother Canada 5. 
Without any clear signs, it is too early to pinpoint whether the American reality star is married or not. 
Allegedly Lesbian:
The star was allegedly called a lesbian because of a statement she has given to a newspaper. She revealed as a contestant on 'Ultimate Big Brother' that the last time's eviction was shocking to her,
"Especially as people felt sorry for Rachael. But I'm delighted that Shabby stayed in." 
She further added,
"I have a bit of a girly crush on her." 
She also said that she had a thing for Caoimphe. But this does not mean she is a lesbian. We can know from her dating history with men.
Past Full of Health Problems:
Nikki may look to be in a perfect health but she actually has a past full of health problems. She has been struggling with Anorexia Nervosa from her early age which she has talked about in her two autobiographies, Dying to be Thin (2009) and Fragile (2012). 
Her eating disorder led her to bounce from different health institutions, rehabilitation centers, and even psychiatric wards. Nikki's eating disorder not only drove Nikki to lose a lot of weight but also to almost starve to death on many occasions. She was just 17 Kg (2st 9 lbs) at the age of 12 years old. 
She even once attempted suicide by consuming 22 capsules of Paracetamol that she stole from the health supplies during her sturggling days. She has also been in a coma once.
Nikki Grahame speaks about her Anorexia in August 2011
Her anorexia has also caused a lot of other health problems.
She had to get breast implants because she had a flat chest because of anorexia. She also suffers from osteoporosis or brittle bone disease. To cap it all, because of an entire childhood tattered by anorexia, she has an ovary of an 11-year-old.
This means she is infertile and cannot have children. She has never had a period as well.
Nikki Grahame was born on 28 April 1982 in Watford, Norwood, England to the parents;  Susan and David Grahame. She has a sibling sister, Natalie with whom she witnessed the split of her parents. Nikki was affected badly by the split which even got worse after the death of her grandfather from cancer. She was close to her grandfather. 
Besides being a TV personality, she is also a model, fashion designer, author, and columnist. She gained popularity after being a television personality as a participant of 'Big Brother's seventh season, which she finished in the fifth position. With her high fame and career, she enjoys the net worth of $5 million.