Entertainment
Is Chelsea Halfpenny Still Dating Her Developer Boyfriend? Or Focusing On Career?
If you were a regular viewer of ITV soap opera Emmerdale, then you must have loved the character of Amy Wyatt, a troubled teenager which was portrayed by the gorgeous English actress Chelsea Halfpenny. But have you ever wondered about Chelsea's life off the screen?
If you are interested to find out the information about her love life and her affair with her developer boyfriend, then you are at the right place. Here we will be helping you to have a glance at her love life and what she is doing in 2017.
Chelsea's affair with developer boyfriend!
The twenty-five-years-old actress Chelsea was in an open relationship with Dillon Clift for a very long time. In the year 2012, she revealed her affair with her long-time friend Dillon in an interview with Mirror.
Chelsea and Dillon met each other at school and started dating in 2011. Talking about her boyfriend Dillon during the interview, she said,
"He's studying business management and was a mate before being my boyfriend so we're really relaxed around each other. He's lovely and very unshowbizzy – which is great."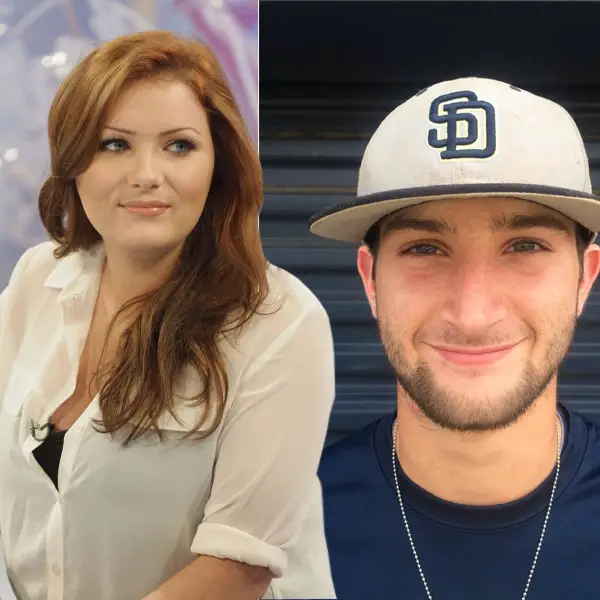 Caption: Chelsea Halfpenny and her long time friend turned boyfriend, Dillon Clift.
Photo Credit: Liverampup
On 15 June 2012, Chelsea took her Twitter to wish her boyfriend Dillon a Happy Birthday. She also said that she couldn't wait longer to give all his presents from Soccer Sport.
Happy Birthday to my gorgeous boyfriend @DillonClift!!! Cannot wait to see you to give you all your presents from Soccer Sport!!!!

— Chelsea Halfpenny (@ChelseaHP) June 15, 2012
After a year, in Jan 2013, she again mentioned software developer Dillon C as her boyfriend. In one of her tweets, she stated-
"And I have my beautiful boyfriend @DillonClift to thank for the tickets!! Blatantly gutted he didn't get to come"
And I have my beautiful boyfriend @DillonClift to thank for the tickets!! Blatantly gutted he didn't get to come ????

— Chelsea Halfpenny (@ChelseaHP) January 30, 2013
Dillon took no any time to reply her tweet. He replied-
@ChelseaHP and it's okay because you're not coming to see the 1975 in New York with me ;-) hahaha x

— Dillon Clift (@DillonClift) January 30, 2013
It seems that Chelsea and Dillon were together till 2014 as they have stopped mentioning and replying each other on their tweets. Here is the last tweet of Dillon where Chelsea commented.
Well, it's not sure whether Chelsea and Dillon are still dating or not as they haven't commented on their relationship status. But seeing the success that Chelsea is achieving right now, we can say that she is focusing on her career.
Recently, on April 29, 2017, Chelsea tweeted saying "To the stud that is 'Mr. Dreameeeeh" and thanked her Casualty co-star Richard Winsor for pretending to be her boyfriend for few months.
More about Chelsea Halfpenny:
Born on 26 September 1991, Chelsea developed her interest in acting by the very young age. She began her career in 2004 with Casualty's episode "What Parents Do."
Later she appeared in Byker Grove from 2004 to 2006. However, she gained immense popularity only after appearing in Emmerdale from 2010 to 2013.
Did you know that Chelsea believes her Emmerdale co-star Laura Norton as her best friend, sister and soul mate? Well, her tweet surely says a lot, doesn't it?
Happy Birthday to my sister, soul mate, best friend, the Linder to my Linder, @lawrencenotrin xxxxxxxx

— Chelsea Halfpenny (@ChelseaHP) June 19, 2016
Well, Chelsea has very supportive parents who have always motivated her to achieve her dreams. When Chelsea's character Amy in the Emmerdale was going to have a baby, she asked her mother for some advice. She explained-
"When the team first told me she was going to have a baby, I couldn't wait to find out more. Then when I saw the scripts and realized she was going to actually give birth in a cemetery, I started to get a bit worried."
Moreover, she added:
"The thought ­of having to do ­a scene like ­that is pretty daunting – especially when you've never done it yourself – so the first thing I did ­was get on the phone ­to my mum to get ­­some advice."
Chelsea's other acting credits include Cherry Pop (2007), Compulsion (2010), and Lilium (2013). Likewise, she has been portraying the character of Alicia Munroe in Casualty since 2016 to present.