Entertainment
Where Is Donna Peele After Leaving Husband And Ending Short Married Life In Divorce?
The former model and actress Donna Peele is moreover famous as the ex-wife of legendary Casanova Charlie Sheen. After splitting from the first husband, Donna Peele has been out of razzling dazzle in Hollywood. But where is she now? Well, if you crave to know the answers about the same, you've come to the right place.
Got Married with the famous face but Where is she Now?
Donna Peele is famous as the first wife of Charlie Sheen. Talking about the relationship between the pair, they first met on the sets of a cigarette commercial back in 1995. After almost six weeks of dating, Donna turned her short time boyfriend into husband by getting married on September 3, 1995, at the very young age. Their wedding took place in Malibu, California.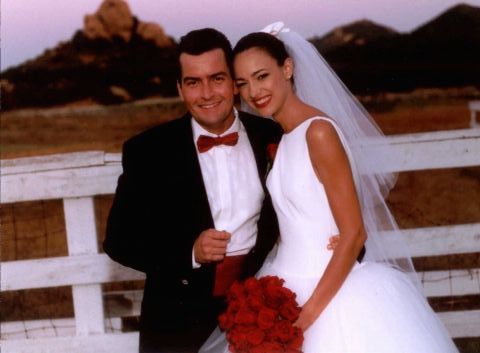 Caption: Donna Peele got married to Charlie Sheen just six weeks after their first commercial together in 1995. 
Photo Credit: telegraph.co.uk
When Sheen announced his engagement with his then girlfriend Donna Peele, he was on the stand during Madam Heidi Fleiss' prostitution trial. Fleiss used to run a raunchy escort agency, and Donna Peele was said to be one of the clients of an escort agency operated by Heidi Fleiss.
Charlie Sheen, at the time of getting married to Donna Peele, said,
"She's an angel sent from heaven to take me through the rest of my journey."
But sadly their marriage didn't make the six-month mark and the pair divorced on November 19, 1996. Sheen then went on to explain and proclaimed,
"I couldn't breathe. I had to come up for air."
He further mentioned,
"You buy a car, it breaks down, what are you gonna do?"
After splitting from the first husband, Donna Peele just vanished from the limelight of Hollywood. She is now just a name which is recognized by the first wife of Charlie Sheen. 
The former model is now on her 40s and might be living a normal life with her family. Or she is just living an ordinary life and wants to stay away from the stardom. As she is nowhere to seen or heard, her net worth remains undercovered. 
More about Peele's Husband:
Along with the excellent acting skills, Charlie Sheen is very much well-known for his womanizer attitude. He is used to getting into controversies, sometimes it's the drugs and sometimes the prostitute thing.
Talking about married life, according to sources and Charlie Sheen's wiki, he is thrice-wedded and thrice divorced. He got married to actress Denise Richards on June 15, 2002. The couple met for the first time on the sets of "Good Advice" on 2000 and got engaged on December 26, 2001, after about a year of dating.
The pair shares two children. Sam J. Sheen (March 9, 2004) and Lola Rose Sheen (June 1, 2005). However, Denise Richards filed for divorce in March 2005 accusing her then-husband Charlie Sheen of alcohol and drug abuse and also threats of violence. Then in 2006, the pair was granted with divorce.
But the former pair is often seen together for the sake of their children. 
Moving on, Charlie Sheen married his third wife Brooke Mueller on May 30, 2008. The duo also shares twin sons, Bob and Max (March 15, 2009). Sheen filed for divorce back in November 2010, which was finalized on May 2, 2011.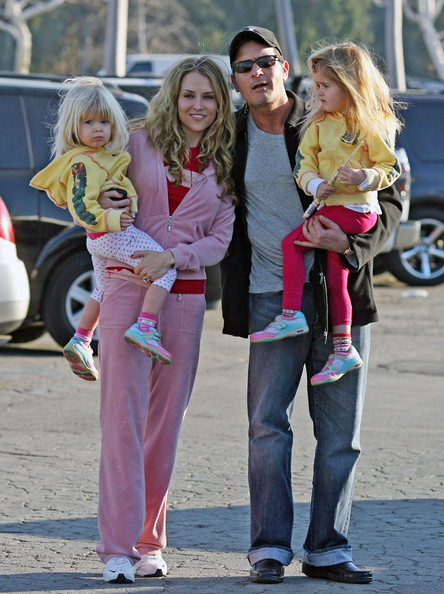 Caption: Charlie Sheen visited LA zoo with his then fiance Brooke Mueller and children. (2008)
Photo Credit: zimbio.com
More recently, Charlie Sheen got engaged to former adult film star Brett Rossi in February 2014. With the wedding plans going on for the pair, Seen and Brett called off their engagement mutually in October. 
 In 2015, Charlie Sheen revealed that he is HIV-positive.
Caption: Charlie Sheen opened up about his disease. (Published on November 17, 2015)
As of now, Charlie is in his battle with HIV. And we would like to wish him to stay strong.
Stay with us for more news on Charlie Sheen!