Entertainment
Not Ever Married, Aida Turturro, On-Screen Husband: Opens Up About James Gandolfini
The sudden death of the loved ones is the worst hell that can fall on you. It's almost unbearable for a person to see a person pass away whom they saw alive a moment ago. Today we are with the story of such an actress who was moved by an unexpected death of a venerable friend.
Losing the on-screen Husband:
American actors duo Aida Turturro and James Gandolfini were seen as husband and wife in a Broadway revival of "A Streetcar Named Desire" in 1992. Even after the series, the actors stayed in contact and built a good friendship. 
James became one of the trusted friends for Aida. Therefore, when James encouraged her to audition for The Sopranos, she went for the audition and was cast as the sister of James' character, Tony Soprano, in the series.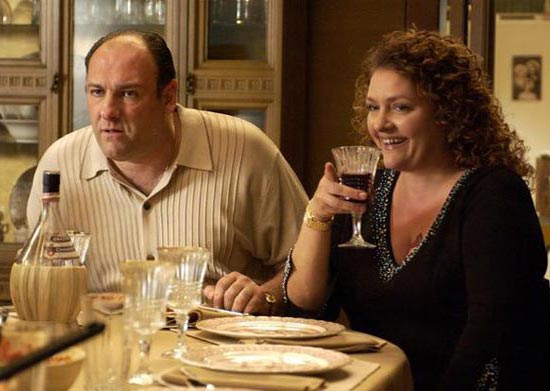 Caption: Aida Turturro and James Gandolfini from the series Sopranos. Aida developed an immense respect towards James after working together twice. 
Source: pmchollylife.com
She had admitted that not only her but whoever knew him couldn't resist liking him.  However, this good friend of her, James, left the world in 2013 due to a heart attack. She shared about his compassionate nature and how his sudden death moved her in an interview with hollywoodlife.com in July 2013. She said,
Well you know, everybody has a different memory because they have a different relationship. Whether it's from television or individually. I think that to me, personally, I have a lot of love for him – I have my own memories. The beautiful thing is, he had a very, very, huge incredible soul and it just went on forever. His love & his generosity is why he had a church full of women AND men crying. It was a great loss – not because of his acting – I mean he was a great actor of course – but really because he was a generous and beautiful entity & I've known him since 1992 & I still kind of can't comprehend it.
I think it's a process. I think at first you're hit with it and you can't believe it & then you slowly process it. Sometimes for people it takes Awhile to process – you turn around & your like 'oh my god is he not here anymore?' Everybody's processing it in their own way – nobody's happy about it & it's not easy for anyone.
Is She Never Been Married?
The beautiful actress Aida must have been loved and even approached by many handsome hunks when she was young. But she chose to stay single and has never been married. What could be the reason for her single life??? She has left everybody to make suspicions that she might be a lesbian, however; she has never spoken about her sexual orientation officially. Whatever it may be, Aida is one of the much-loved actresses. Here we have some of the tweets from her fans.
Aida Turturro is the best thing on #thesopranos after Tony & Carmella. Really terrific

— Caomhan Keane (@CaomhanKeane) March 21, 2016
Wanted to have a perfect Family: No Serious Boyfriend
In an interview with Sister magazine in 2000, she actually revealed to the interviewer that she was not in a serious relationship. She also said:
Family is really important and I look forward to the day I find a wonderful person to marry, have children, have the house, have the guest room. Don't forget the dog! Don't forget the backyard!" 
Aida's Short Bio:
Aida Turturro was born on September 25, 1962. She first appeared in films in 1989. She has worked in the movies including True Love, What about Bob?, Jersey girl, and Illuminata.
She acted in the movie named "Romance and Cigarettes" directed by her cousin John Turturro in 2005.  Aida started her television career with The Sopranos (199 to 2007). She then starred in other series like Medium, Curb Your Enthusiasm and Blue Bloods. Aida enjoys a huge net worth of $ 5 million. 
She has also worked to make public aware about rheumatoid arthritis.