Entertainment
Is H. Jon Benjamin's Tour Dates The Reason For Not Having A Girlfriend?
In the process of entertaining the audience, standup comedian H. Jon Benjamin has dedicated half of his life traveling and touring. Having a sole dating detail, there remains uncertainty towards his sexual preference. But is his tour and hectic career preventing him from getting involved in a relationship or is he into some secret dating scenario?
Is his busy career the reason for his singularity?
Having started his career at an early age of 24, comedian Benjamin has worked in groups rather than working independently. He rose to fame after lending his voice to several cartoon characters as "Sterling Archer," "We Hot American Summer" and as "Bob Belcher."
With the regular performance appraisal, looks like the comedian hooked himself in working in several movies "The Toe Tactic," "Jason Nash Is Married" and "Limbo."
Similarly, his tour dates with the various cast and crew of " Bob Burger's" in 2015, might have kept him back from mingling with any women. The tour is carried on every year, even on 2016, Bob's Burger Live event was carried out. Through his Twitter, he had made an announcement for the live show held on April.
With his singing and acting career in movies and television series and tour dates the comedian has managed to acquire the net worth of $6 million. He still is working in the television series Last Week Tonight with John Oliver(2016) and People of Earth(2016) which would enhance his capital.
With ample of work in his hand at the age of 50, Benjamin is hooked and married with his career, so maybe due to his hectic work schedule he has refrained himself from the idea of getting married to a woman.
Searching for a perfect partner or hitched?
Blessed with mimicry skills, comedian Benjamin has successfully drooled his female fans from the character as Coach John McGuirk on Loren Bouchard's at the Home Movies.
Despite attracting massive female crowds, H.Jon looks like has remained unsuccessful in finding a perfect partner. When asked about relating his personal life with his voice character on an interview on 5th July 2011, he confirmed about being single and unmarried but also disclosed about having a kid, Judah Benjamin. He said:
"Yeah, I live my life more like him; I'm not married, but I have a kid, and I don't have a s**tty restaurant that's not doing well, but I have a s**tty apartment that's not doing well. So yeah, I'll go with Bob, for sure. It would be nice to be Archer, but I don't know how great it would be to be Jon Benjamin, the character from Jon Benjamin Has a Van."
While talking about a single parenthood to momversation.com, Benjamin said his son was born on August 2003. He also disclosed the existence of fatherly bonding and how he had brainwashed Judah's mind regarding his nationality as British despite being an American.
Similarly, through an interview uploaded by The Verge on 5th July 2013, Benjamin spoke about his son's addiction towards the animated movies and video games.
Caption: Benjamin speaks about his son's addiction towards the animated movies.
Further, Benjamin shared his son's first short movie to his followers on Twitter.
Followingly, while lending his voice for Archer, Benjamin shocked his fans by revealing the truth of his improving intimate life. He said:
"I have not had sex in four, and a half years, so it's an improvement. If you knew how I had intimation not having it is one step above. No, I haven't tried yet to use Sterling Archer to have sex and I don't know if that would work out."
Jon has neither disclosed the biological mother of his kid nor has revealed any details of his girlfriend. However, while scrolling through his dating life, Benjamin is said to have dated the American actress Laura Silverman.
The affair got well tucked in as no hint regarding their meeting and dating events ever got revealed. Unfortunately, the relationship no longer exists as both of them are currently possibly single.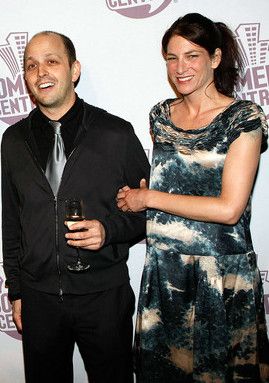 Caption: Benjamin with Laura Silverman at the Emmy Awards.
Photo Credit: whosdatedwho.com
Similarly, his Twitter image spoke a lot about his sexual orientation. After uploading several pictures with a man named Christain, Benjamine was surrounded by the rumor of being gay.
But, all the rumors and allegation go in vain as he is a father of a son, despite no details of the child's mother surfaced. He is a single father who is looking after a son with the help of a nanny.
Being a lone parent and taking care of your work and family somewhat becomes hectic and frustrating but may be Benjamin is expert in handling the situation that's why he has chosen to stay away from the complicated relationship or maybe he is in search of a perfect wife and mother for his son?
Several questions with no answer so until and unless, Benjamin clears the agenda of his relationship his followers will be assuming it.