Entertainment
After Having Divorce With Previous Husbands Elizabeth Gilbert Is Ready To Settle With Girlfriend Turned Partner
The Eat, Pray, Love writer Elizabeth Gilbert, is all set to settle with her best friend turned girlfriend turned partner, Rayya Elias.
After separating with husband Jose Nunes in 2016, Elizabeth Gilbert has been openly dating her best friend of over a decade. Elizabeth has now performed a private, spontaneous ceremony of commitment with her partner Rayya.
Though the ceremony wasn't official, she shared the beautiful and uplifting news via Facebook. The talented author wrote-
"Over the last year, Rayya Elias and I have been through some really difficult days together — but not today. Today was precious and perfect. A simple and spontaneous ceremony of love, surrounded by a handful of friends and family."
Moreover, she added:
"Our ceremony was nothing legally binding (no need to alert the authorities, folks!)...just a quiet and private celebration of what we have long known to be true: We belong to each other."
The Big Magic author Elizabeth Gibert announced her affair with her best friend last year through Facebook after Rayya was diagnosed with cancer. It was revealed that she left her husband of nine years, Jose Nunes, as she realized that she was madly in love with her best friend.
Elizabeth's Love life!
Prior enjoying a private, spontaneous ceremony of commitment with Rayya Elias, Elizabeth has been married twice.
She was first married to Michael Cooper in the year 1994. Elizabeth met Michael when she worked at the Coyote Ugly Saloon. Her marital relation with Michael lasted for only eight years, and their relationship suffered a divorce in 2002.
Elizabeth was later married to Jose Nunes in 2007. She met him on her travels in Eat, Pray, Love in Bali.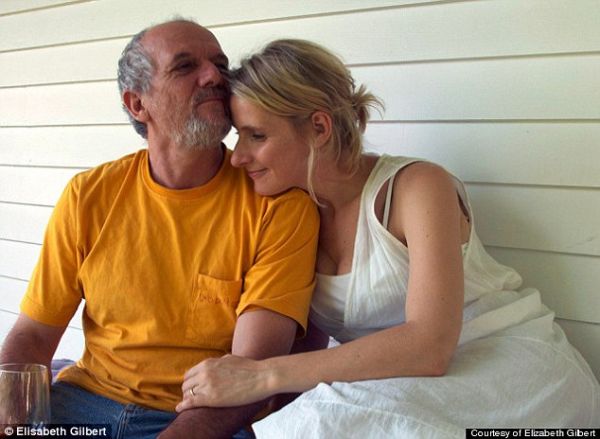 Caption: Elizabeth Gilbert and her ex-husband Jose Nunes bound in marital relation for nine years.
Photo Credit: Dailymail
Later in October 2014, during a "Super Soul Sunday" interview, Elizabeth revealed that she prefers not to have any children.
She even revealed that she had no any plans to get married and be a wife again after ending her first marriage. Talking about her choice of not having children, Elizabeth said-
"They're always a little hesitant to ask me because they feel like it's invasive, and I'm like, 'Let's talk about this because I think we all should talk about this.'"
She continued-
"The determination that I've come to is that there are three kinds of women in the world: There are women who are born to be mothers. There are women who are born to be aunties. And there are women who should not be allowed to be within 10 feet of a child. It is very important that you figure out which one of those camps you belong in, because tragedy and sorrow results from ending up in the wrong category."
After nine years of marriage, Elizabeth revealed that she is separating with her husband Jose Nunes via Facebook in July 2016. She even said that her separation with her estranged husband is "very personal" and "very amicable."
In the same year in September, Elizabeth took to Facebook to reveal that she is in love with her best friend, writer Rayya Elias.
Congratulations to Elizabeth Gilbert and Rayya Elias for the beginning of a new journey!
Stay with us for more emerging updates on Elizabeth Gilbert and Rayya Elias!