Entertainment
Is Jilly Anais Dating Anyone? Rumored To Have a Boyfriend But How True Is That?
When you are in showbiz, your personal life and lifestyle is something that every people want to peek. When your profession bounds you to drive the attention of individuals around you, you are seldom surrounded with different rumors related to your love life.
The aspiring model Jilly Anais has grabbed attention towards her through her success; because of which she is surrounded with some questions regarding her love life. Jilly is rumored to be dating someone, but how true is that? If it's true, who's her boyfriend? Let's find it out.
Is Jilly Seeing Or Dating Anyone?
Many people have their eyes set on the twenty-one-years-old beauty Jilly Anais, who is known for her debut single called "The Juice." But it seems that she already has given her heart to NBA star Dejounte Murray.
Miss Teen Houston 2010-2011, Jilly hasn't hinted her affair, but the Snapchat's post of the NBA star has sparked their low-key romance. Earlier this year in May, Murray shared an image of this gorgeous Instagram model with an "In Love" emoji.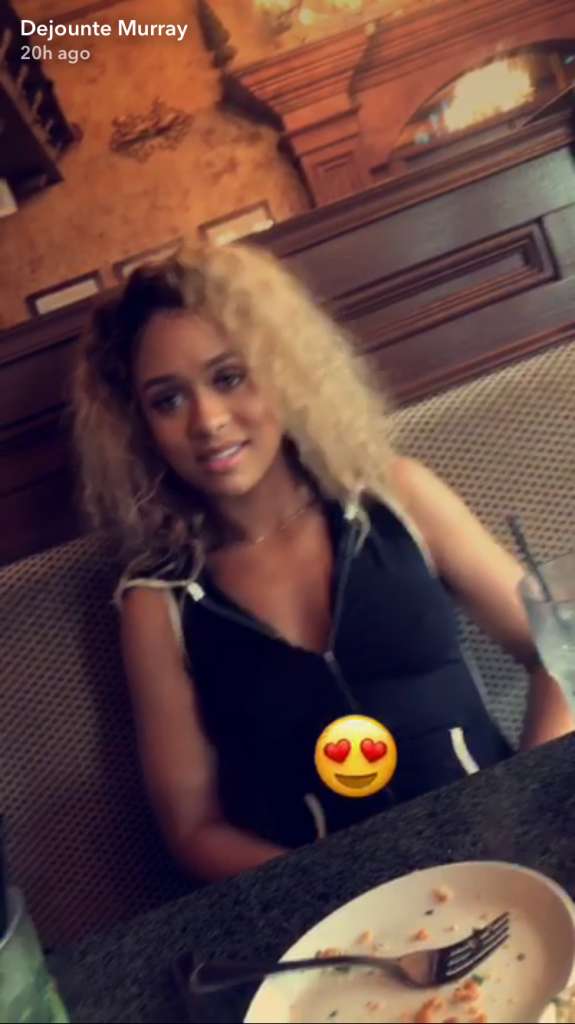 Caption: Dejounte Murray shared a picture of Jilly Anais on Snapchat in May.
Photo Credit: San Antonio Express-News
Likewise, he also shared a selfie with Jilly on his Snapchat story. Jilly was seen cuddling with her boyfriend, when they posed for a picture in dog filter.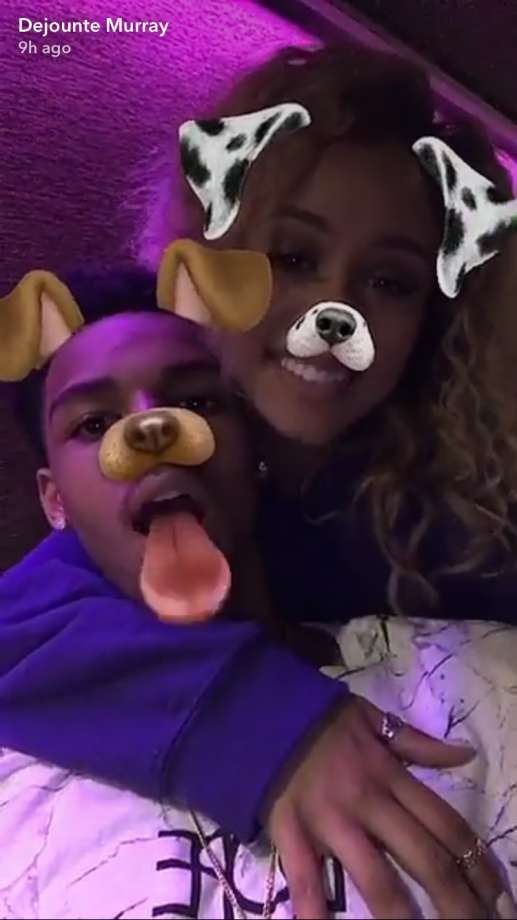 Caption: Dejounte Murray's Snapchat's story with Jilly Anais earlier this year in May.
Photo Credit: San Antonio Express-News
Though Murray has been sharing the pictures of the duo, neither of them has talked about their relationship publicly.
Jilly Anais' Relationship With Her Parents:
Jilly Anais was born on January 2, 1996, to a very supportive mother and understanding father; Jules K. Moor and Jillyan Anais Moor. Born with black race and raised with a younger brother, Jilly isn't hiding her relationship with her parents like her affair.
If you follow her on her verified social media accounts, you can see many posts of her related to her parents.
On the occasion of father's day, Jilly shared a lovely picture of her with her dad on her Instagram. She shared an image with a nice and lovely caption.
"Daddy.. my first love, my personal body guard (he's 6"7 watch out), my best friend, my twin.. the list is endless.. I thank God everyday, because he gave me THE absolute best father anyone could EVER dream of, the only thing you can't do is dance... ???? Happy Daddy's Day! I love you so much ♥?"
Likewise, there is also an entertaining video by Jilly on her YouTube channel, where you can see her performing a lemon head challenge with her father.
Caption: Jilly Anais and her father performing the lemon head challenge.
Jilly Anais, who is an actor, model, and cheerleader is also an aspiring singer. She is known for her debut single called "The Juice" and her single "Afterparty" which was co-written by Troi Irons.