Entertainment
Is Kirko Bangz With Girlfriend? His Dating Status Now
If you are the fan of famous American rapper; Kirko Bangz and his song 'What Yo Name Iz?', you would love to know the name of his loved ones and get insight on his dating status.
So, without much further delay, Let's find out!
Kirko Bangz Disses Girlfriend
The love life of the 300 Entertainment record label artist's is full of various plots. In 2010, he started dating Hazel Montana, an American Dancer. The boyfriend-girlfriend relationship took a sad turn when they broke-up in 2014.
After the rapper split up with Hazel, he supposedly dissed Hazel via his tweet, writing he used to have a girlfriend, but all he got then was a hoe.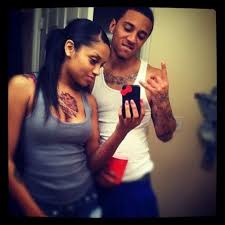 Kirko Bangz with his ex-girlfriend.  (Photo: famoufix.com)
Later, on the 29th of September 2014, Kirko posted a sorrowful tweet stating he was officially heartbroken.
After the duo ended their relationship, in an interview with HOT 97 on YouTube, dated 11 February 2014, the famous rapper said he wanted to smash Barbadian singer Rihanna.
Again on 24 July 2014, on Hot 97, the Texas native said he didn't have a girlfriend.
But in 2014, Kirko started dating American Model, Rayne Guerra. But their alliance did not last long enough. The couple ended their bond in 2015.
Regarding Rayne, on 15th February 2015,  he posted her photo on social media Twitter.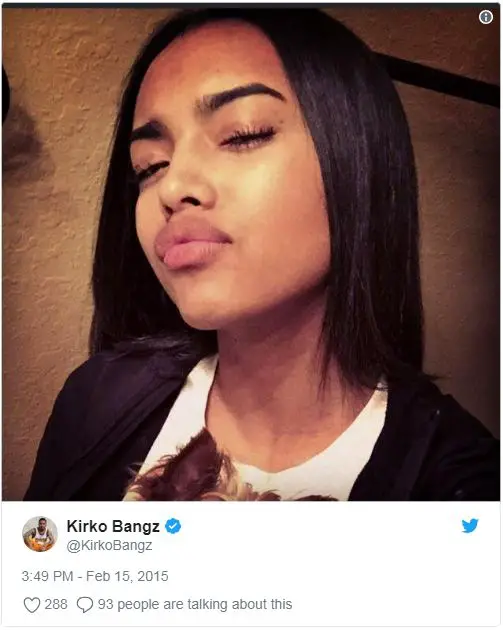 Kirko Bangz tweet on Rayne. (PhotoL Kirko Bangz's Twitter)
As of 2015, Kirko is supposedly single. He hasn't been spotted lovey-dovey, and his love-life has been entirely unknown.
Well, things might be the same for him as he previously tweeted that he had girlfriends in the past and might have in future but to him his music is wife. Indeed, the rapper- who gained over 5 million views on his new song "Work sumn"- is much invested in reaching the height in his career than running for romance.  
Discussions On Rapper's Life
The famous song Drank In My Cup singer personal life has been full of controversies. Looking back in 2012, Kirko's tweet on 8th of March dissed his haters. 

Tweet dissing his haters. (Photo: Kirko Bangz's Twitter)
In 2016, Prairie View A&M University graduate Kirko denied a baby rumor; saying he did not even know that women. 
He said to xxlmag.com,
That girl is not real, she a catfish. That little child belong to somebody else. Nobody ever seen that girl before in they life. If she real tell that bi*** to post a video tell her to pull up at the studio. I'm in Houston right now. If I had a child, I wouldn't be on child support because I would be one hell of a motherf*****' father to my child. So I just feel like that shit disrespectful. I don't f*** around like that.
Previously, an Instagram user @vlive_torij had claimed that Kirko was the father of her child.
Kirko Upcoming Music Tour
The delightful news for Kirko's fan is that his anticipated upcoming music will be stating from 15th June 2018, on Friday. If you want to order the tickets online and know the location of the concert, visit SongKick.com. 
If you want to find out his event near your locality, you can find it on StubHub.com.
And if you intend to shop for his tour, you can visit the link provided in his Twitter post.
Kirko Bangz Wiki-like Bio
American rapper Kirko Bangz was born on 20 August 1989, in Houston, TX. He is a southern rapper based in Texas, and his ethnicity is Hispanic or Latino.
Best known for his song Drank in My Cup (2011), which peaked at number 28 in US Billboard Hot 100 chart, Kirko went to Prairie View A & M University. At the university, he honed his lyrics skill. Up to date, his net worth is $6 million.
He released a total of 10 mixtapes from 2009 to 2016. If you want to know about his song and listen to it for free, then this 'Discography' is just for you.