Entertainment
Would You Know If Fairuza Balk Ever Secretly Married? Has No Husband Or Wishes Not To Reveal?
Someone who has been able to make her mark in the industry from 1983 like American actress Fairuza Balk is sure to have a lot of fans and is sure to have been able to taste success in an ample amount. She lacks no fan following that is for sure. Those fans of her often wonder about her marital life and question if she is married and not willing to show her husband to the public or is she yet to find her right match? Well, let us know.
Is She Married Or Still Seeking For The Right Man?
Being beautiful and smart are some qualities of Fairuza Balk among much more. But she has not been vocal about her marital life at all which makes people wonder if she has no interest revealing about her marriage or is yet to marry.
Balk has been in a relationship in the past and had a boyfriend which proves that she lacks nothing a man would seek in his partner. Previously, she was in a relationship with British actor, David Thewlis. The relationship began back in 1996 when the two were a part of a common project, 'The Island of Dr. Moreau'.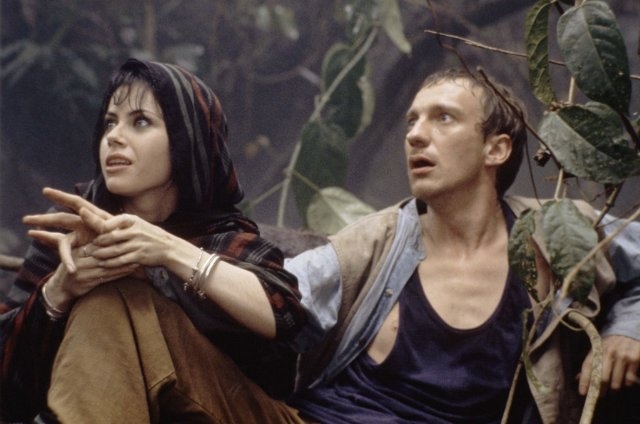 Caption: Balk and David Thewlis in a scene from 'The Island of Dr. Moreau' back in 1996.
Photo Credit: Pinterest
But the relationship did not last long, and they eventually split in the year 1997. The relationship was kept private, and thus, not much about the relationship and the split was revealed to the fans.
But following her split, she has not been open about her love relationships, and that keeps the fans guessing if she's married or is not being open about her love and marital life. Well as a public figure you tend to keep your private stuff to yourself which you are entitled.
But as of now, there are not many revelations from Balk's end which shows that she is married so let us not run for the hills and reach any major conclusion without her confirming it. Maybe she is just too busy with her career and family. Whereas Davis is said to be single.
The Family And The Fake News Of Her Death:
Many of her fans are bound to know about her personal relationships with her family as well. Balk's mother, Cathryn Balk, has made a name for herself in the dancing field as she has studied, performed, and taught the ethnic and traditional dance forms of many countries like Egypt, Turkey, Morocco and Spain.
Her father, Solomon Feldthouse, on the other hand, was one of the core members of the 1960's psychedelic rock group named Kaleidoscope and is also a traveling folk musician. But how many of you know that she has a half-brother named Sol?
Sol who was once reported to have had surgery for cancerous brain tumor removal is the half brother of Balk. She took over her Facebook and Twitter to share this news back in 2015.
Caption: Facebook post of Balk regarding her half brother's ailment
Courtesy: Balk's facebook
Please send prayers and healing for Sol who had cancerous brain tumor removal surgery today. He is my half brother.

— Fairuza Balk (@fairuza) March 29, 2015
That is the news surrounding her half brother's surgery. Balk was once called dead, and all the death rumors spread like wildfire.
The death hoax was first spread when a Facebook page released the statement,
"At about 11 a.m. ET on Thursday (July 28, 2016), our beloved actress Fairuza Balk passed away. Fairuza Balk was born on May 21, 1974 in Point Reyes. She will be missed but not forgotten. Please show your sympathy and condolences by commenting on and liking this page."
The death hoax took Balk's fans by surprise as she is loved by many and the death news of her was a major shock to anyone who knew her on a different level. Everyone was taken by surprise but the story, in the end, was fake when Balk was said to be alive by her representatives.
"She joins the long list of celebrities who have been victimized by this hoax. She's still alive and well, stop believing what you see on the Internet."
Well as of now, she is alive and kicking when it comes to her life, and we are sure that she will build on what she has accomplished thus far.