Entertainment
Do We Know Heidi Rhoades's Age? About Her Engagement To Lesbian Partner In A Wiki-Like Bio
Public figures are always willing to keep the details about them to themselves. Famous talent manager Heidi Rhoades is no different from those celebs, as she too has been very secretive about her details like her age, her birthday and other crucial information.
So today, we would like to address her beautiful relationship with her lesbian partner and the children she parents with her partner in a wiki-like bio of her.
Heidi Rhoades And Her Partner: The Beautiful Relationship: Their Children.
Heidi Rhoades has been with her partner and fitness guru Jillian Michaels since 2009.
Heidi and Jillian were first introduced by a common friend and were dating casually for around three years, while Jillian was trying to adopt a child.
But, the casual connection between them then led to a new dimension, and things fell in the right place for these two beautiful women.
In an interview, Michaels elaborated,
"Our relationship happened to intersect with my desire to be a parent, and Heidi was supportive,"
Moreover, speaking of the will of Rhoades to fall pregnant, Michaels added,
"Heidi was feeling invested in us, and she was like, 'What if I try to get pregnant and whatever happens happens?'"
And eventually, the couple was blessed with not one but two kids as Heidi gave birth to a son in May of 2012, just two weeks before the couple adopted a daughter from Haiti.
The couple welcomed their son Phoenix by using some secret process, while they adopted a 2-year girl from Haiti, Lukensia.
Opening up about the labor of Heidi, Michaels spoke,
"The whole thing about Phoenix being born was hard,"

"Watching her was awful,"

"You can't relieve the person. You can't do it for them. You just have to stand there and watch."
Rhoades also added,
"Because I had the c-section, she had to jump in and do everything with Phoenix,"

"She's an amazing mom."
Now the kids are getting bigger, and the family is just adorable. An example of that was seen when the family was out on some family time in LA in 2015.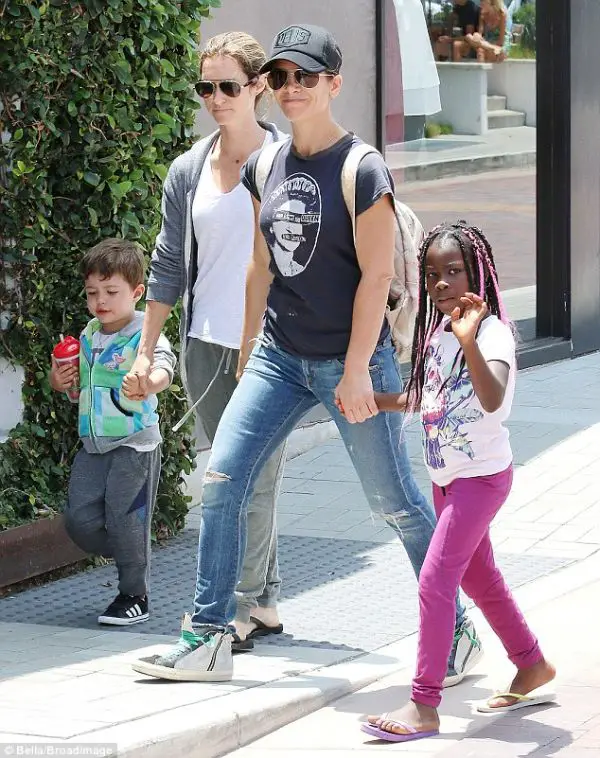 Caption: Heidi Rhoades and Jillian Michaels with their kids in LA, 2015.
Photo Credit: dailymail.co.uk
The couple is also not shy of showing their love on social media sites as well. Heidi wishing JIllain on her birthday is a prime example of that.
Moreover, their relationship, which already was so adorable was taken to a new dimension as they got engaged when Jillian proposed Heidi to marry her in an emotional video.
Jillian Michaels proposing Heidi Rhoades.
Video Credit: dailymail.co.uk
Jillian, at that time, said,
"I know I'm an a–hole all the time, but if you'll continue to put up with me, I would like you to marry me,"
She continued,
"Heidi is the perfect person for me. The only place where there's like a solace…a safe-haven is with my family and Heidi is the nucleus of that family. She's the glue that really holds everything together and I think without that, I would be lost."
Moreover, for those who are wondering when the couple is getting married, Jillian once stated that they had some plans for the summer of 2017.
"We were going to plan something for summer of 2017, and now I think we're just going to City Hall in the next couple weeks."
Hyped we are, and we would like to wish them the very best for their relationship in the days ahead!
What Is Heidi's Age Though? Her Wiki-Like Bio.
Heidi Rhoades has been a secretive person when it comes to her details, and she has not revealed her exact age. Although Heidi is assumed to be in her mid 30's, she is yet to shed some lights on the matter.
However, what she revealed is that she is from Pennsylvania, as she often tweets out her love for her place.
She also loves yoga and is an instructor herself.
And this one is for them who do not know about her career as a talent manager.
Such a versatile and dynamic lady!
Stay with us for the emerging updates on Heidi Rhoades!