Entertainment
"Master of the Contemporary Short Story" Alice Munro, Who Won Nobel Prize in Literature in 2013 Never Thought She Would Win!
She successfully won the Nobel award as one of the globally acclaimed, popular and accessible English-language writers. But what landed Alice the prestigious award was her unique ability to convert the long stories to short ones, often moving back and forth in time using an uncomplicated prose.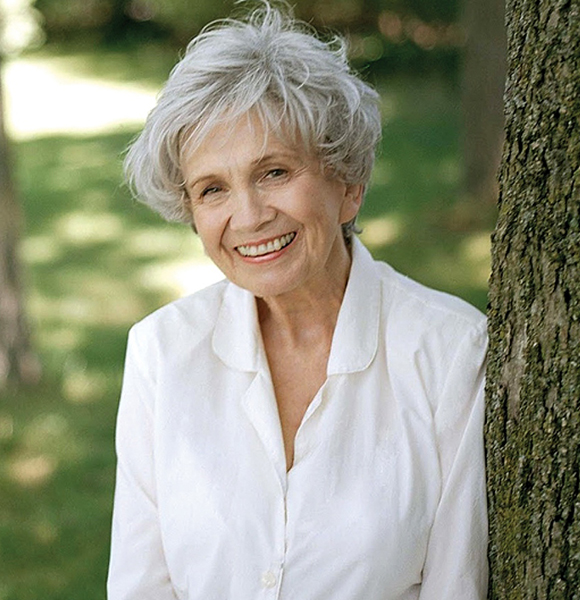 The Canadian short story writer, Alice Munro successfully won one of the globally acclaimed awards for English-language writers; the Nobel Award in Literature in 2013.  She previously had landed with another prestigious writing award; the Man Booker International Prize in literature writing in 2009. 
Master Of the Contemporary Short Story, Alice Munro Won Nobel Prize!
What landed Alice the prestigious award was her unique ability to convert the long stories to short ones, often moving back and forth in time using an uncomplicated prose.
"I knew I was in the running, yes, but I never thought I would win" 
Exclaimed Alice Munro, then 82 years old, relating her Nobel prize-winning moment in an interview with The Canadian Press.
The writer was born in the year of 1931 and had to wait till 2013 to bag the world famous award. Before landing the Nobel prize, she had won numerous accolades and recognition that average writers can just long for.
Fellow writer, Cynthia Ozick has labeled her, "Our Checkov". The Swedish Academy, the committee which has been awarding Nobel Prize in Literature since 1901, marked her as "master of the contemporary short story" while announcing her name as the winner.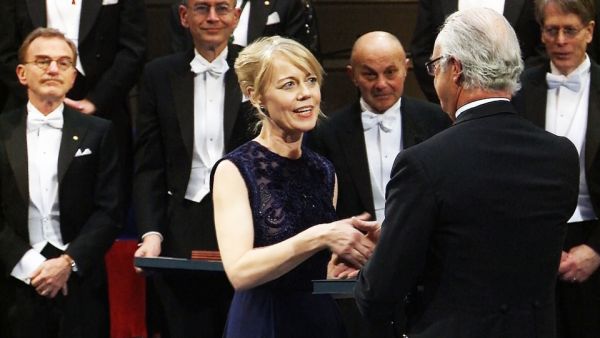 Jenny Munro, Alice Munro's daughter received the award on behalf of his mother in 2013 (Photo: ctvnews.ca) 
Daughter Jenny Munro collected the award on behalf of Alice, flying to Sweden's capital Stockholm. Alice watched the ceremony staying at her daughter Shelia's home in Victoria. Alice couldn't make it to the ceremony since she wasn't alright.
Of course, the sexiest thing in life is to be really smart.
In her case, Alice was smart enough to channel her lonely small-town upbringing to writing stories. She would stay in her room for hours just making up stories inside her mind.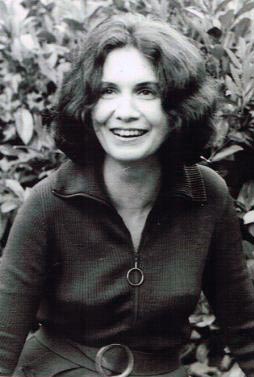 Young Alice Munro (Photo: liverampup.com)
Munro was destined to be born in a middle-class family who brought her up in a ranch outside of Ontario. She started composing as a young girl and continued written work even when she drew nearer to adulthood and seniority.
She knew her passion towards writing books and short stories at the age of fourteen. 
"But back then you didn't go around announcing something like that. You didn't call attention. Maybe it was being Canadian, maybe it was being a woman. Maybe both."
She never halted!. Simply, she never gave her writing interest a chance to blur away.
Her first short stories book, Dance of the Happy Shades, was published in 1968.
That was the start of writing books and short stories for her. Further, she went on to release about fifteen more best-selling books. Not only adults but children also love her books and quotes! Platforms such as The New Yorker, The Atlantic  Monthly, etc mostly publish her works. 
Alice Munro is acknowledged as a truth-telling pioneer who has written excellently all her life. Her quotes are also exceptionally famous, and that show why her net worth has risen to such a great extent. 
She was highlighted in headlines due to the 2016's "Alice Munro Festival of the Short Story". The mission of this celebration is to sustain and empower developing authors around.
Caption: Alice Munro, In Her Own Words: 2013 Nobel Prize in Literature
Alice Munro's latest book was Dear Life, which was published in 2012. 
Alice Munro's Married Life: Two Husbands and A Divorce
In 1951, Alice Munro got married to a bookseller, James Munro at Christmas time. Alice was just at the age of 20 when she got married to James. She walked down the aisle with her husband wearing a burgundy velvet dress as she couldn't afford a big white dress.
She first met her husband, James Munro, at the university library. Just 18 months later after getting married, she was first pregnant with her first kid. 
The couple gave birth to lovely children; four daughters named Sheila Munro, Andrea Munro, Jenny Munro and Catherine Munro. 
Both, Alice and her husband James also opened a book store in Victoria, B.C. in 1963, where she later worked part-time. 
But she later divorced her first husband in 1972 after 21 years of marriage. Four years after the divorce, in 1976, she got married for the second time and started a new married life with her second husband.
The Nobel prize winner first met her second husband, Gerald Fremlin, a cartographer and geographer, at a university.
 The couple moved to a farm outside Clinton, Ontario, and later to a house in Clinton, where Fremlin died on 17 April 2013, aged 88. Munro and Fremlin also owned a home in Comox, British Columbia.
The mother of four children married Gerald Fremlin in 1976. Following more than three decades of marriage, Alice lost her second husband in 2013.
It was not the divorce that wrecked her married life as Gerald Fremlin passed away in April 2013.