Entertainment
Is Miles Heizer Budding Gay Romance? Dating Rumor Surface After Posting Cute Instagram Pictures
Social media posts are often the easiest method for a celebrity to keep his/her fans updated about his/her life. And while some of the posts make people know what you are up to in life, some posts ignite several rumors.
The same can be said about "13 Reasons Why" Actor Miles Heizer, who has posted some close and exciting photos with another man on his Instagram, igniting several rumors that they might be budding gay romance with one another.
So what is the exact truth about it? Are they really in a relationship or are they just close mates? Let us find out!
Is Miles Heizer Budding Gay Romance With His Mate?
Miles Heizer and his "13 Reasons Why" co-star Brandon Flynn are seen to be really close to one another. The two have been posting pictures with one another non-stop on social media sites like Instagram, and that has ignited a lot of rumor of them dating one another.
The post above has an interesting caption, and Miles calls Brandon an angel among men.
But now that the people have started speculating, what is the actual truth behind their connection?
Well, back in April 2017, Miles' rep stated that they were not dating and thus those who were dreaming to see these two stars involved in a dating relationship might have felt devastated. 
But still, the rep did not reveal anything about Miles' sexual orientation. Let us hope he comes forth and shows or reveals any key details on his love life as he has not presented a girlfriend in front of the media and shed light on his sexuality.
Connection With Mae Whitman:
Mae Whiteman and Miles Heizer are what they call "BFFs." Mae had a very emotional reaction to Miles' "13 Reasons Why," and talking about the same, Miles divulged,
"I still live with [my Parenthood co-star] Mae [Whitman] in her guest house and she texted me while she was watching the show," 

 "We've had many conversations about it. Her reaction was very positive. It's weird when your friend is in something and they're gone filming and then you see it."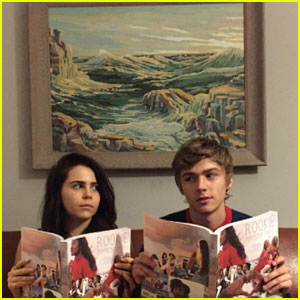 Caption: Mae Whitman and Miles Heizer are BFFs.
Photo Credit: justjared.com
Miles then continued,
"I remember she was doing The Duff and then I saw it and I was weeping," 

"She had a similar reaction. We have a very open relationship and were able to talk about these issues that are scary to talk about."
It is good to know that the two good friends support one another in every step of their lives.
Stay with us for the emerging updates on Miles Heizer!