Entertainment
A Mixed Ethnicity Sharing Jessica Parker Kennedy Plays Steamy Lesbian Roles; Also Talks About Qualities In A Man
Jessica Parker Kennedy came into the scenes with the television film Santa Baby which was released in 2006 as Lucy the Elf and she reprised her role in the television film sequel Santa Baby 2: Christmas Maybe (2009).
Her role as the prostitute, Max in Black Sails is one the talked role in television series thanks to her lesbian scenes.
Jessica talks about her Steamy Lesbian Roles!
(Warning: This Video Includes Adult Content Ahead). 
Caption: Lesbian Scene of Jessica Parker Kennedy & Clara Page in Black Sails. (Warning: This Video Includes Adult Content Ahead)
The Calgary-born, mixed ethnicity actress is currently shooting her fourth season of Starz sexy adventure show, Black Sails and it airs on the Super Channel in Canada. Kennedy is of African, Italian and Russian descent and has tweeted that she is a part of Russian.
@Nikylyaaaa I haven't been to Russia but I would love to go. I'm part Russian though and so is Chris Zylka.

— Jessica P Kennedy (@JParkerK) April 8, 2012
Kennedy portrays the role of Max, ambitious, gorgeous and smart prostitute who schemes an escape from a brothel on New Providence Island. While Black Sails has lived up to the expectation of people across the globe and has earned a reputation for big-budget sets and action sequences, it is also proven to be a decidedly erotic series. It gradually means plenty of nudity and sex scenes for the mixed ethnicity actress.
Caption:  Jessica Parker Kennedy explains how she literally broke the bed filming a lesbian sex scene.
Kennedy's mother also watches the show in Vancouver, Canada. Back in Calgary, her family and friends watch every episode, which the actress admits can be "super weird."
"There's a lot of sex scenes and stuff and I guess they just trudge through it. I don't know how they do it, we don't really talk about it much. But before every season I'm like, 'Sorry, again, about the nudity.' They just laugh and shrug. But I think its kind of weird for them, but they are wonderfully supportive."
Jessica's kind of men!
Canadian actress Jessica Parker Kennedy is leaving no chance to make a mark in Hollywood. She has appeared in movies like 50/50 and even had a recurring gig on the CW's 90210 remakes. Before she makes her presence on screens again on Season 3 of Black Sails, she spoke to maxim.com about kinds of men's she is interested in:
I'm usually attracted to more interesting types of men. I have no desire to be with a cookie-cutter Ken doll. I like when a man has a positive self-image, no matter what he looks like. I'm not into rock-hard abs. I love when a man doesn't take himself too seriously. He has to have a sense of humor. I can't stand pompous men.
It was rumored that she was in a relationship with her co-star and Australian actor, Luke Arnold in 2014.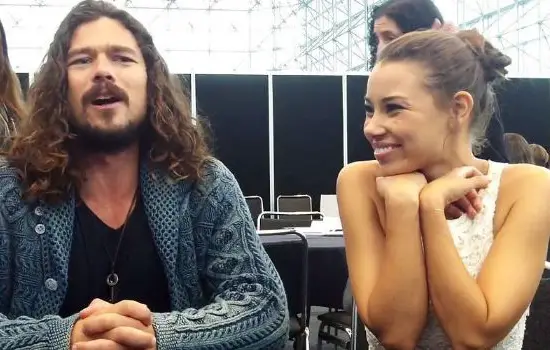 Caption: Jessica Parker Kennedy and Luke Arnold on sets of The Secret Circle in 2014.
Photo Credit: whosdatedwho.com
But she might be single now as her interview suggests that she is looking for men. Likewise, she is not married, only suggestion we can give from her interview is all the best for her future boyfriend. Being one of the top Canadian actress, she has not revealed her net worth as of now, but we know that the talented actress has a long way to go in her career.