Entertainment
Beautiful Model Nicole Mitchell Murphy Joined by Her Former Husband on their Daughter's New Movie Premiere!
What will be a situation when you witness a whole family union supporting their family member? We might find that magnificent, right? But when we spotted a family together of Nicole Mitchell Murphy, in a movie premier of her daughter it was quite a perplexing moment.
The ex-husband of Nicole joined their daughter's movie premiere with his wife. Let's find out the awkward moment of the strange family in our story today.
Jumbled family together in an event:
In the movie premier of Amateur Night in July this year, American model Nicole made her appearance. She was there for her daughter Bria. To underpin her work, Eddie Murphy also showed up with his wife. With the sugary smile on the faces, the whole family posed for the group photo.
Caption: Say cheese! Wrapping their hands around, a beautiful but awkward, Paige Butcher, Eddie Murphy, Bria Murphy, Nicole Mitchell Murphy, Shayne Murphy attending the premiere of the movie "Amateur Night" on 2016.
Photo Credit: people.com
55-years old actor Murphy entered with fully dressed in black with his wife, Butcher who gave birth to her new baby on May was looking beautiful in that pink dress showing her curves.
Bria did shine out with her silky sleeveless dress. And her younger sister was also looking amazingly beautiful with that red mini dress.
Beautiful Nicole took the spotlight with her floor-length flowing patterned dress.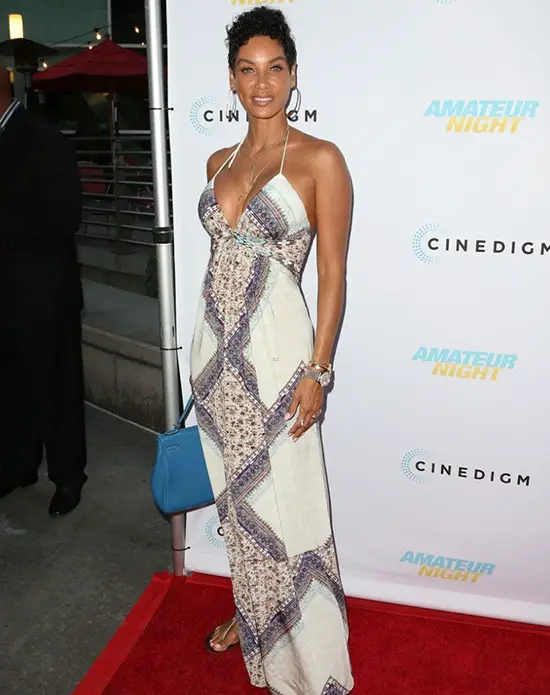 Caption: Stunning Nicole, in a flowing patterned dress (2016).
Photo Credit: JustJared.com
Wow, perfect look for the premiere isn't it.
Closure to Nicole and her ex-husband's blended family:
Nicole and Murphy dated for four years after getting together in 1988. They tied their knot of their relation on March 18, 1993.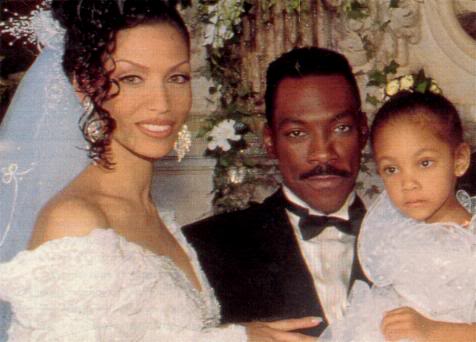 Caption: Nicole Mitchell Murphy and Eddie Murphy wedded back in 1993.
Photo Credit: straightfromthea.com
The couple has five children together, Bria (1989), Myles Mitchell (1992), Shayne Audra (1994), Zola Ivy (1999) and Bella Zahra(2002). While everything was going well, then without any official statement, the model filed a case against the comedian for the divorce.
Then they split on 2006, under the agreement for spousal support and joint custody of their children. Nicole received $15m as a one-time payment for the divorce settlement on 2006. Due to her failed investment scheme, she was evaded out of $7 million of her divorce settlement.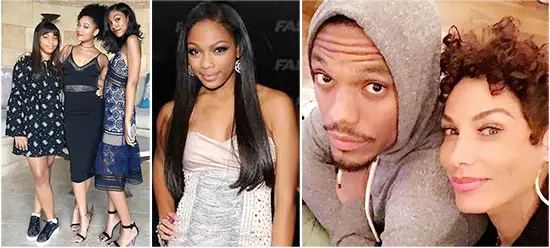 Caption: Nicole and Murphy's kids [from left to right: Bella, Bria, Zola, Shayne and Myles (with his mother, Nicole)].
Murphy's first children are Eric, with ex-girlfriend Paulette McNeely, and Christian, with ex-girlfriend Tamara Hood. He has five children from his ex-wife Nicole Mitchell Murphy: Bria, Myles, Shayne, Zola, and Bella. He also has a 9-year-old Angel with 'Mel B' Brown.
After the divorce, Nicole started dating Michael Strahan in 2008. She got engaged to her boyfriend after dating for a year on 2009.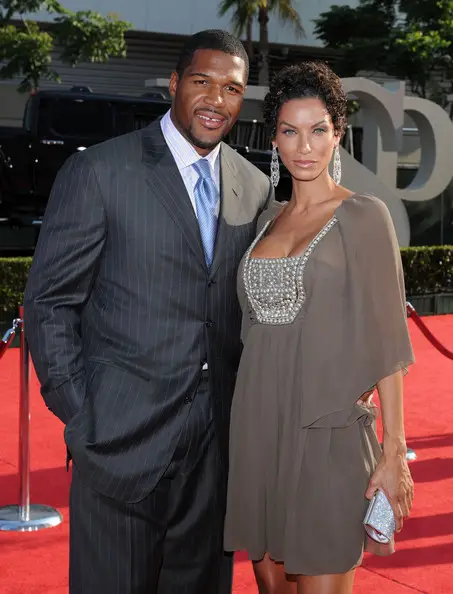 Caption: Nicole with her then-fiance Michael Strahan (2008).
Photo credit: zimbio.com
After being together for five years, they called it quit on 2014.
A source made us familiar about the split, who said,
"They've been having problems for two years and have been off and on throughout,"
The source mentioned,
"Him dating someone would come as no surprise to Nicole."
Strahan is the father of four from her previous wives. Isabella(12) and Sophia (12) from Wanda Hutchins Strahan and Tanit (24) and Michael (21) from his first wife, Hutchins Strahan. For now, this Live! With Michael and Kelly host has managed to stay single.
The net worth of Nicole in a figure:
She started her career as the model from the age of 13. She also won a modeling competition same year. She professionally got into the acting and modeling career when she met actor Eddie Murphy.
On 2009, she started her jewelry line FLP by Nicole Murphy. She is now also producing the VH1 series Hollywood Exes. Unfortunately, It was reported that she owed $5 million on a mortgage for her new house in Los Angeles and more.
Her financial was disturbed at that point of time. But by choosing the right guy helped a lot to lift up her net worth and soon after they bought a mansion in Los Angeles, in 2013. All her work as the model, producer, television personality and a businesswoman has helped her to make an impressive net worth of $10 million.