Entertainment
Who is Munro Chambers Current Girlfriend? Is He Really Engaged With Annie Clark?
The Degrassi fame Munro Chambers is an established actor and his caliber in acting just can't be questioned. But here what we have focused on is, who is his current girlfriend and whether the rumor of his engagement with Annie Clark has any authenticity? Let's sort them out.
Current Girlfriend and Dating: Is he Engaged?
Though the Degrassi Star, Munro Chambers, has been mentioned to have experienced a number of relationships previously, he is believed to be single now. It's probably good news for all his lady fans.
However, rumors have been surfacing around that Munro is a gay, but no verification has been made. But a Degrassi source has stated:
No,Munro chambers is not gay,although,there are many rumors and fake pages saying he is and is openly gay.But has said nothing on camera of film to prove it.
He may be single as of now, but he has experienced relationships with celebrities and co-stars in the past, which we will soon be revealing.
Responding to an interview question in 2011, Chambers said :
I am currently where I am. I'm dating Justin Kelly! We're engaged and we're going to the Bahamas for the honeymoon! It'll be great. [Laughs] I'm currently in love with my work. I'm dating her.
Justin Kelly is the best friend of Chambers, and both were Degrassi cast members. It has been mentioned that Munro along with Justin and some other friends have created a fake family: An Italian Mafia Family. Furthermore, the comment mentioned above "I am dating Justin Kelly" is something he must have said jokingly. He even added," I'm currently in love with my work. I'm dating her."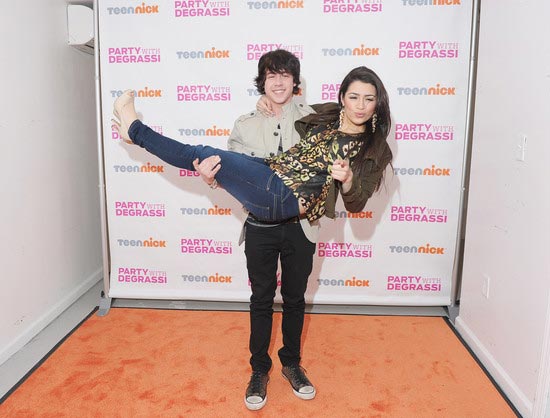 Caption: Munro Chambers and Annie Clark. They were co-stars of "Degrassi", season11 and nominated for Emmy Awards as well
Source:zimbio.com
When the topic comes between Munro and Annie Clark, the fellow Degrassi star, we might perceive them as being in a serious relationship. However, nothing regarding their relation has been mentioned anywhere. They are just close as co-stars and yes! as good friends as well.
Check out this tweet made by one of the Degrassi fans:
It was vivid that they were not in a relationship as well as weren't engaged. 
Relationship History: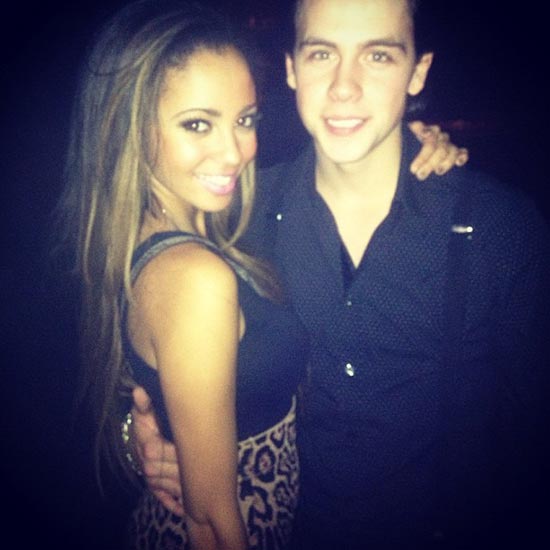 Caption: Munro Chambers and  his first girlfriend, Vanessa Morgan
Source:thelatestbuzzblog.tumblr.com
Talking about the relationship history of Munro Chambers, he dated Vanessa Morgan back in 2008, but the couple eventually got separated. Even before that, there were rumors that Chambers dated Alicia Josipovic. Then later after Morgan, Chambers dated Melinda Shankar in 2013. This third relationship could barely last six months. That apparently means he got his third break up as well.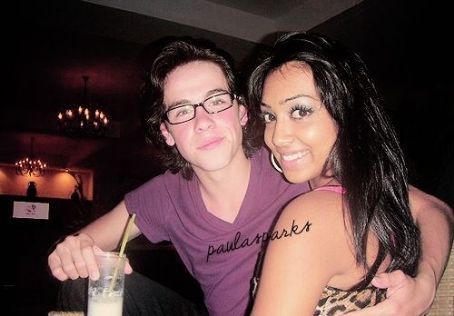 Caption: Munro Chambers and his alleged girlfriend Melinda Shankar
Source:www.whosdatedwho.com
Engagement Rumor: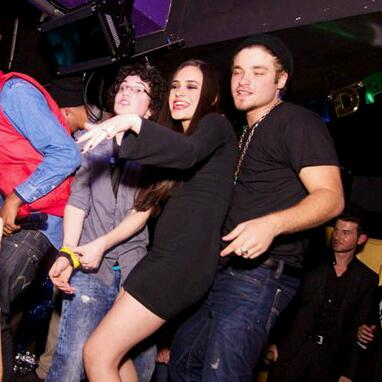 Caption: Munro and Kendra in a Birthday-Bash
Source:thingsdegrassinationtaughtme.tumblr.com
Now the interesting part is that Chambers is allegedly engaged to his Degrassi co-star Kandra Manson (original name Katie Lai). Actually, the news was publicly announced by Kendra in one of the Birthday Bash events. Let's see what she said to the interviewers during Luke Bilyk's $80 birthday bash  in 2011:
To be honest, I introduced myself to Munro about a year ago, but I knew Spinner would be an overly protective older brother, but that's just who he is. He threatened Toby Isaacs back in Season 2 but that was a much different time.  Munro is definitely not the same kind of person. His hands are gold-worthy. His smirk is candy. His charm is to DIE! For and his body is a wonderland. OMFG every time he tweets I want Munro to be in my Chambers…like not even kidding.
Eventually, after situation went wrong because of some jealous fangirls bashing her, Kendra vanished from the party without giving the proper explanation. Also, since Chambers has mentioned nothing about it, there was nothing verifiable to say they got engaged. She must have made this statement on her own.
Furthermore, you will love to see this tweet where Munro and his previous girlfriends, both real and rumored are posing together:
Munro's Short Bio:
Born on July 29,1990, in Ajax, Canada, Munro Chambers attended Newmarket High School in Ontario. He was nominated for Canadian Screen Award for best performance in 2014 and was also nominated for Shorty Award and Gemini award in 2011.
He has recently worked on TV series like Lockwood, Second Jen, and Country Crush, and his proposed projects as per 2017 include "Saddies Last Day On Earth" and "Hellmington." He started acting since he was seven years old.