Entertainment
"MythBusters" Kari Byron: Married Life, Artist Husband, and Daughter, Stella Ruby
Today we are talking about our former co-host Kari Byron of the famous science experimental program called MythBuster. People from around different nooks of the world watch MythBuster and since you are following this article, you must be one of them too. We do know that Kari Byron, @KariByron, hosts this famous show that airs on the Discovery Channel, but let's know about her married life and her family.
Married life: Husband?
 Many people might know that she is a married woman but it is her husband who has been raising everybody's eyebrow. Who is he after all?
Kari Byron is married to Paul Urich, who is a rising artist and designer. Talking about his workplace, he does not have a separate studio for his work. He has his studio made up in their own home which they own near Ocean Beach, San Francisco. Paul Urich may not be as famous as his wife but he is gradually earning popularity in his field. The couple got married on March of 2006.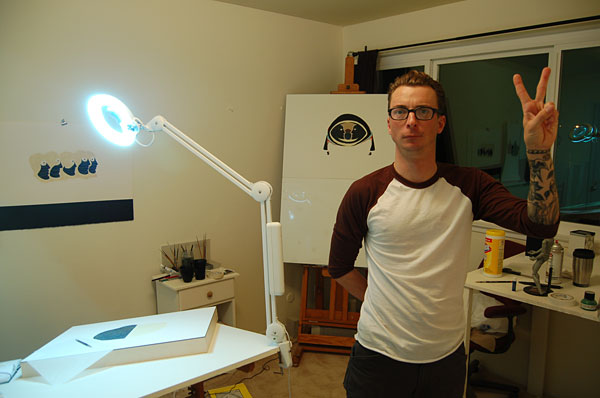 Caption: Kari Byron's artist husband, Paul Urich, who has designed 
Source: fecalface.com
Kari, being an artist and an art lover herself, married an artist husband. Maybe it was their common interest in arts that attracted the couple towards each other. Oh! Did you not know that she was an artist too? Well! we will be coming to it once we finish dealing with her married life.
Arrival of their daughter, Stella Ruby:
After almost three years of married life, they welcomed their first child, a daughter, on June 28, 2009, and named her Stella Ruby.
Here we have a picture of the happy family.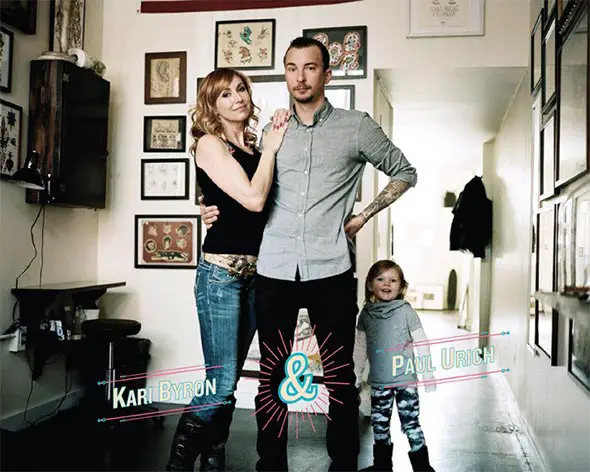 Caption: Kari Byron's artist husband, Paul Urich, and daughter Stella Ruby.
Source: medium.com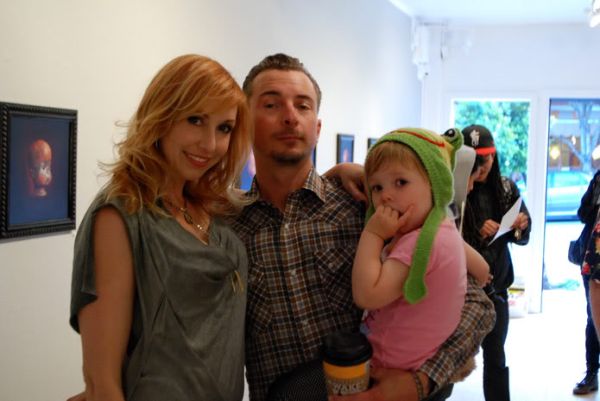 Caption: Kari Byron with husband paul and daughter Stella at an art gallery.
Source: celebrityabc.com
A day later, the official Twitter account of the Discovery Channel announced the news of the birth of her daughter to the fans.
How about some GREAT NEWS?! MythBusters' Kari is the proud mom of a baby girl! Congrats, Kari! #babywatch

— Discovery (@Discovery) June 29, 2009
In a talk with the bold italic, she expressed her thoughts on her relation with the husband. She stated,"We've been hyped about each other and what we create since the day we met. I think there are just chemistry and just something animal about the attraction." Recently, there is no news of the couple to produce more children.
Having said this much, let's get back to the artist Kari and her passion.
Kari the artist:
She has received a Bachelor of Arts in film and sculpture. In an interview with Joe-Mammy.com, Kari talked about her art passion. She claimed that she crafts multiple forms of art every day stating, "I would go crazy if I didn't." When asked her question about how she does her artwork, she had the following things to said,"I seem to work in two directions. I do portraits or I make sculptures exploring my cynical view of contemporary issues. Artists that over-explain their art always take away from my experience as a viewer. I try to let my viewer make their own message.   Art becomes more personal if you let yourself become involved.   I will always explain my motivations and themes if someone asks but I prefer to hear theirs."
 She further added about the art career,"There are so many. Being an artist is a hard career to choose.   I am inspired by anyone who can actually make it on the radar."
Currently, the couples seem to be happy together and there have been no rumors about disputes, possibility of divorce or another pregnancy at this moment.
The Atheist:
To end the article with a fun fact, Kari Byron has been an Atheist since her childhood days.
Went to Moss Beach Distillery hoping to be haunted by the Blue Lady. Still an atheist. Damn it.

— Kari Byron (@KariByron) August 7, 2011
She is also a pescetarian; a vegetarian who eats fishes. That might be the reason for why she used to get visibly disgusted whenever MythBuster experiment requires the use of animal remains, like the one in the following video.
However, in August of 2014, it was announced that Kari Byron along with two co-host Tory Belleci, @ToryBelleci and Grant Imahara, @grantimahara, would be leaving the show. However the exact reason for why Discovery decided to discontinue the build team as they were a fan favorite. It was only said that Mythbusters will be brought back to its origin which was just Adam Savage and Jamie Hyneman.
Kari Byron was born on December 18, 1974, in California, United States. Apart from MythBuster, Kari has also hosted coverage of Pumpkin Chunkin on the science channel from 2011-2014. Since 2015, Byron is a co-host of Thrill Factor along with Tory Belleci.